Concert closes holiday season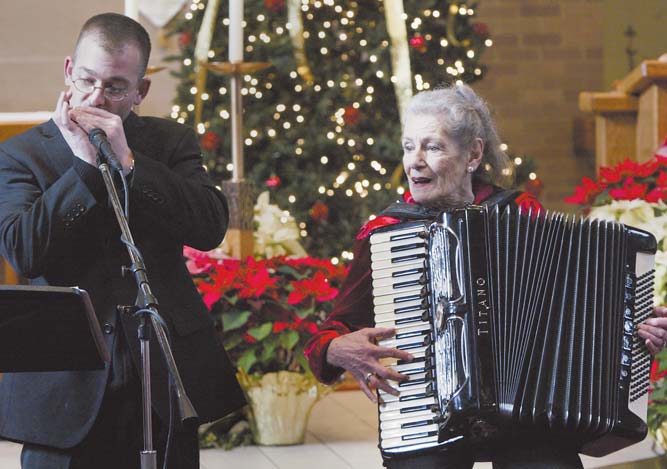 Photo
The Rev. Michael Marcelli of St. Charles Church, Boardman, performs Christmas music on his harmonica, accompanied by accordionist Betty Bannon during a Christmas music concert Sunday at the church.
By Denise Dick
BOARDMAN
Sun streamed through the stained-glass windows of St. Charles Church sanctuary as music filled the room.
Sunday's Christmas concert, conducted traditionally in early January at the church, included holiday standards such as "Silent Night" and "Hark! The Herald Angels Sing" as well as more contemporary pieces such as "Mary Did You Know?"
Jacek Sobieski, church music director, said the church performs the concert after Christmas because people's schedules are so busy before the holiday.
Sobieski estimated that 100 people are involved in the church's various musical groups from the St. Charles Chorale, to the handbell choir, Lifeteen Music Ensemble, youth orchestra, children's choir and contemporary choir.
"It's a big music program," he said.
More than 100 people — families, couples and seniors — filled the St. Charles pews.
Concert offerings ranged from the children's choir's "Praise Him with Cymbals," to the Rev. Michael Marcelli on harmonica accompanied by Betty Bannon on accordion, performing "Christmas Medley."
"Father Marcelli has been playing harmonica for many years, and he is an asset to our church," said Janet Bailey, who hosted the concert. "Betty Bannon — you can see the passion on her face when she plays the accordion."
Chorale member Nicole Zayas strummed her guitar and sang the bluegrass, "Beautiful Star of Bethlehem," and flutist Kathi McNabb Welsh accompanied her vocalist husband, Tim Welsh, for "In the Bleak Midwinter."
The concert also may be a recruiting tool.
"Hopefully, our music has sparked some of you to join one of our music missions," Bailey said at the concert's conclusion.
Accordion Player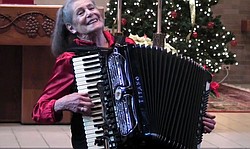 Video
Betty Bannon has been playing the accordion for 75 of her 82 years and performed during a Christmas music program at St. Charles Church in Boardman today.