Ryan: Cordray is good choice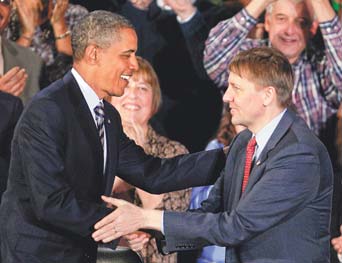 Photo
President Barack Obama shakes hands with Richard Cordray in Shaker Heights, Ohio. In a defiant display of executive power, Obama on Wednesday bucked GOP opposition and appointed Cordray as the nation's chief consumer watchdog.
SEE ALSO: Ryan calls on EPA, others for answers on quakes
By Ed Runyan
WARREN
U.S. Rep. Tim Ryan of Niles says President Barack Obama's decision Wednesday to defy Republican lawmakers and install former Ohio Attorney General Richard Cordray as a national consumer watchdog is great for the Mahoning Valley and a bold statement.
"Rich Cordray is a friend to all of us here in the Mahoning Valley, and he's a strong advocate," Ryan said during a Wednesday news conference at his Warren office.
"It's exciting that President Obama is saying Wall Street has misbehaved, and he's gonna take every measure possible to make sure we have the proper agency in place to monitor Wall Street and the proper person in place to protect the consumer."
Obama named Cordray the first director of the Consumer Financial Protection Bureau, and the move has provoked GOP threats of a constitutional showdown in the courts.
Republicans had blocked Cordray's appointment, expressing concerns not about Cordray but about the powers of the agency.
U.S. Sen. Rob Portman of Ohio, a Republican, said in a Wednesday statement that he has "strong concerns about the impact this new regulator would have on all of us as consumers, on job creation, and on our economy."
He added, "No other federal regulator has so much authority over personal economic decisions, with so little responsibility to answer to the American people and their elected representatives."
But Ryan, D-17th, said lack of oversight of Wall Street is the reason for the national economic collapse of 2008 and the foreclosure crisis.
In 2008, the U.S. Securities and Exchange Commission was "defunded, defanged. There were no teeth in any of the laws, and where there were teeth, there weren't any personnel in place because the budgets had been cut.
"All you have to do is walk into some of the neighborhoods here [in the Mahoning Valley] and see the level of foreclosures that came about because of the collapse of the housing industry and the economy, where everybody knew years in advance that something wrong was going on, and something really bad was going to happen, but their behavior continued," Ryan said.
"All of these were because there weren't cops on the beat watching the financial markets," Ryan said. "And everybody who plays sports knows you can't have a game without referees or someone ultimately ends up cheating."
The top Senate Republican, Minority Leader Mitch McConnell, said Obama had "arrogantly circumvented the American people" and endangered the nation's systems of checks and balances. Republican Sen. Orrin Hatch of Utah called it a "very grave decision by this heavy-handed, autocratic White House."
Chris Redfern, Ohio Democratic Party chairman, issued a statement saying Cordray "is not afraid to stand up to the most powerful and greedy corporate interests in our country in order to strengthen the middle class.
"He has already taken on these battles and won — recovering billions of dollars for Ohio families and small businesses [as Ohio attorney general]. He repeatedly fought all the way to the U.S. Supreme Court to stand up for Ohioans."
Obama introduced Cordray as the new agency director from a high school in the Cleveland suburb of Shaker Heights.
Cordray's nomination will become official later in the week, the White House said. He is expected to serve until at least the end of 2013, which is the end of the Senate's next session.
The Associated Press contributed to this report.