D&L Energy to finance geological study of injection well area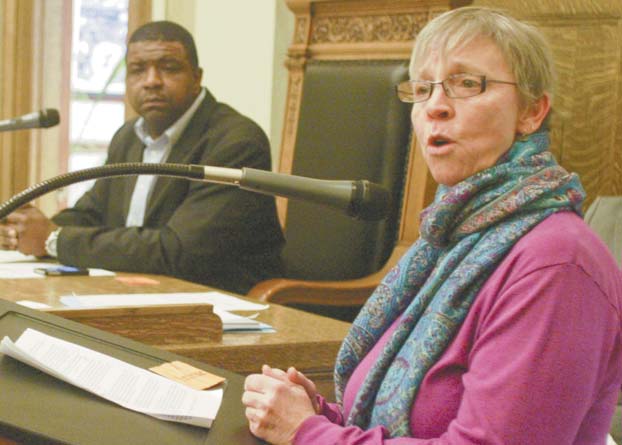 Photo
Susie Beiersdorfer, a part-time geology instructor at Youngstown State University and a member of Occupy Youngstown, spoke at Wednesday's city council meeting about injection wells and earthquakes. Council President Jamael Tito Brown, left, listens.
RELATED: • Ryan calls on EPA, others for answers on quakes
• Liberty plans to study its right to ban drilling
By DAVID SKOLNICK
skolnick@vindy.com
YOUNGSTOWN
For a brine-injection well on the city's West Side to resume operating, its owner must "meet a high standard" to show it's safe, said an Ohio Department of Natural Resources official.
D&L Energy Group and ODNR officials met privately Wednesday to discuss the well on Ohio Works Drive.
Also Wednesday, Youngstown City Council approved a resolution supporting a moratorium on injection wells in the city.
Eleven earthquakes, including Saturday's 4.0 magnitude quake, were centered close to the Ohio Works Drive well, operated by Northstar Disposal Services LLC, a D&L affiliated company.
Last Friday, D&L agreed to an ODNR request to cease operations at that well.
After the Saturday earthquake, the largest of the 11, the state imposed a moratorium ordering D&L to keep four inactive wells, within a five-mile radius of the Ohio Works well, closed indefinitely.
"We're not saying we believe for certain there is a direct causation [between the well and the quakes], but, at this point, there has to be a pretty high bar of information provided to move forward with allowing injections at those sites," Andrew Ware, an ODNR spokesman, told The Vindicator on Wednesday.
At Wednesday's meeting between D&L and ODNR, company officials said they would pay an independent entity for a geology examination near and around the Ohio Works well.
In a prepared statement, D&L said the study is "appropriate and necessary."
There is no timetable for starting or completing the study, "but D&L is committed to moving forward in an expeditious manner," the statement read.
D&L has seven water-holding tanks on site with five more coming soon to store water from the well, and casing pipe will be removed shortly to prepare for testing.
"It's fair to say, while we'll review what the company provides, it would need to come with some expert witness testimony with scientific credentials and be highly detailed," Ware said. "It's going to have to meet a high standard for our review."
State Rep. Robert F. Hagan of Youngstown, D-60th, who's called for a moratorium on the wells for several months, said he's skeptical that the D&L paid-study will be legitimate.
"We know what happens when people pay for polling in politics; you ask leading questions to get the response you want," he said. "I don't expect any difference with this. It's a study being bought and paid for by D&L. I don't trust the industry, ODNR and the governor. The industry has no right policing itself. You get exactly what you pay for."
ODNR's recent actions to halt D&L from using its wells shows the agency is serious about this issue, Ware said.
Also Wednesday, city council approved a resolution supporting a moratorium on injection wells in the city.
The request for the resolution came from Mayor Charles Sammarone after he spoke Tuesday to Hagan about the issue.
The resolution is nonbinding as it's up to the state to impose moratoriums, but Sammarone and council members wanted to officially voice their concerns.
The moratorium won't be lifted until a "deeper, thorough analysis" is done, said Rob Nichols, spokesman for Gov. John Kasich. There is no time frame for the moratorium to be lifted, he said.
Also, Susie Beiersdorfer of Youngstown, a part-time geology instructor at Youngstown State University and a member of the Occupy Youngstown movement, praised city officials at Wednesday's council meeting for calling for a moratorium, and for ODNR's decision to get involved with the wells.
About 40 people, mostly Occupy Youngstown members, attended Wednesday's council meeting to support Beiersdorfer and council's vote.
When asked about the D&L-paid study, Sammarone said, "I'm not saying D&L would influence the decision, but people would feel more comfortable with an independent study being done. That takes away the thought process of being influenced by the company that hires them."
A spokesman for D&L declined to comment to The Vindicator about the objectivity of the study or anything else beyond the company's prepared statement.
The statement reads, in part, that "the cause of those minor earthquakes has not been determined and remains an issue in need of study."
Hagan, Sammarone and city council's public utilities committee will have a public meeting at 5 p.m. next Wednesday at the Covelli Centre community room to talk about the injection well and earthquakes. Officials from ODNR are invited, but it isn't known if any will attend.
The well in question injects brine, a byproduct of fracking, about 9,300 feet into the ground. D&L isn't fracking at the location.
Fracking is a process in which water, chemicals and sand are blasted into rocks thousands of feet underground to extract natural gas and oil. Injection wells are the opposite — it uses the fluid left over from fracking and injects it deep into the ground for disposal.
More like this from vindy.com