GM Lordstown cruises to banner year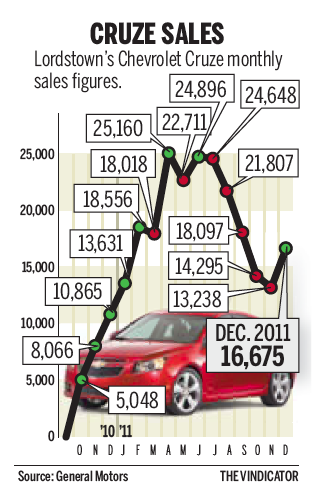 ---
LORDSTOWN
2011 was a banner year for the General Motors Lordstown Complex.
With 231,732 of the Chevrolet Cruze compact cars manufactured at GM Lordstown sold last year, it was second only to the Silverado pickup truck as Chevrolet's best-selling vehicle.
The Cruze, which had 16,675 sales in December, a 53.5 percent increase over December 2010, outsold the Buick and Cadillac brands combined for the year.
GM's U.S. sales rose 13 percent last year as the company recovered from its financial disaster in 2009, according to the Associated Press.
GM sold slightly more than 2.5 million new cars and trucks in the U.S. Its December sales rose nearly 5 percent from a year earlier.
The Cruze, Silverado and GMC Sierra pickup trucks led sales, the AP reported.
Locally, Dave Green, president of United Auto Workers Local 1714 at GM Lordstown, said, "It was a good year for the plant, our members and the community."
"The Cruze is a quality product, and the company is focused on making sure the cars that roll off the assembly line are right at a level beyond that seen in the past," he said.
"The company is listening to and taking customers very seriously, and we hope to stay on the same track sales wise. Last year was a great year, and so will 2012 be if the economy continues to improve," Green added.
It was another solid year, the best since 2008, Tom Mock, GM Lordstown communications manager, said.
"We were able to work through some supplier-related disruptions and have a good year. And auto-industry analysts and experts are predicting that 2012 should be another good year for the industry," Mock said.
"We're looking for more of the same. Some exciting products are being built, and some are about to be built at Lordstown GM," said Jim Graham, president of UAW Local 1112 there, referring to the Cruze and Cruze diesel.
"We've been moving in the right direction and should have the Cruze diesel out for the 2013 model year," he said.
Graham attributed strong Cruze sales to it being a well-engineered car that gets good gasoline mileage.
"There is a totally new GM mindset in the manufacturing area. If we find a problem, we shut the line down and fix it before we continue," he said.
Other carmakers also reported strong sales for 2011.
Chrysler sales jumped 26 percent, Ford sales rose 11 percent, and Nissan's climbed nearly 15 percent.
Industry analysts say people are starting to buy cars and trucks because they feel more confident about the economy. They expect total U.S. sales in 2011 to be about 12.7 million, up nearly 10 percent from 2010 nad up 22 percent from 2009. Sales are expected to rise again in 2012.
Also, Americans bought more cars and trucks last year because of easier credit and pent-up demand driven by a desire to replace aging vehicles that got them through the Great Recession.
Buyers also were drawn to an array of high-quality small cars with roomy interiors and new features.
That made it easier to downsize from bigger cars amid high gas prices. Pickups also sold well as businesses began to replace the trucks they need to haul equipment.
"Over the course of the fourth quarter of 2011, clear signs emerged that U.S. consumers are more confident and that other underpinnings of our economy are either stable or slowly improving," said Don Johnson, GM's U.S. sales chief.
CONTRIBUTOR: Associated Press