19-year alliance comes to an end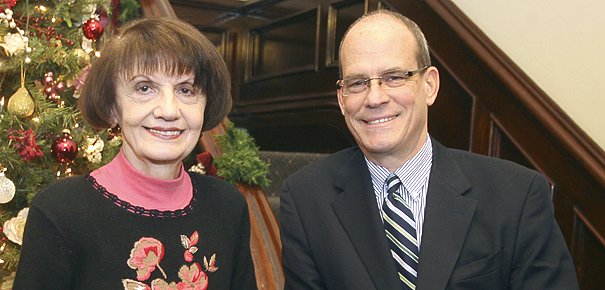 Photo
Roselyn Ferris and Michael O'Brien.
By Ed Runyan
WARREN
Individually, they are two of the best-known — and longest-serving — government officials in Trumbull County.
Together, Michael O'Brien and Roselyn Ferris have been one of the most enduring teams in local government, having worked side-by-side for the past 19 years.
O'Brien began his political career 29 years ago, serving 11 years as Warren councilman, then 11 years as county commissioner starting in 1994, followed by eight years as Warren mayor.
Ferris began her career with the county in 1967 and became chief clerk to the county commissioners in 1980, a job she held until 2004, when she went to work as administrative assistant to O'Brien after he became Warren mayor.
When Warren's newest mayor, Doug Franklin, took office last week, it marked the end of O'Brien's and Ferris' long tenure together.
It's a relationship they believe served them well and helped the city rise above a terrible economic downturn.
"Warren was hit hardest in Trumbull County. Trumbull County was hit hardest in Ohio. Ohio was hit hardest in the country, so Warren was the poster child for the downturn of the economy," said O'Brien of the 2008-09 recession.
With thousands of workers off the job at Warren's Severstal steel mill and Lordstown's General Motors plant, Warren's income-tax revenues took a dive, resulting in the layoff of dozens of Warren police officers, firefighters and other city employees.
O'Brien remembers the pressure he was under to provide city services with less revenue. After the layoffs, workers rallied in front of city hall, criticizing the administration for safety-force reductions.
"He took it very hard," Ferris said of having to lay off workers.
"I relied on Roselyn to be a sounding board," O'Brien said, adding that her support helped him get through those difficult times.
"Her advice to me was, 'You've been doing what's right your whole career. Continue to do what's right, and things will work out.' That's what's happened, and it's made Warren stronger," O'Brien said.
Today, O'Brien says Warren is on the verge of great things, especially the area along West Market Street downtown that contains the Wean Foundation offices, Eastern Gateway Community College and Tech Belt Energy Innovation Center.
"In our 19 years together, it wasn't a commissioner-clerk relationship, and it's not a mayor-executive secretary relationship," O'Brien said.
"At times, it's a brother-sister relationship. It's a friend and a confidant and a colleague relationship, and that's more than any mayor could ask for as far as dedication and loyalty."
Ferris has similar feelings about O'Brien, saying her time with him at the commissioners office persuaded her to work for him at city hall until she was ready to retire.
"I'd known Michael, and he was like a friend. [I had] lots of respect for him, and I said I'd go on a year-to-year basis."
Said O'Brien: "When Roselyn retired at the county and came with me at the city, every county official — judges, auditors, prosecutor, every public official at the county — told me I was getting the best," O'Brien said. "They wouldn't admit it, but they were all jealous."
In addition to her experience, the thing that makes Ferris special is how much she cares, O'Brien said.
"She is always making sure that I was at my meeting on time, and then I would report to her the results of the dinner or meeting or the function, and she would be waiting for my call," O'Brien said.
A normal work week for O'Brien and Ferris isn't 8:30 a.m. to 4:30 p.m. Monday through Friday, O'Brien said. "It's all day Saturday, all day Sunday and after hours." A typical weekend includes between three and six calls between the two related to scheduling or other city matters, Ferris said.
Police Chief Tim Bowers recently said he is among the city officials who routinely call the mayor's office after hours. He said it's going to take two people to replace Ferris.
"If you call her at a quarter to six, the phone is still answered," O'Brien said. "It would be a frequent habit of Roselyn and I walking out together after we watch the 6 o'clock news."
O'Brien said Ferris took on the work of two people in 2009, when layoffs reduced the mayor's staff by one. The 2012 budget calls for the laid-off position to be filled again this year.
Though Ferris is retiring after 45 years in government, O'Brien still is considering what to do next.
"I have always thought of working in the private sector, but I have always been recruited to work in the public sector," O'Brien said.
"I'm not ruling out running for office sometime in the future or providing some support for some other public capacity. But at age 56, I still have some time. And because of my experience as a legislator and administrator, I feel I have some things to offer."