Hubbard's landmark shoe shop shines on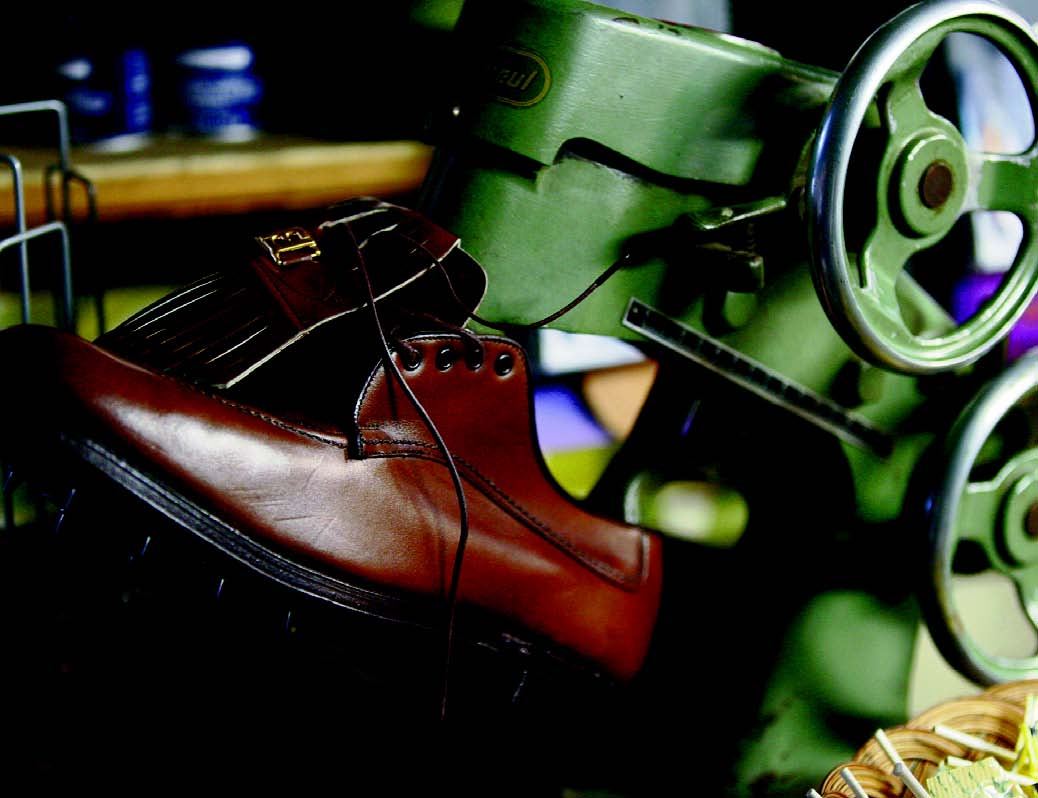 Photo
The shop still hums with all the original shoe-repair machines purchased by Palestro's dad, Frank Palestro, when he opened the business in 1942.
By Robert Guttersohn
rguttersohn@vindy.com
HUBBARD
Without Ed Palestro sitting at the helm of his 1942 Singer Sewing Machine, Frank's Shoe Repair is itself a museum for the Mahoning Valley.
There's the black and white photos of Hubbard's Main Street from the 1940s. There's the photo of the 1937 Ford stock car a Hubbard man raced in different venues around the Mahoning Valley. And there's a photo of Federal Street in the late 1940s after a storm dumped 4 feet of snow in Youngstown.
And there's the metal pole Ed Palestro sits next to on which phone numbers of Hubbard's past residents are etched.
But like the yellow 137-year-old, two-story home at 512 N. Main St. in which the 82-year-old shoe repairman has worked from 9 a.m to 5 p.m. for the past 23 years, Ed Palestro is himself a museum of the Valley.
"This is the hub of Hubbard," he said recently while one of his grandsons, James Palestro, worked with a pair of leather shoes on one of the 60-year-old machines lining the back wall. "This is where people would come for information."
Ed Palestro was born in Hubbard and besides the two-year stint in the U.S. Marine Corps, has lived his whole life here.
And after working 32 years for the city he loves, Ed Palestro has called it quits.
"Isn't 32 years enough?" he said when asked why he was stepping down as 4th Ward city councilman.
Ed Palestro is known here for December 1988, a month in which he pushed to give the city free electricity.
"It cost us $250,000," he said. "We had so much in that [electrical] fund that we decided to give it back."
He said residents told him they kept their Christmas tree lights on throughout the day and had five TVs running at once.
But to tell his life only as a councilman would be giving only a fraction of Ed Palestro's history. As Hubbard's former mayor Richard Keenan put it, "Ed has worn many hats."
Hubbard was mostly farmland when he was growing up, Palestro said. When he was born, Hubbard had a population of 4,000. That is now more than doubled. And, when he was a kid, people were allowed to have chickens.
"They call us the chicken city now," Ed Palestro said, referring to the recent city zoning case that prohibited a family from owning chickens.
His father — the Frank in Frank's Shoe Repair — opened the business in 1942.
"That's a very well respected name in this town: Palestro," Keenan said.
Under Frank Palestro, the shop became the city's spot for world and local gossip all while taking in the smell of leather and glue inside the dimly lit room piled high with shoes.
Frank Palestro ran the place until his death in 1979. His son was living his own life at the time in retail business and wouldn't take over the business for another 10 years.
After leaving the military in 1947, Ed Palestro worked for Strouss' Department Store for 16 years, selling sewing machines on the second floor of the six-floor store that anchored West Federal Street near Youngstown's Central Square, along with McKelvey's department store at the other end of the block. And Palestro was good at that, claiming to take home, on average, $4,000 a month and breaking the store's record by selling 104 machines in a week.
After Strouss' closed, he worked 24 more years at Federal Wholesale in Hubbard.
And somewhere among all the selling, he also was a husband and father.
He married Dorothy Furlong, who died eight years ago. But their life spent together adorns the shoe shop's walls in the form of black-and-white photographs.
They had two children, Ed Palestro Jr. and Theresa Palestro, and now have five grandchildren.
Then, there was baseball.
"He was just a steady human and taught us a little about baseball and about life and how to conduct yourself whether you win or lose," said Hubbard Police Chief James Taafe.
Taafe is 52 now, but remembers vividly his life as a 10-year-old baseball player under Palestro.
Retirement from retail came in 1988, but his two new careers were just starting: politician and shoe repairman.
He took over the reins of Frank's Shoe Repair that year from his sister, who ran it after their father's death.
In 1979, he ran for city council because, simply, "I didn't like the councilman we had," he said with arms crossed, leaning back in his chair.
He filled that 4th Ward seat for 10 years, jumped to the city service director post for six years, then jumped back to city council, where he sat every other Monday until deciding not to run for re-election.
"He's a great man, and he'll definitely be missed, for sure," said Taafe.
But customers with worn-out soles know where to find Ed Palestro: the two-story home bearing his father's name.
"Just an old-school guy that does his job well," said Keenan, a repeat customer of Frank's. "And you have to fight to give him the money. You've got to tell him, 'You did a great job, take the money.' "