Commission continues its work on Youngstown schools' academic recovery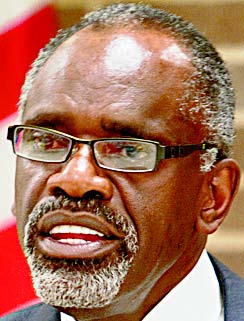 Photo
By Denise Dick
Youngstown
There's no set time line for development of a new academic recovery plan for the city school district.
"As much as I would like to have it soon, it's more important to do it well," said Richard Ross, chairman of the newly organized Youngstown City Schools Academic Distress Commission.
Superintendent Connie Hathorn said the district will continue to work to move forward while the next version of the plan is developed.
Ross was appointed to the academic distress commission in November by Stan Heffner, state superintendent of public instruction.
The commission's goal is to improve student performance and achievement, he said.
"There are a lot of components involved in that," Ross said. "Superintendent Heffner said he wants two-consecutive years of continuous improvement, and that is our goal."
The overall goal, though, is to have student achievement improve to a point where the commission is no longer needed and can disband, he said, similar to how the fiscal oversight commission dissolved earlier this year after the district moved out of fiscal emergency.
Ross replaced Debra Mettee, who resigned. Mettee was one of the commission's original members.
Heffner last month also replaced two more original members who had been appointed by Deborah Delisle, the former state superintendent.
Ross retired in 2008 as superintendent of the Reynoldsburg School District in Central Ohio.
Adrienne O'Neill, president of Stark Education Partners, and Michael Garvey of M7 Technologies of Youngstown, replaced James Hall, retired South Range superintendent, and Sherri Lovelace-Cameron, a Youngstown State University chemistry professor.
The other two members are appointed by the district school board president.
Ross said the next commission meeting is expected in mid-January when each member will provide input about what they believe the recovery plan should include.
The commission then will seek a consultant to develop the plan, he said.
Before the shake-up, commission members had an updated plan with eight components: literacy, math, leadership to support student success, school climate, high school, collaborative structures, special-education and early-childhood programming and fiscal monitoring of state and federal funds.
Heffner said that plan wasn't enough, but the district could move "full-steam ahead" with the literacy portion.
An initial impression of the district from Ross is the need for expectations to change.
"I think expectation the community has to raise [is] that the kids can do this, and they will do this," Ross said.
More like this from vindy.com