Ohio bans injection wells near D&L site in Youngstown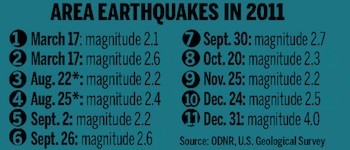 ---
By KARL HENKEL,
JEANNE STARMACK
and ASHLEY LUTHERN
khenkel@vindy.com
starmack@vindy.com
aluthern@vindy.com
YOUNGSTOWN
The Mahoning Valley ended 2011 with a deafening bang.
The new year promises to be more quiet.
After a 4.0 magnitude earthquake struck shortly after 3 p.m. on New Year's Eve, Ohio banned injection wells within five miles of a Youngstown brine-injection well suspected of causing 11 earthquakes this year.
"Public safety is paramount in our decision-making in this process. Our top concern is for the health and safety of our residents," said Gov. John Kasich spokesman Rob Nichols.
The ban will keep the much-debated Youngstown well shuttered, along with four others, until further notice.
Saturday's temblor rattled residents from Cortland to Canton to Canfield. It was felt to the northern boundary of Trumbull County, in the Shenango Valley in Pennsylvania, even as far as Buffalo, N.Y.
The earthquake was originally determined to be centered near Oregon and Florida avenues in McDonald, according to the U.S. Geological Survey. However, the epicenter was later revised to state Route 711 near the Mahoning River, near the D&L injection well.
It is the 11th quake in the Valley this year.
Andy Ware, deputy director at the Ohio Department of Natural Resources, said that Mike Hansen, state seismologist, was looking at the data Saturday.
Hansen said there could be more earthquakes as it could take days or weeks for the underground brine pressure to subside.
The quake shook up state Rep. Robert F. Hagan of Youngstown, D-60th, who renewed his call for a stop to drilling.
"I'm calling on the governor for an immediate moratorium on all drilling in the state of Ohio," Hagan told The Vindicator on Saturday. "This is just getting out of hand. You can't have 11 earthquakes and just say it's natural."
Hagan was ironing his son's shirt for his New Year's Eve party when the quake struck.
"We thought somebody fell down the stairs with a dresser," he said. "We ran out, looked around, and I said 'That was an earthquake.'"
Mitchell Gold of the Lamont-Doherty Cooperative Seismic Network from Columbia University, said the 4.0 earthquake had a preliminary depth of about 2.2 kilometers. However, by about 8 p.m., the USGS had revised that figure to 5 km (3.1 miles).
Gold said it could take days to gather data from seismic stations and
determine the exact location and depth.
The quake came one day after the state ordered D&L Energy Inc. to shut down a brine-injection well in Youngstown. That well injects brine, a byproduct of fracking, about 9,300 feet into the ground.
The brine's target formation is the Mt. Simon Sandstone, a permeable layer just above the Precambrian formation, also known as the crust, or bedrock.
Ray Beiersdorfer, a geology professor at Youngstown State University, said that brine water injected deep into the ground can act as a lubricant between underground formations. Under normal circumstances, the formations are held together by the weight of the formations above and by the force of gravity. But add the brine as a lubricant, and those formations — in this instance the Mt. Simon and Precambrian — can then shift on top of each other, causing an earthquake.
It is not known if the D&L well caused any of the earthquakes, but the state on Friday told D&L to cease operations to run radioactive tests and plug the bottom 250 feet of the well.
That injection well is suspected of being the source of the previous 10 earthquakes, which had magnitudes between 2.1 and 2.8.
Many who are against injection wells, however, see the latest quake as a wake-up call.
"Now everybody understands how big of a deal this is," said Mike Costarella, a Girard resident, who has closely followed the earthquakes since the first two occurred in March.
Saturday's quake is not the largest in Ohio history. In 2001, the state felt a magnitude 4.5 tremor in Ashtabula County.
In McDonald, which officials originally believed to be the epicenter, Brandon Thomas was working at Ianazone's Pizza on Liberty Street.
"The whole building shook. It was quick but long enough to knock stuff off the shelves and the lights flickered," he said, adding employees thought something had hit the building or a gas line had exploded.
McDonald police officer Dan Supera was outside the police station when the quake hit and felt the tremors. Police officers and firefighters began answering calls about the quake, but no serious damage had been reported as of about 4 p.m.
At the Mahoning Avenue Sparkle Market on Youngstown's West Side, workers thought a New Year's Eve reveler imbibed too much, too early, and crashed into the building.
"We heard a big boom and then the building shook. I thought a car hit the building and everyone went running outside," said Jeanie Heginbotham, assistant head cashier at Sparkle.
When there was no car and no other apparent cause for such a loud boom and shaking sensation, workers and customers realized it must be an earthquake.
"Cans fell off the shelves and the register was shaking," Heginbotham said.
The belief that a truck or a car had hit their building or house was a prevailing theme for people surprised by the feel — and sound — of the quake.
"It was a shocker," said McDonald Councilman Richard Harvey, who lives on Pennsylvania Avenue. "It was very loud," he added, likening the noise to an explosion.
"It felt like a car or truck ran into the house," he said, adding that pictures fell off the wall in his home. "I'll never forget that sound."
April Kendra, who lives on Hickory Trace in Girard near the Golf Dome, said she was teaching a gymnastics class to seven girls ages 10 to 12 at her home when the quake struck.
"They were scared, freaked out," she said. "It was just crazy."
Kendra said the sound was hard to describe.
"I heard a rumble, almost like thunder," she said. "One girl said, 'It sounds like somebody rammed the front of your house.'"
Niles Councilman Ed Stredney, who represents the 3rd Ward, said the quake rattled open his kitchen cupboards.
Disptach centers in Mahoning and Trumbull counties reported no major damage. Bricks fell off a chimney at a house on Indiana Avenue in McDonald, the Trumbull dispatch center said.
The Mahoning County center said it fielded about 40 calls in 10 minutes, but damage was minor, with people reporting lamps and glasses falling off tables in Poland and Austintown.
In Mercer, Pa., the dispatch center said the quake was not felt there. But farther west in the Shenango Valley, people in Sharon, Farrell and West Middlesex felt it and called to report their houses were shaking.
In downtown Youngstown, the entire police station shook, personnel there reported.
Sean McKinney, the city's building and grounds commissioner, said the only damage to city buildings found so far is cracked windows at 20 Federal Place, which was hosting First Night festivities Saturday evening.
McKinney said his staff walked through buildings Saturday after the quake and will do so again today and next week.
Among those attending First Night events, some said they didn't even feel the quake. But others, including former Hawaii resident Julie Grassley, said the intensity of it frightened her group.
Grassley, who lives in the Idora Park neighborhood on Youngstown's South Side, said she went through a 6.7 quake in Hawaii when she was a teenager, and Saturday's quake was a scare.
"I started screaming," said Grassley, who remembered "having to hold on to something or you were being thrown across the room" during the Hawaii quake.
Youngstown Councilman Mike Ray told The Vindicator that council will call an informational meeting about the D&L Energy deep injection well on Ohio Works Drive.
Officials said Saturday that the need for jobs creation that brine wells could bring has to be balanced with caution over the risk that it may have caused the series of earthquakes this past year.
Niles Councilman Stredney said that the Mahoning Valley really needs the jobs that come with the wells.
"But there has to be a safe way to do it," he said. "My worry becomes, now, it's [4.0 on the Richter Scale] — what if it goes to 6 or 8?"
McDonald Councilman Harvey said people in his community are "just feeling cautious."
"There's a lot of questions, and money gets ahead of caution sometimes," he said.
McDonald Mayor Glenn Holmes said he spoke to state Rep. Sean O'Brien, D-65th, who contacted a representative of the governor's office "immediately."
"Stop everything until you figure it out," he said.
More like this from vindy.com