YOUNGSTOWN
Buyer Beware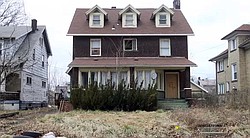 Video
A California man got a surprise after buying a house in Youngstown.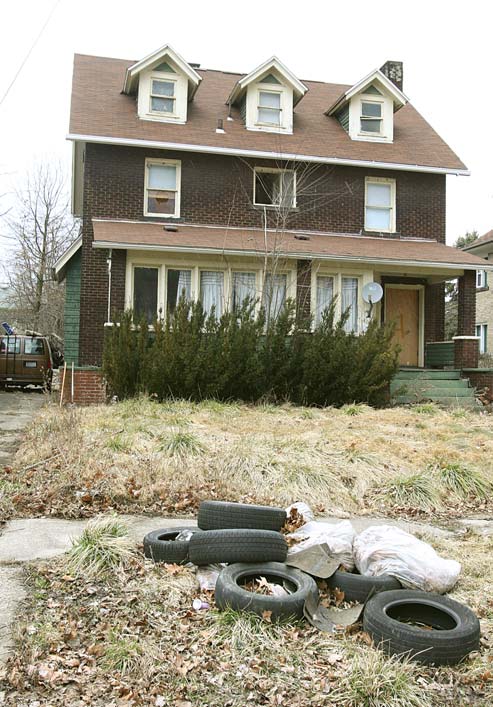 Photo
Rik Blake of Hermosa Beach, Calif., was given photos of this house in the 400 block of Lora Avenue in December. He liked what he saw, purchased the house while in California and arrived in Youngstown on Thursday. The house's exterior looked similar to the photos, but the interior was drastically worse — no heat, electric or water — than what was depicted in those photos.
Rik Blake thought his new house on the city's North Side was "move-in ready."
An ad online at Craigslist.org Dec. 16 said: "Property needs some repairs, so get your paint brush, mop and gardening tools and bring back the old glory days of this fine home."
But when Blake pulled up at his house in the 400 block of Lora Avenue on Thursday, he was shocked. The house was stripped, windows shattered and an orange 8-shape was spray-painted on the door, meaning the utilities had been disconnected.
Instead of a fixer-upper home, Blake was staring at blight. His house is one of 3,236 vacant structures in the city.
"I was given paint, a sink and faucet handles, but all the plumbing's gone. It does me no good whatsoever. I was under the impression it had a two-car garage — and absolutely it does — but it's on top of itself. It's a bunch of wood, part of my fireplace right now," Blake said.
Blake, 49, of Hermosa Beach, Calif., wanted to make a new start. He was a motorcycle salesman and inventor, creating several registered businesses for his products, but after a pelvis-shattering injury and a renter's lawsuit, he decided to take his share of a settlement and buy a house.
His lawsuit settlement was $15,000. He considered a $10,000 house in Missouri, but the real-estate listing said it was "gutted." He agreed to pay $13,000 to the Lora Avenue home's owner, California-based Dream Home Investment LLC, figuring the extra $3,000 was worth it because the house was move-in ready.
He provided The Vindicator a copy of his paperwork, including a receipt documenting his initial $8,000 payment with an agreement to pay the remaining $5,000 over the next year.
Dream Home Investment LLC posted ads on Craigslist and emailed Blake pictures showing the home in disrepair but with basic structures intact, such as the bathroom.
There's almost nothing left in the bathroom now, save a dismantled toilet.
Before Blake packed his brown van with his possessions, including his two dogs, Reverend and Deacon, he purchased his Youngstown property while in his home state.
He went to Dream Home Investment LLC, which lists an address on Aetna Street in Valley Glen, Calif. Valley Glen is part of the city of Los Angeles.
"It was somebody's house," he said of the business's office.
Dream Home purchased the Lora Avenue house in October 2009 through a quit-claim deed for $4,100. In 2008, Wells Fargo had purchased the house for $11,000 during a sheriff sale in the foreclosure process. The Mahoning County auditor lists the total market value of the property as $6,960.
The Vindicator tried several phone numbers listed online for businesses that appeared to be Dream Home Investment and a contact number provided on the Craigslist ad, but did not hear back.
Dream Home also owns two other Mahoning County properties, 813 Boston Ave. and 1327 Republic Ave., both in the city. Blake had an email from a Dream Home employee, saying the asking price of $12,995 for the Lora Avenue property; $59,999 for the Republic Avenue property; and $6,995 for the Boston Avenue property.
Buyer beware
Blake's situation is not unheard of, said Maureen O'Neil Farris, neighborhood improvement coordinator who is contracted by the city to work with property-maintenance enforcement.
"This really is a cautionary tale for any buyer who would get involved in such a large purchase without doing their due diligence and getting the service of a professional, whether it be a lawyer or real-estate agent, particularly when you're out-of-state like that," she said.
Still, Farris said she empathizes with Blake.
"My heart goes out to a person who's in that situation because when they see a lower price for the home, they think there's no way to lose, but what they're adopting in some cases is a liability," she said.
Mahoning County Treasurer Daniel Yemma said his office does field calls from out-of-state residents looking to buy property in the county and inquiring about taxes on them.
"Compared to many other places in the country, such as inflated markets in California, for example, or even Charlotte or Phoenix, where they were experiencing growth ... [the price] looks unbelievable. They think, 'How can you purchase real estate that cheap?' and they're not familiar with the market," Yemma said.
He said his office encourages those types of callers to have an inspection done of the house.
Farris said some people may have some legal recourse if the seller did not notify them of specific conditions of the property, but that could be mitigated if it was sold "as-is," such as Blake's case. House buyers should look for a property disclosure form, which wasn't filled out in Blake's case because the owners never lived in the property.
"The responsibility is on the buyer to protect themselves," Farris said.
That can be difficult with vacant houses because many times out-of-state owners are involved.
John D. Bralich, senior GIS (geographic information system) manager at the Center for Urban and Regional Studies at Youngstown State University, said 22.4 percent of the vacant structures identified in a 2010 vacancy survey by the Mahoning Valley Organizing Collaborative have out-of-state owners — and of those, 30.5 percent are from California. (The MVOC is a grass-roots community organizing initiative dedicated to improving the quality of life in urban neighborhoods in the Youngstown and Warren region.)
Youngstown has demolished more than 2,500 vacant houses in the past six years, but more than 3,000 remain, according MVOC.
Right now, the easiest way to check the state of vacant property in Mahoning and Trumbull counties is by using the Regional Property Information System database released in 2010 by YSU's Center for Urban and Regional Studies, an effort led by Bralich.
The information was provided by MVOC. YSU does have a disclaimer on the website and encourages individuals using the database to verify the information with public sources.
The vacant properties were rated on a letter system, A to F, with A representing a move-in ready residential structure and an F representing a property that presents an immediate liability to a neighborhood and should be demolished, said Phil Kidd, a community organizer who has worked on housing problems with MVOC.
City homes are for sale on eBay, and bids for property at 372 East Florida Ave. and 37 Linden Ave. are under way. A check of the RPIS database shows the Florida Avenue property listed as being occupied in 2010, but the Linden Avenue property was rated an F.
Blake's home on Lora Avenue is rated D, meaning it is in deteriorated condition with broken or missing windows and missing brick and siding, among other problems.
Making progress
Blake wants to fix the house "a room at a time" but knows it will be a challenge.
"I expected to move in and to have plenty of time to fix it up. I expected to have water and electricity. You have to go through so many inspectors, and I had no idea," Blake said.
He signed the agreement with Dream Home on Dec. 27, 2011, but didn't plan to move until the summer. His move was expedited when he saw an eBay classified listing Jan. 28 for a Youngstown house that looked identical to the one he purchased on Lora Avenue.
Worried that the house would be sold from under him, Blake packed up and drove to Ohio.
He spent most of his money during the move, paying for food, lodging and fuel. He said that one night when he stopped at a Missouri motel, his van was broken into and his prescription drugs, cash and other valuables were taken.
The night he arrived in Youngstown, Thursday, Blake slept in his van with his two dogs. He didn't want to abandon them to spend a night at a shelter. On Friday, he cleaned the fireplace and cleared the flue so he has a heat source.
His neighbors across the street, Jeffrey and Elyce King, said it's not the first time someone bought that house online.
"A family bought it a couple years ago, and the wife took one look at it and started crying," Jeffrey said. "They didn't even really get out of the car."
Jeffrey admitted he called the police about Blake, thinking he was a scrapper, but after meeting Blake and seeing his paperwork, he and his wife have tried to help the newcomer as best they can.
"It's such a sad situation," Elyce said.
Blake, an Army veteran who says he made it through only the sixth grade, is quickly running out of money but already has made progress on the house.
He's secured the doors, added a mailbox, swept and put plastic tarps in the doorways and windows. His belongings are tidy, and his skateboards decorate the living room where he eats. He sleeps in the boarded up entranceway.
He admits he'll need help — "I could use some more blankets," he said — but he isn't deterred.
He said his neighbors have warned about safety concerns, not unfounded as the street was the scene of a 2010 murder and 2008 stabbing. The Kings were even robbed at gunpoint last year.
Still, Blake said he feels "blessed" to own a house and to have his neighbors watching out for him, including one at the corner of Lora and Belmont avenues who gave him free firewood.
"I got so excited to come here. I mean, the people here are so cool. I've met so many neighbors," he said.