YSU men third behind Milwaukee and Valpo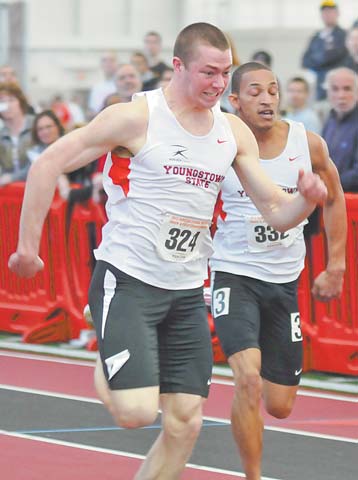 Photo
Youngstown State's Mike Davis sprints to the finish line to edge Julian Smith of Valparaiso and YSU's Tarelle Irwin, right, in the 60-meter dash. Davis, a Mathews High graduate, rebounded from a hamstring injury early in the season to win the 60, place second in the 200 and place fourth in the 4x400.
By Joe Scalzo
YOUNGSTOWN
Youngstown State junior Mike Davis had just crossed the finish line on the final leg of Sunday's 4x400-meter relay when he fell to the ground, sprawled out and started gasping for air.
Penguin coach Brian Gorby walked over, tapped him on the arm and said a few words of encouragement.
"Davis was huge," said Gorby.
A year after finishing second in the 60-meter dash — a race he felt he won — the Mathews High graduate rebounded from an early-season hamstring injury to win the 60, place second in the 200 and place fourth in the 4x400.
Alas, it wasn't enough to hold on to second place as Loyola won the relay to finish with 98 points in the men's standings, dropping YSU to third with 93. Milwaukee won its ninth straight indoor crown with 125 points.
Davis' time in the 60 of 6.87 set a WATTS record and was three-tenths of a second faster than Valparaiso sophomore Julian Smith. But it was .01 slower than his time last year, which was .01 slower than Detroit's Vushaun Landrum.
Landrum finished seventh on Sunday in 7.06.
"I guess I got lucky that Vushawun wasn't as fast as last year and I got a good start today," said Davis.
Davis missed two months with a strained hamstring — "I had to get used to running on this track," he said — and isn't quite as fit as he was at this time last year, he said.
"But it definitely helps when you win something," said Davis. "My whole track career, I've always finished second."
Junior John Seaver (South Range) was the only other Penguin male to win an event Sunday, leading a dominating performance by YSU in the shot put. The Penguins captured four of the top five spots and Sever's throw (57-11 3/4) set a conference indoor record.
Bobby Grace was second in the shot, George Thomas was second in the weight throw and Johny Copley (pole vault) and Dorian Davis (long jump) also placed second in their events.
Between the men's and women's events, 15 Horizon League records fell this weekend, thanks in large part to the WATTS' state-of-the-art mondo track surface. It's the same surface used in the Beijing Olympics.
Gorby is hoping the track — and the facility — will aid the team in recruiting. YSU has already hosted more than a half-dozen high school meets this winter, exposing some of the region's top talent to the WATTS.
"From a team standpoint, we want to take that last step and win it," Gorby said.