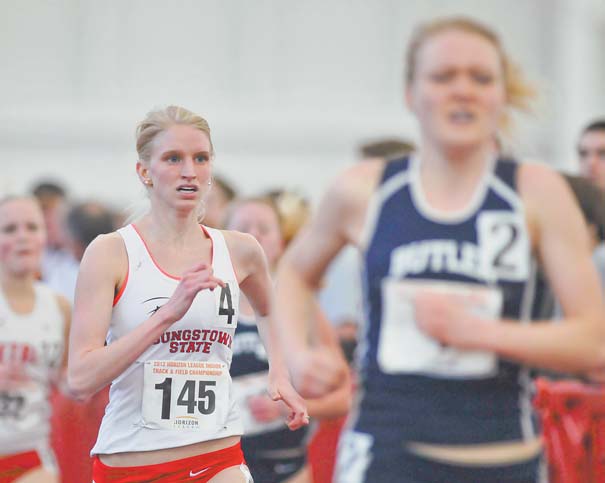 Photo
Youngstown State's Samantha Hamilton, a graduate of Jackson-Milton High, runs to the finish line behind Butler's Katie Clark to place second in the 3,000-meter run in the Horizon League indoor track championships Sunday at YSU.
By Joe Scalzo
YOUNGSTOWN
On the final lap of Sunday's 3,000-meter run at the Horizon League indoor championships, YSU junior Samantha Hamilton was a few steps back of Butler junior Katie Clark when Clark started to separate.
"I decided [to go] and I was like, 'Oh boy, this is either going to be the best decision I've ever made or the worst,'" said Hamilton, a Jackson-Milton High graduate. "Thankfully, it turned out OK."
Hamilton couldn't quite catch Clark, the league's cross country athlete of the year in 2009, but she crushed her personal best time in the event by 12 seconds, finishing in 9:28.30. That mark bested the previous Horizon League indoor record by more than 16 seconds.
Unfortunately, Clark's time of 9:27.34 bested it by more than 17.
"I really thought with two laps to go, I might have a shot to win this," said Hamilton, who also ran a personal best in the 5,000 meters on Saturday, again finishing behind Clark. "But I'm OK losing to Katie Clark, let's say that."
Hamilton's performance was a microcosm of YSU's weekend as a team. The Penguins had some terrific individual performances but they weren't quite good enough to wrestle away first place.
Milwaukee won its third straight indoor title, scoring 137 points to pull away from runner-up YSU (111). Butler was third with 82.
"A lot of kids stepped up big but one thing we didn't quite have, that Milwaukee did, is the depth," said YSU coach Brian Gorby. "But we had some tremendous performances."
Hamilton's time of 16:40.23 in Saturday's 5,000 was more than nine seconds faster than the previous Horizon League mark. Problem was, the nationally-ranked Clark ran a 16:23.75.
"Samantha Hamilton put down the greatest meet in YSU Horizon League history," said Gorby.
Penguin sophomore Ciara Jarrett won the 200 and placed second in the 60, sophomore Katrina Rettburg won the high jump and senior Kaitlyn Griffith won the shot put and weight throw — both by personal-best distances — as YSU finished second for the third time in four years.
Griffith's weight throw win came Saturday on her 22nd birthday, while Sunday's shot put (47 feet, 11 inches) set a YSU record.
"We had a lot of outstanding performers and if we had more depth, we'd definitely be able to capture it," Griffith said of the team title.
Griffith was also named field athlete of the meet, adding to the massive collection of trophies from her track and field career.
"My dad has this huge case and it's just filled," the Orrville native said, laughing. "This weekend was amazing, especially with the atmosphere. All your friends and family can come. Usually we're out past Indiana and it's hard to have your friends and family drive out that far."