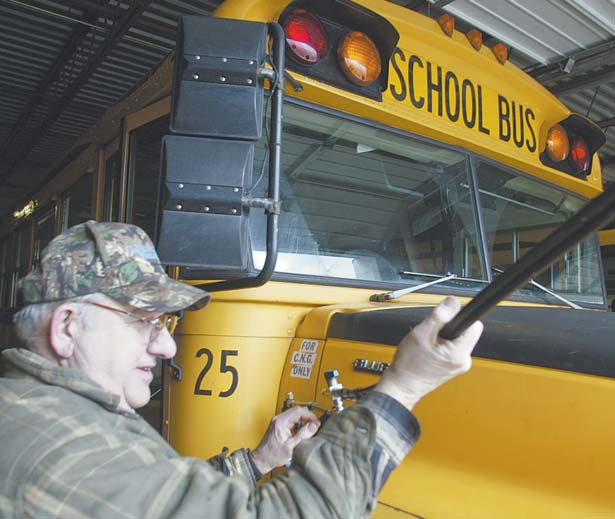 Photo
Compressed natural gas vehicles are sparingly used despite an overabundance of the natural resource. Some businesses, however, have begun converting their fleets to CNG. At Lakeview schools in Cortland, the district since the late 1990s has used seven CNG-retrofitted buses. Here, Robert Czako, mechanic, fills a school bus with CNG.
By Karl Henkel
YOUNGSTOWN
Chesapeake Energy Corp. plans to bring compressed natural-gas stations to the Mahoning Valley, bucking a regional trend of ignoring alternative- energy sources.
"We are currently in talks with a large regional retailer, which will bring 10 to 20 stations to Northeast Ohio, Western Pennsylvania and West Virginia," said Keith Fuller, director of corporate development. "Ohio needs more public-access CNG stations. There are currently only four in the state."
Two more are expected to open before the end of March in Dublin and Columbus.
Compressed natural gas, or CNG, is an alternative fuel source most commonly used in fleet vehicles.
It is half the cost of regular-grade gasoline, which in the Youngstown area was near $3.70 per gallon on Sunday, because of an overabundance of the resource, particularly in the Utica and Marcellus shales.
There's actually so much natural- gas production in the U.S., companies like Chesapeake have decided to cut off most of their exploration resources to focus on wet gas and oil.
But despite rampant supply and half-priced energy, CNG hasn't yet enticed auto manufacturers.
Chrysler has plans to make CNG vehicles in the United States; General Motors sells CNG express vans.
They are more focused on meeting federally-mandated emissions requirements for mainstream vehicles.
THE COSTS
CNG-powered vehicles get the same fuel economy as a conventional gasoline vehicle, on a gasoline gallon-equivalent [GGE] basis, but at 50 percent of the cost.
Currently, CNG costs about $2.09 per GGE on average.
In fact, the latest Clean Cities Alternative Fuel Price Report, from October, found that the price of CNG per GGE was $1.37 cheaper than the average price for a gallon of regular-grade gasoline ($3.46).
CNG was the cheapest form of fuel, beating biodiesel, diesel, ethanol and propane, according to the report.
The average price for CNG in the Midwest was even less expensive, $1.74 per GGE.
The cost savings has many taking notice.
AT&T already has more than 3,400 Ford E250 CNG vans as part of its alternative-energy plan. The company estimated the cost savings at the equivalent of 1,000 jobs per year.
There's a monetary drawback, however.
Lakeview School District in Cortland has dispatched seven CNG buses since the late 1990s, but has had to search nationwide for replacement parts, both because of the buses' age and because CNG parts are in limited supply.
"It's pretty much a wash at this point," said Dan Falatic, Lakeview transportation and maintenance supervisor.
CNG-equipped vehicles, which are relatively rare, cost thousands more than their gasoline counterparts.
THE ENERGY
Protecting the pocketbook may be at the top of consumers' to-do lists, but CNG also is environmentally friendly.
According to the U.S. Department of Energy, CNG gives off significantly lower levels of nitrogen oxides, particulate matter, toxic and carcinogenic pollutants and carbon dioxide, in comparison to conventional gas.
The Honda Civic GX, currently the only U.S. vehicle that runs on CNG without modification, has been called the cleanest internal-combustion vehicle on earth by the U.S. Environmental Protection Agency.
President Barack Obama has taken notice; last week he announced a $30 million DOE grant to increase the number of CNG vehicles across the nation.
But the clean energy also comes with a few drawbacks: vehicles that use CNG, which is stored in tanks either beneath the vehicle or in the trunk, can go about half the distance of their regular-grade gasoline counterparts.
This means two things: either more visits to a CNG station, or use of an at-home filling station to refuel the vehicle.
The other option for consumers is a bi-fuel vehicle, such as the Lakeview buses that run on CNG but switch to conventional gas when the CNG supply runs out.
THE DELAY
For those still sold on CNG as a viable fuel alternative, be forewarned:
Most vehicles cannot currently be retrofitted as a bi-fuel means of transportation. Some popular cars such as new-model Chevrolet Impalas, Silverados and Ford Fusions can be equipped. The Civic GX currently costs about $8,000 more than its regular-grade gasoline-running brother.
Automakers aren't too keen on CNG vehicles for mass consumption.
"It's a nice technology, and it works well, but I don't see other manufacturers rushing down the road too quickly," said James Bell, head of consumer affairs at General Motors. "My sense is that for the certain customer that has a designed commute and has infrastructure available for getting CNG, then it kind of starts to make sense."
Finding vehicles is also a drawback. Honda has introduced the CNG GX in four markets: California, New York, Utah and Oklahoma, where gas prices are generally highest.
CNG stations are few and far between. There are four in Ohio and fewer than 1,000 throughout the country, according to the U.S. Department of Energy, and many are private, compared to about 175,000 gasoline stations.