UNION LEADER: USPS IGNORED INPUT, OUTCRY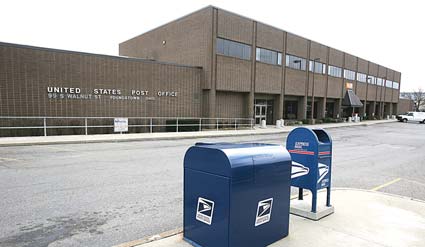 Photo
The U.S. Postal Service will close mail handling and distribution operations at the Youngstown Post Office on South Walnut Street.
RELATED: Bill to reform costly postal pension system languishes in Congress
By Karl Henkel
khenkel@vindy.com
YOUNGSTOWN
The U.S. Postal Service'sdecision to close the Youngstown processing and distribution facility is "reckless" and shows the post office has "no interest in what the public has to say," a union representative says.
Dominic Corso, president of the American Postal Workers' Union Local 443, says Youngstown's need for its 500-employee plant is greater than that of other plants in Northeast Ohio — and he says he has the numbers to prove it.
Corso provided The Vindicator with postal-service summaries from three regional public-input meetings last November and December.
The postal service received seven letters on its Area Mail Processing studies at similar facilities in Akron and Canton.
In Youngstown, it received 8,419.
"It shows that the public outcry to keep Youngstown intact is clear," Corso said. "They spoke loudly with their letters and their attendance at the meeting [in December]."
Youngstown, Akron and Canton, along with six other facilities in Ohio, will consolidate with facilities in Cleveland, Columbus and Pittsburgh.
The postal service also is ending mail processing at 10 centers in Pennsylvania, including New Castle's.
A time line for closures has not been established yet, though when it happens, it will mean mail will take two to three days for delivery instead of the standard one to two.
About 500 employees at the Youngstown center will be affected; about 200 could be reassigned involuntarily to other locations within a 100-mile radius.
One of those transfers is Victor Palo of Conneaut.
"A job is a job," said Palo, an electronic technician who has worked at the postal service since 1995.
Other workers, such as Dan Napolitan of Austintown, a 25-year employee, have pleaded for a government overhaul to prevent mass layoffs of postal-service personnel.
Napolitan has sent numerous letters to legislators, but so far, his tactic hasn't worked.
The postal-service maintains it has no other option but to consolidate.
"The decision to consolidate mail processing facilities recognizes the urgent need to reduce the size of the national mail processing network to eliminate costly underutilized infrastructure," Megan Brennan, postal service chief operating officer, said in a statement. "Consolidating operations is necessary if the postal service is to remain viable to provide mail service to the nation."
A 25-percent reduction in mail volume since 2006, the highest volume year for the post office, is one reason the postal service has racked up multibillion-dollar deficits the past two years. At the Youngstown center, the decline in the same period was 20 percent.
Youngstown's mail volume fell from 54 million to 45 million since 2008, a drop of about 17 percent.
The most-substantial reason for the closings, however, is the government-mandated retiree health-care benefit pre-funding program.
Every year, the postal service starts with a deficit of $5.5 billion, as stipulated in the 2006 Postal
Accountability Enhancement Act, which requires USPS to fund retiree health-care benefits 75 years in advance.
In December, the postal service had decided to close the Youngstown facility and transfer its responsibilities to Pittsburgh, according to internal documents acquired by The Vindicator.
Later that month, after the postal service agreed to postpone closing any post offices or mail facilities at the behest of Congress, it hosted a town-hall meeting in Boardman about consolidating operations with Pittsburgh.
David VanAllen, a postal service spokesman, said it was "decidedly more feasible" to shift operations to Cleveland.
The consolidation means a letter originating from Boardman that is slated for delivery in Austintown will travel about 150 miles, compared with the 15 it would travel if processed in Youngstown.
The Grumman Long Life Vehicle, designed for use by the USPS, gets about 17 miles per gallon, so the postal service will spend about 10 times more to deliver a truckload of mail.
The closing also will impact the city's bottom line negatively.
Youngstown receives about $500,000 in income taxes from the 500 postal service workers.
The Mahoning Valley's falling unemployment rate will also take a hit. If 200 employees are transferred and 300 others are laid off, the unemployment rate will tick up 0.1 percent.
Despite the closing of the mail-handling and processing sections of the downtown Youngstown postal center, part of the building on Walnut Street downtown will remain open for regular customer services.
The postal service says it will continue to move forward with consolidation plans until Congress says otherwise.
Consolidation is contingent upon the outcome of a proposal to revise service standards, including the delay of first-class mail.