Engineer is Girard's oldest employee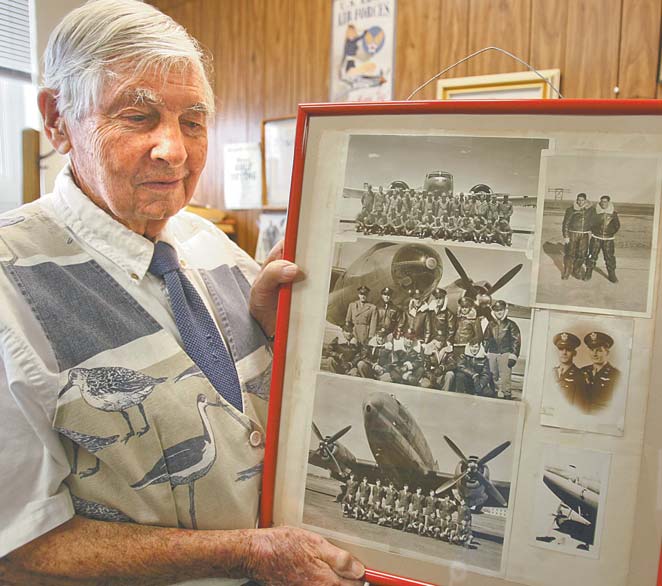 Photo
David Hall, Girard city engineer, holds a frame depicting three of the nine planes he flew during and just after World War II when he was in the U.S. Army Air Corps. Hall has been with the city for 12 years.
Girard
Seven mechanical engineering certificates from seven states hang on a wall in Dave Hall's office in the old portion of city hall.
The 87-year-old mechanical engineer for the city, touted by many as Girard's last Republican, is its oldest city employee.
But by far his most notable achievement is flying over the Himalayas, resupplying British soldiers fighting for Yangon, Myanmar (then known as Burma) during World War II.
And for those ready for a history lesson, he's got his entire flight path on a world map hanging in his office.
"I had never even been on an airplane," Hall said, standing below a photo of President Richard Nixon and a letter he wrote to Hall. "But I saw a big sign saying 'You, too, can be an air corps cadet.'"
But the training required two years of college. Still in Girard High School, Hall took evening college courses so by the time he graduated high school in 1942, he had met the criteria necessary to enter the U.S. Army Air Corps cadet training program.
The training took him to several bases in the southwest United States and Pierre, S.D., before the military assigned him to fly a C-46 over southwest Asia.
In the time it takes most people today to graduate college, Hall had logged 3,000 hours of flight time in a combat zone, flying in a part of the world where weather killed more pilots than enemy fire.
"I can still hear today the pilots screaming over the radio, 'We're lost,'" he said, adding that their voices still resonate with him.
After the war, he returned to the United States after a 21-day trip aboard a troop ship with 5,000 other soldiers, sailors and airmen. In the end he earned three Distinguished Flying Crosses but turned down service in the Korean War because he was tired of constantly being told what to do.
"I don't like to be regimented," he said.
He also turned down a pilot's job with Capital Airlines, which later would become United Airlines, because they wanted him to co-pilot. So he went to work for the only boss he could bear to take orders from: himself.
After graduating with a degree in mechanical engineering from Youngstown College in 1950, Hall spent the next 40-plus years self- employed and based in Girard, flying stock-car tires to Daytona Beach, Fla., and Indianapolis from Akron and assisting in the design of hotels across the country and Canada.
Somewhere among all that, he managed to raise three children after marrying his wife, Amy, whom he knew from church and school before the war.
On March 11, Hall will turn 88, and he has no plans to slow down.
He still attends continuing-education seminars around the country saying, "You have to keep up with the technology."
His current project is setting up a series of solar panels in Colorado.
In the 1970s, he joined the city as a Republican city councilman for eight years and ran twice for governor but lost both times.
But in 2000, putting aside party politics, Mayor James Melfi appointed the veteran as the city engineer, a part-time position with part-time wages that Melfi says Hall works like a full-time job. Working with zoning, he approves permits for construction.
Melfi said when he looked to appoint people after taking office, he looked foremost for people dedicated to making Girard a better place.
"Dave was the first one to come to mind as city engineer," he said.
Minus the traveling for work and the war, Hall has lived his entire life in Girard. His first job was delivering The Vindicator, collecting 28 cents a week from subscribers.
Others, such as city council clerk Kathy O'Leary, enjoy the stories he tells.
Her favorite one is when Hall ran into her uncle, Humbert "Becky" DeMas, another lifelong Girard resident, playing the trumpet in a military band at one of the officer's clubs in India.
"They ran into each other on the other side of the world," she said, still amazed at the chance meeting.
In November, Hall showed Melfi the ultimate respect by voting for the mayor in the last election. Melfi, Hall said, was the first Democrat for whom he voted.
"He treats me good; I treat him good," Hall said.
"The respect is mutual," Melfi said.