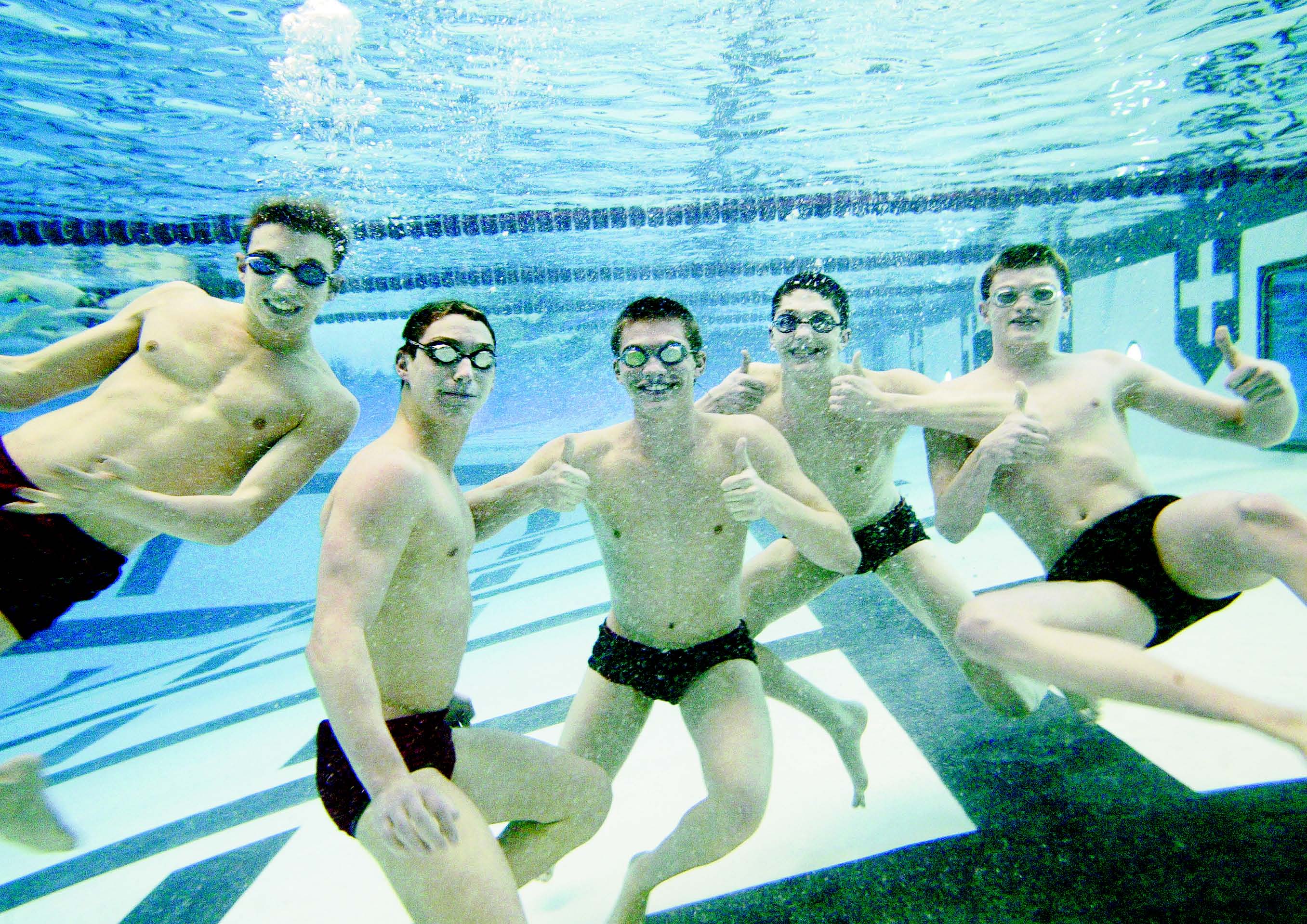 ---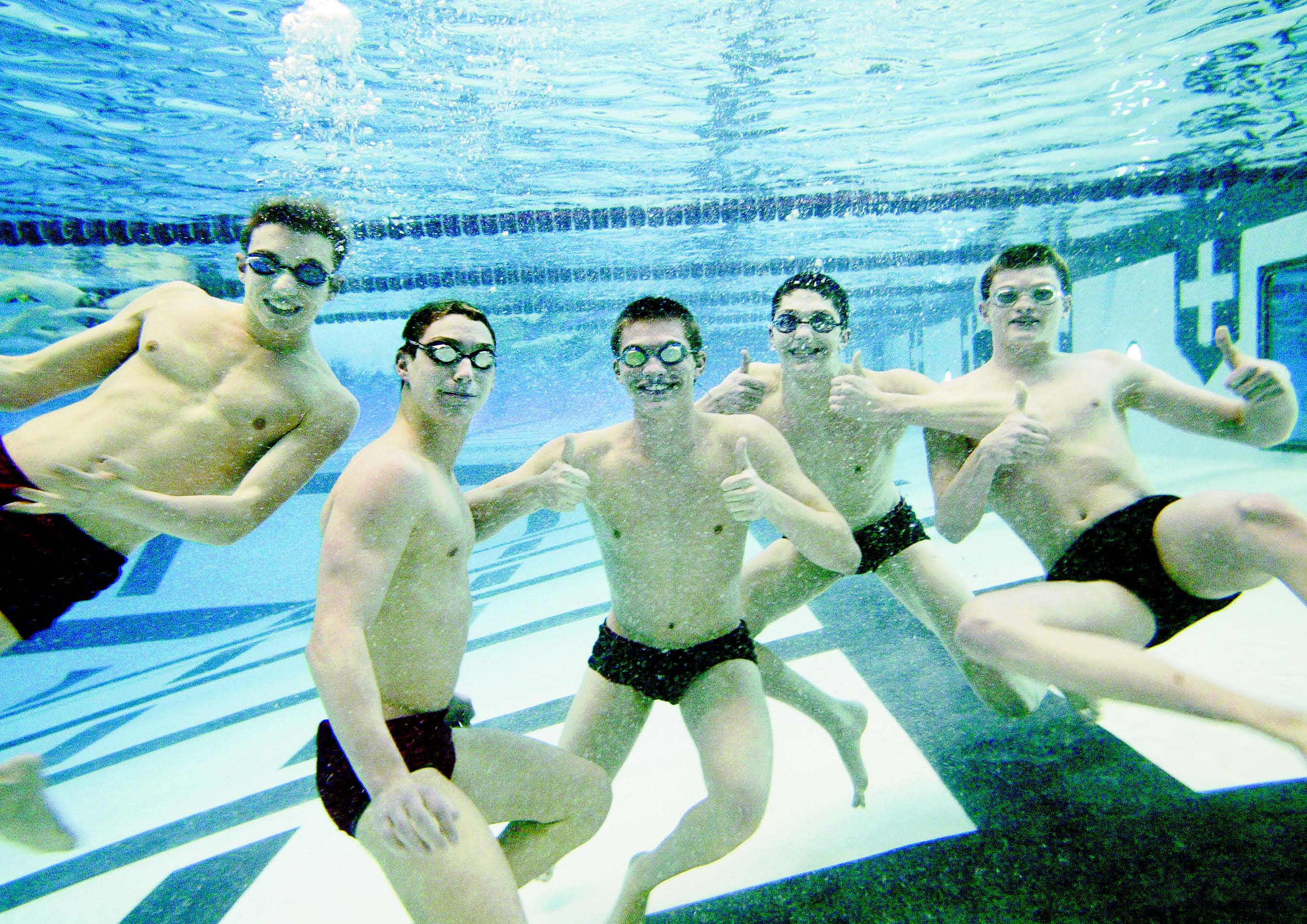 Photo
Canfield swimmers, from left, Michael DiDomenico Nicholas Montalto, Mark Dalvin, Daniel Bogen and Connor Brady clown around during practice Tuesday in the pool at Youngstown State University. The five will be competing this weekend at the Division II state swim meet in Canton.
Canfield swimmers — mostly — lack state meet experience, but that hasn't stopped them from setting big goals
By Joe Scalzo
Canfield swimmer Connor Brady was getting ready to jump into a pool for Tuesday's practice when a reporter looked at his arm, got a strange look on his face and said, "Uh, did you draw on your arm?"
"Yeah, I connected the freckles," he said.
Why, exactly?
"I was bored in English class," he said.
Oh.
At this point, we should mention that Brady is a freshman, although you probably figured that out. He spent so much time swaying back and forth through his first newspaper interview that one of his teammates was forced to walk up behind him, grab both shoulders and yell, "Stop!"
But don't let his age fool you.
"Connor is very happy-go-lucky but he knows what he wants to do," said his coach, Andrea Linnelli. "He's a competitor. Trust me."
Brady is one of five Cardinals who will compete in this weekend's Division II state swim meet. He's one of two who will compete in two individual events. (Sophomore Daniel Bogen, who did not write on his arm during class Tuesday, is the other.)
That's no accident, said Canfield senior Mark Dalvin.
"The reason they're so successful is they worked hard before they even got to high school," said Dalvin, Canfield's only qualifier with state meet experience. "They worked their butts off early so they can be at the top at the end.
"And they've helped me. I push them and they push me."
Bogen, who is making his first state tournament appearance, is seeded 11th in the 100-yard freestyle and 16th in the 200 free. Brady is 19th in the 100 back and 20th in the 100 fly.
They'll join Dalvin and junior Nick Montalto on the eighth-seeded 200 free relay. Sophomore Michael DiDomenico, Bogen, Montalto and Dalvin will swim on the seventh-seeded 400 free relay.
"They've swam together all year long and they had a goal to make it to state," Linnelli said. "They knew if they came together and swam fast, they would make it.
"And Mark, being a senior and a captain, told them, 'Hey, we can do this. I've been there before. I know what it takes.'"
That leadership, Linnelli said, has been key — not just from Dalvin, but from other upperclassmen who won't compete this weekend.
"I kind of learned from my seniors," said Dalvin. "I take their example and try to model the good things they did."
"They've been great," Brady added. "They don't treat freshmen like you'd think. OK, occasionally they do, but nothing that bad.
"They're really encouraging and really nice guys and it's a really great team. It's like a family. It really is."
Bogen was a district qualifier in the 200 free last season — he was on the bubble of making a few of Canfield's relays — and said the disappointment of not making it to Canton motivated him in the offseason. Some of his improvement has come from that training, some came from his natural physical development and some came from experience, he said.
"Last year I worked really, really, really, really hard to make it down to Canton and I ended up not making it and I think I used that to fuel me," he said. "Plus, having more experience helps you better prepare mentally. It helps you not psych yourself out before a race."
The top eight swimmers in Thursday's morning preliminaries advance to Friday night's finals, while those who finish between ninth and 16th advance to the consolation finals.
When asked about his goals for this weekend, Bogen said, "Finals. Right now I'm the 11th seed in the 100 free and that's borderline. Hopefully I can move up a couple places. But the relays are right there."
As for Brady's goals, well, who knows? At the beginning of the season, Brady's coaches had him fill out a goal card. He broke his first goal on his first day.
"I was so surprised with myself," he said. "But it's definitely a good surprise."
As the season progressed, he seemed to be the last one to realize he was capable of making it to the state meet. ("I started getting some good times and people were like, 'Dude, I think you can make it to state.' And I was like, 'OK.'") He said he looks up to Boardman junior Ryan Bailey, a Division I state championship contender in the butterfly, and tries to match Bailey's times from two years ago.
"Ryan's a perfect role model," said Linnelli. "Ryan does stuff in the offseason that no one else does. It's one thing to want it, it's another to actually do it.
"I think Connor is going to put in the effort to do it."
With four state rookies, it's hard to say how well Canfield will do this weekend. But Dalvin predicts big things.
"The energy at the state meet is different than any meet they've ever been to," Dalvin said. "That's good and bad because it gets your nerves up but it also gets your adrenaline pumping.
"I think they're going to pull off some awesome times."