Candidates defend their backgrounds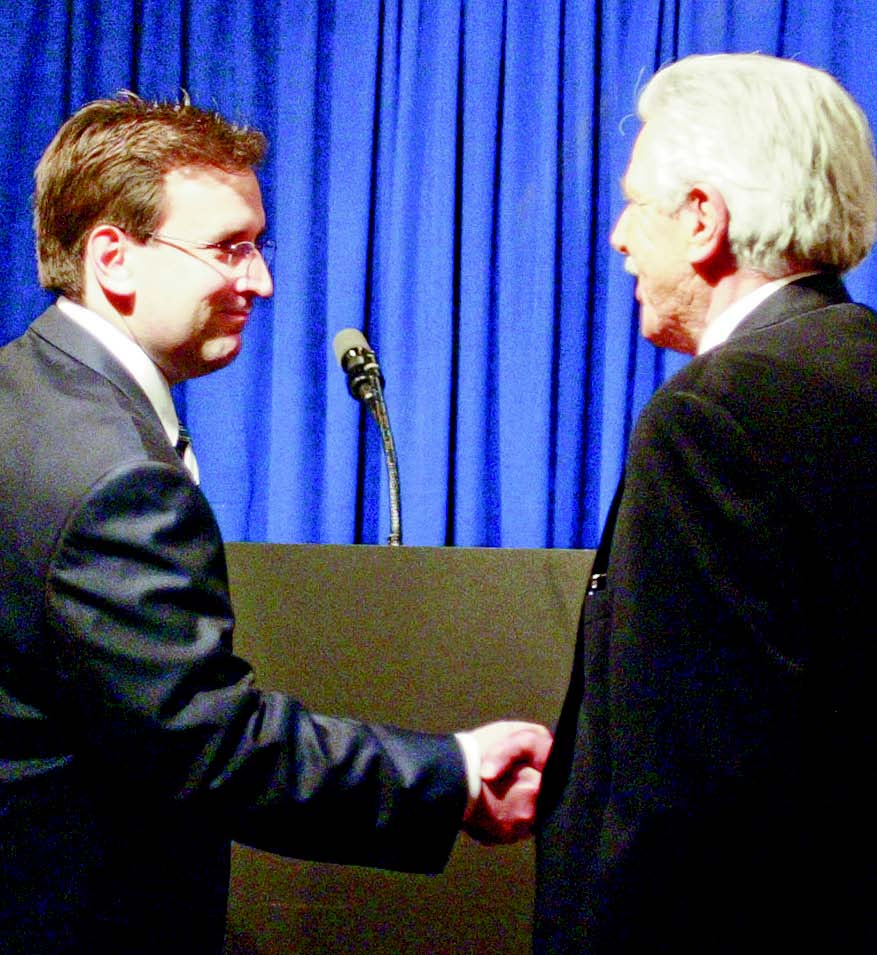 ---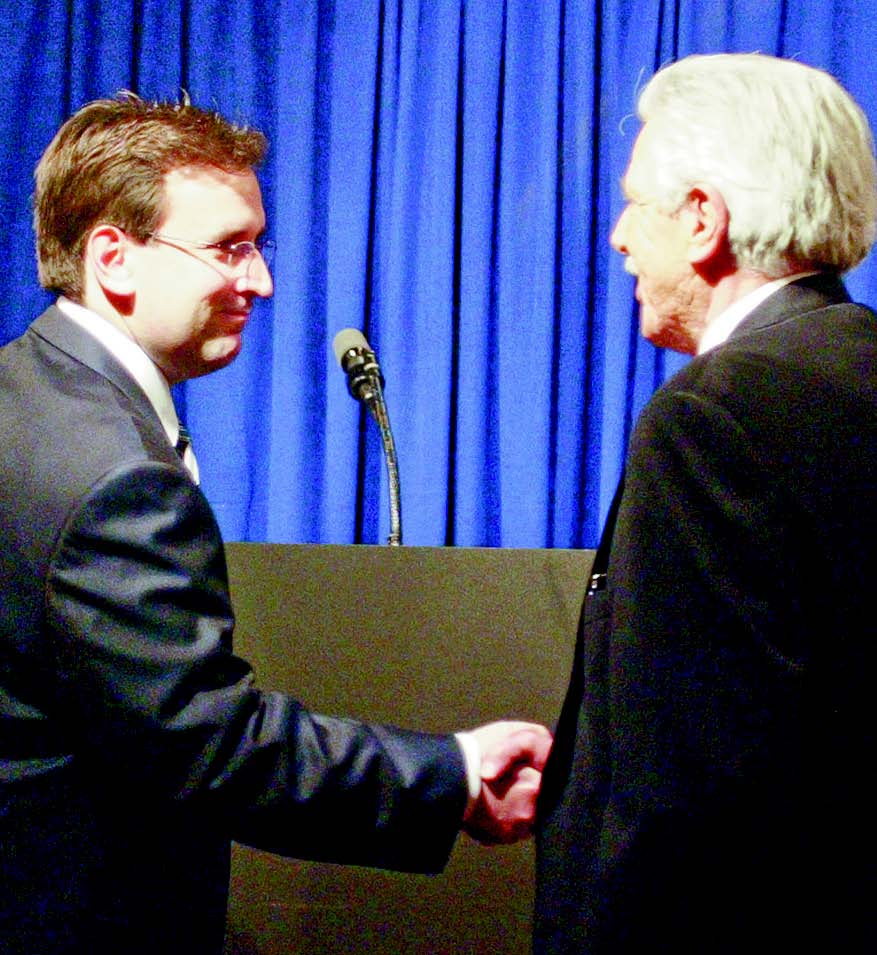 Photo
Mahoning County prosecutor candidate Jay Macejko, left, and incumbent Paul Gains meet before the start of Wednesday's debate on 21 WFMJ-TV.
YOUNGSTOWN
Mahoning County Prosecutor Paul J. Gains and his challenger, city Prosecutor Jay Macejko, touted their credentials and traded barbs in a live, one-hour televised debate.
The debate was Wednesday evening on 21 WFMJ-TV, less than two weeks before the March 6 Democratic primary, in which Macejko seeks to oust Gains from office.
Gains, county prosecutor since 1997, is seeking a fifth consecutive four-year term in the $105,703-a-year job.
"Crime is down. Convictions are up. Prison commitments are up. We are a safer community than when I took office," Gains said.
He cited the decline in Youngstown homi-cides from 62 in 1996 to 23 last year and a simultaneous drop in felonious assaults from more than 1,200 a year to fewer than 300.
"Nobody's going to question my integrity," Gains said, adding that he has given the county prosecutor's office 15 years of scandal-free leadership, with no lawsuits alleging discrimination and retaliation having been filed against him.
Gains cited his experience as a criminal defense lawyer and prosecutor, in supervising a staff of 42 in the county prosecutor's office, and in defending the county from civil lawsuits.
In contrast, Gains said Macejko, who has been city prosecutor for six years, lacks civil-law experience and supervises only six employees, two of whom have sued him.
Macejko said that if he's elected, he'd enter the office with 14 years of experience as a prosecutor, compared to zero for Gains when Gains became county prosecutor.
"There's a reason that people feel unsafe. It's because we need better performance from the prosecutor's office," Macejko said. "We need to bring victims and their rights into the forefront. We need to support the good efforts of law enforcement."
Macejko criticized Gains for giving his staff pay increases while deputy sheriffs are on layoff and parts of the county jail remain closed, but Gains said he did it within his budget and with the goal of reducing staff turnover.
Macejko repeated his assertion that he's never discriminated against anyone. Bassil Ally, the assistant city prosecutor who filed a successful federal religious discrimination lawsuit against Macejko and the city, is "permitted to worship as he chooses on city time," Macejko said.
Gains said, however, the city confessed a $100,000 judgment in the Ally case, and Gains cited a recent written finding by a federal judge that Ally was a victim of religious discrimination and retaliation.
Gains said he believes recent text messages between Macejko and Bret Hartup, an assistant city prosecutor, including a derogatory text message about President Barack Obama "are authentic."
He added: "No prosecutor should condone any type of racism or other bigotry. No prosecutor should accept that type of conduct."
Macejko, who has denied sending the Obama text, countered: "It's something that, if we were able to authenticate it, that I would have dealt with as a supervisor. However, the reality is that these were on private phones and there's no way of authenticating" the text messages.
Gains and Macejko also clashed concerning Lexter Williams, the armed home invader who fled to Philadelphia after his bond was reduced to zero and was captured there.
Gains said his office made a plea bargain in which Williams would serve a 13-year prison term and be released to house arrest pending his sentencing after the victims had moved to Texas and were "extremely reluctant" to return here to testify against him in a trial.
But Macejko said the victims were not notified Williams would be released and were willing to return here to testify.
"That little vacation cost him 67 years," Gains said of Williams. Gains said Williams was sentenced to 80 years in prison after his capture. The actual sentence was 831/2 years.
U.S. District Judge Christopher A. Boyko ruled earlier Wednesday that Atty. Scott Cochran, lawyer for the Islamic Society of Greater Youngstown, should not have released any case documents to The Vindicator, before filing them with the court, with the court-ordered redactions of Social Security numbers and medical information.
Cochran, a Gains supporter, sought to unseal all court documents in the discrimination lawsuit by Ally against Macejko and the city. Cochran released to the paper the text messages between Macejko and Hartup that included the derogatory reference to Obama.