Mahoning Valley sales tax revenue surged in 2011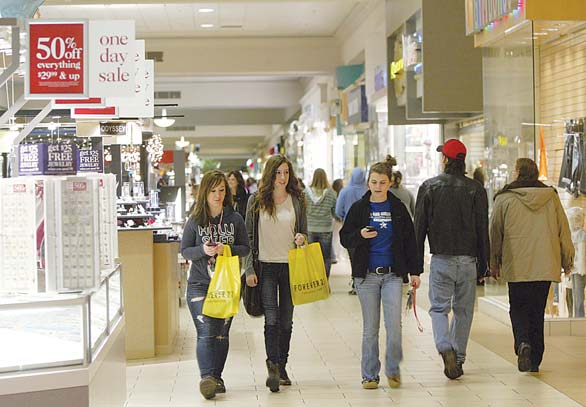 Photo
Foot traffic is up at shopping centers such as Eastwood Mall in Niles, contributing to the steady rise in sales-tax revenue throughout the Mahoning Valley in 2011.
By Karl Henkel
khenkel@vindy.com
YOUNGSTOWN
Revenue from sales taxes in the Mahoning Valley reached six-year highs in 2011.
Mahoning, Trumbull and Columbiana counties collected more than $65.5 million in 2011, nearly $5 million more than in 2010 and nearly $9 million more than in 2006.
"It's a precise measure of the retail sales in the region," said Cleveland-based economist George Zeller. "It's a general indicator of the economy as a whole."
The year 2006 was the first full year that all three counties levied sales-tax rates of 1 percent. The sales tax is tax on sales or on the receipts from sales. Figures came from the Ohio Department of Taxation, which collects and compiles sales-tax data.
The revenues, while topping totals from the past six years, fall short of 2007 figures when adjusted for inflation.
Still, the Valley's 8 percent jump in sales tax year-to-year revenue growth outpaced the statewide average of 4.6 percent.
Mahoning County sales-tax revenues climbed about 8.1 percent, or $2.2 million from 2010 to 2011; Trumbull County experienced an 8.5 percent, or $1.7 million boost; and Columbiana County had a 6.9 percent, or $858,591 increase.
"The Mahoning Valley is the fastest-growing area in Ohio," Zeller said. "You would anticipate the Mahoning Valley would beat the state average."
In Mahoning County, every month in 2011 had growth in sales-tax revenues, most notably in March and April, when the county generated nearly $600,000 in revenue.
BEHIND THE BOOM
The Valley's economic resurgence was evident in many areas in 2011.
Local automotive dealers sold 24,651 new cars in 2011, a 25-percent increase over 2010 and the highest total since 27,362 cars sold in 2008.
New car sales followed increasingly improving job trends.
The local unemployment rate in December, the last month for which statistics were compiled, was 8.5 percent, the lowest December unemployment rate since it was 6.5 percent in 2007.
The Youngstown metro area's employment trends also were promising.
The area had 2.5 percent employment growth last year, topping larger Ohio metro areas such as Cleveland, Columbus and Cincinnati, according to the Bureau of Labor Statistics.
General Motors Lordstown workers — nearly 4,500 of them — earned profit-sharing and signing bonus checks of $38 million last year.
They are also slated to get an additional $7,000 from profit-sharing checks, which will pump an additional $30 million into the local economy.
Auto workers weren't the only Valley employees with more income. Average wages increased in Mahoning County by 3.5 percent by mid-2011, according to data released earlier this year.
The nationwide average was a 3-percent hike; the Bureau of Labor Statistics does not track statistics for Trumbull and Columbiana counties.
WHAT IT MEANS
Zeller said the improving revenues are a good sign, but look somewhat inflated when compared with the last three "abysmally bad" years.
"If the Indians are 26 games below .500, and they win a couple games, they are still 24 games out," Zeller said.
Accounting for inflation, which Zeller pegs at about 2.5 percent, the Valley still exceeded expectations.
"There was real growth, not inflated growth," he said.
That growth helped many aspects of the community.
Cafaro Co.-owned Eastwood Mall in Niles had one of the better years in recent memory in foot traffic.
Foot traffic rose 2.25 percent during the shopping season compared with 2010.
"Foot traffic correlates to direct economic activity," said Joe Bell, director of Cafaro corporate communications. "You don't get a lot of people just coming as tourists."
In Mahoning County, Carol L. McFall, chief deputy county auditor, said last month that the county had a carryover balance from 2011 of about $1 million more than anticipated, thanks in part to an increase in sales tax revenue.
Added sales-tax revenue is only acting as a bandage for the Mahoning County budget.
"Even though we've seen an increase in sales tax, it's balanced with cuts from the state," said Mahoning County Commissioner John McNally IV. "The actual gains from this are not so great."