Fitch Falcons snap streak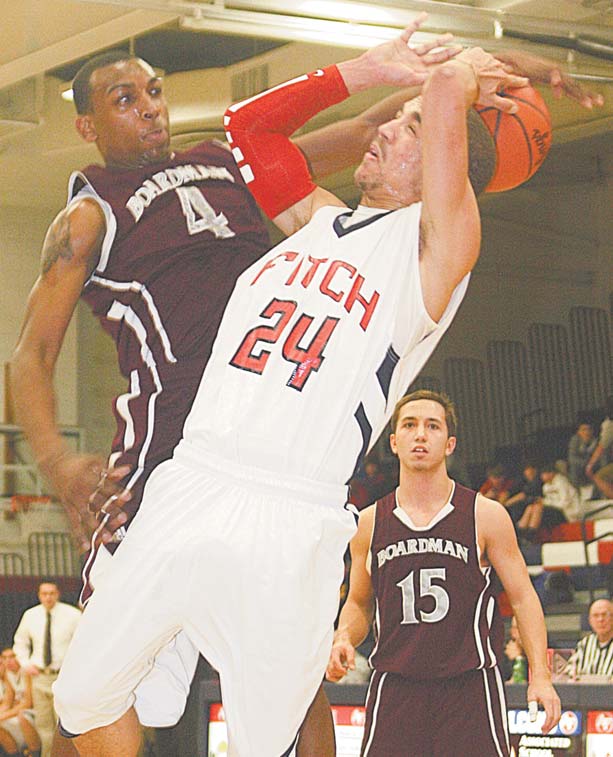 ---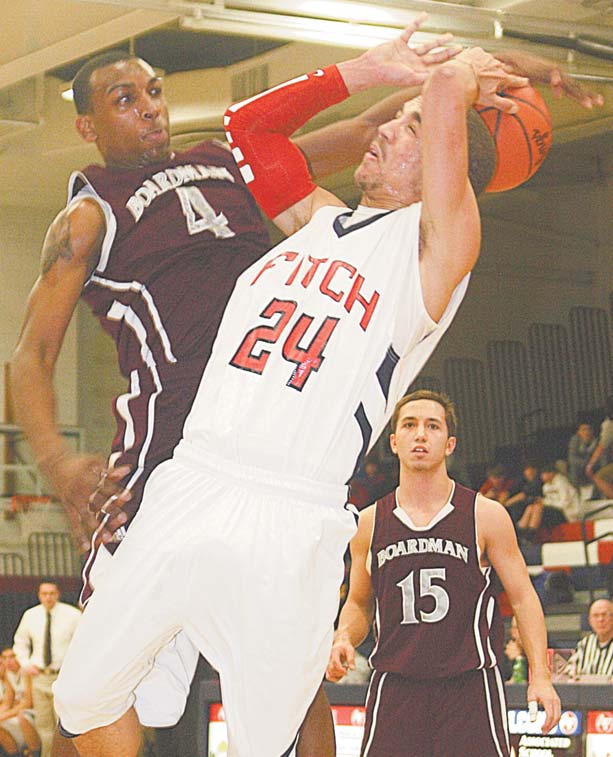 Photo
Boardman defender T.J. Irving (4) blocks a shot by Austintown Fitch's Nate Blair during Tuesday's game in Austintown. The Falcons won the rivalry game, 67-37.
By Tom Williams
AUSTINTOWN
For eight minutes, the spirit and intensity of the Steel Valley Conference was reborn as former rivals Boardman and Fitch engaged in a heated battle on the Falcons' basketball court.
A 16-0 run by the Falcons (11-9) to start the second quarter sent them soaring to a 67-37 victory, their first over the Spartans (3-17) in seven seasons.
"I am totally in the clouds," said senior Dan Chepke who led the Falcons with 22 points. "I can't be any more proud. First time in seven years to beat Boardman, and to beat them like that.
"It feels good — this is a reward for all the hard work we've put in," Chepke said. "I can't ask for anything more."
Brian Beany, Fitch's first-year varsity coach, called the win "huge.
"We worked our tails off the last couple of days because we knew it would be a slugfest," Beany said. "And in the first quarter, it was."
With both student sections making plenty of noise late in the first quarter, a 3-pointer by Nico DiIanni and a basket by Dayne Hammond gave the Spartans a 14-11 lead.
"We were making shots and that's been our problem all year," Boardman coach Dan McKeown said. "We're just inconsistent."
Momentum shifted dramatically in the second quarter as the Falcons outscored the Spartans, 22-4. Sophomore Jessie Driver scored eight of his 11 points during the big run.
"In the beginning, we had nerves because of Senior Night," Driver said. "We were all like crying in the locker room about them leaving. We're going to miss them.
"We realized that we needed to go out with a bang, so what better way to do it than against Boardman?" Driver said. "We were hungry for this one."
Senior Will Mahone contributed 16 points and five rebounds as the Falcons won for the 11th time in 16 games.
"We're playing our best basketball right now, which is exciting," Mahone said. "I'm not really scoring that much, but it's a lot more fun when we get everyone involved.
"We're just playing more like a team and winning games."
McKeown said the Spartans had their chances to keep it close.
"That whole stretch, we had shots in the paint, point-blank shots," McKeown said. "We just weren't converting."
Chepke scored 17 of his points in the second half.
"The first quarter, I think everybody was a little nervous, antsy — big crowd, Senior Night," Chepke said.
Beany agreed with his players that nervous energy was in the air.
"We were trying to make the perfect pass, we were trying to force things when they weren't there," Beany said of the first quarter. "Then we settled down. I guess you couldn't have scripted it any better for the seniors."
Senior Nick Williams scored eight points in his final home game in the Falcons' first season in the All-American Conference.
"They've probably been waiting for this for a long time," McKeown said, "They've got a good team this year and they are playing in a conference where they are getting crowds to the games and they are getting some enthusiasm about basketball again."
Hammond and DiIanni led the Spartans with eight points apiece.