Defense reigns for Falls, YCS in tourney tune-up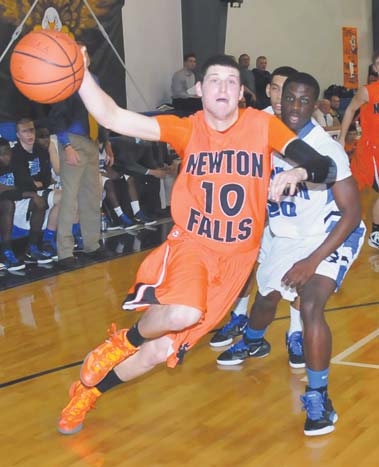 Photo
Newton Falls senior Cody Dillon (10) loses control of the ball while dribbling around Youngstown Christian defender JayQuan Yanno during Tuesday's game at YCS.
By Joe Scalzo
YOUNGSTOWN
Late in the third quarter Tuesday night, near the end of a stretch where his team scored two points in 13 minutes, Youngstown Christian boys basketball coach Dolph Carroll called a timeout, grabbed a clipboard, crouched in front of his team and started banging the clipboard on the floor.
"I (bang!) DON'T (bang!) NEED (bang!) GREAT (bang!) PLAYS (bang!) JUST (bang!) SIMPLE (bang!) ONES!" he said.
That's what Newton Falls' defense can do to you.
The Tigers' matchup zone flustered the Eagles and visiting Newton Falls mustered enough offense on an off-shooting night to win its regular-season finale, 57-42.
"We hang our hat on defense," said Tigers coach Roy Sembach, whose team was giving up just 43.4 points per game. "We've rarely, rarely given up 50 points this year.
"We had a slow start defensively tonight but I thought we got a little more intense."
After giving up 18 points in the first 10 minutes, Newton Falls shut out YCS over the last six minutes of the second quarter to take a 30-18 halftime lead. The Tigers then held the Eagles to one field goal over the next five minutes.
YCS was 1 of 14 with 10 turnovers over that stretch.
When asked what his team was doing offensively, Carroll said, "Missing layups."
"We couldn't get anything to drop early and then we got a little frustrated and tried too hard," he said. "They're a great team to play right now. They spread you out, they have great shooters and we had to adjust. We had to scramble.
"It was good."
Dale Kernen scored 13 points and Nate Novotny added 12 on four 3-pointers for the Tigers (17-3), who are ranked 10th in Division III. Cody Dillon added nine points and eight rebounds and Matt Brazin had seven assists.
"It was nice to go against some quickness and some nice athletes," said Sembach. "They're a well-coached team and they're going to be a handful for anybody at [the Division IV tournament] at Struthers."
Newton Falls, which begins tournament play Monday against Garrettsville Garfield, went through a mini-funk after a heartbreaking loss to second-ranked LaBrae but Sembach said the team has regrouped and is playing some of its best basketball of the season.
"I hope we're peaking — now's the time you better be," Sembach said. "We're gonna find out Monday."
The Eagles, meanwhile, were dealing with some injuries (starter Spencer Carroll had a rib injury and two others in the rotation missed the game altogether) but they have plenty of time to rest and regroup. YCS's first tournament game isn't until March 3.
"That's the way I like it," said Carroll. "I'd rather practice than play games."
Daylen Williams scored 10 and was the only player in double figures for YCS (11-7), which won the district crown in 2009 and lost to McDonald in the 2010 final.
"They're good," Carroll said of Newton Falls. "That was a fun game for us to play and see where we're at.
"I wasn't displeased. I'd just like to make a few more shots."