Was Children Services duped?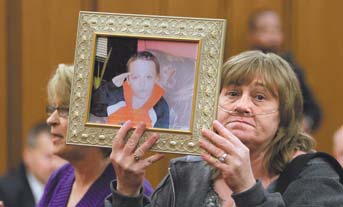 Photo
Family member Trish Boone holds a photo of Willie Robinson duringsentencing Feb. 16 in Cleveland for his parents, William Robinson Sr. and Monica Hussing, formerly of Warren. The parents of the 8-year-old who died from Hodgkin's lymphoma, after suffering undiagnosed for months, were each sentenced to eight years in prison.
By Ed Runyan
WARREN
Sheila Slawinski of suburban Cleveland says it appears to her that Trumbull County Children Services officials were duped by parents into thinking her nephew, 8-year-old Willie Robinson, was healthy in the months before he died.
The boy lived with his five siblings and his parents on York Avenue Northwest until several weeks before he died in a Cleveland hospital March 22, 2008, from undiagnosed Hodgkin's lymphoma, one of the most curable childhood cancers.
His parents, Monica Hussing, 37, and William Robinson Sr., 40, were convicted in Cuyahoga County Common Pleas Court of attempted involuntary manslaughter in Willie's death, and each was sentenced last week to eight years in prison.
The charges were filed because the parents refused to provide medical care for the boy, prosecutors said. Neither Willie nor several of his siblings attended school.
Slawinski said outside court Thursday she thinks the reason her sister and Robinson denied the boy medical treatment was that it was easier for Hussing to stay in bed during the day and do drugs. Both parents have abused drugs, their attorneys earlier told the judge.
Attorneys for Hussing and Robinson said the reason their clients didn't take the boy for medical care was that they didn't have the money and they didn't know that anything was seriously wrong with him.
According to the prosecution's pre-sentencing memo to the judge, at least eight family members noticed Willie's deteriorating health over a period of more than two years and most spoke to the couple about it. One relative described the boy's swollen neck glands as the size of a softball.
In a recent interview with WKYC Channel 3 in Cleveland, Slawinski said she contacted Trumbull Children Services in 2007 regarding the "huge knot" on Willie's neck and the refusal of her sister, Monica, to seek care for him.
In 2009, just after criminal charges were filed against Robinson and Hussing, a spokesperson for Trumbull Children Services told ABC News the agency was working with Willie's family from July 2007 until Feb. 14, 2008.
"When it became clear in January 2008 that they weren't following through with our demands, like enrolling the kids in school and getting a doctor, we told them we'd go to court," the spokesperson said.
The family left Warren for Cleveland's west side about two weeks after the last Children Services visit.
As for Willie, Children Services employees who had visited the home several times per month never saw anything unusual, the spokesperson said.
"The worker observed him, saw him watching television," the spokesperson said. "We never saw him in a sickly state."
In her recent interview, Slawinski said she thinks the reason the boy looked fine was that the family may have showed the caseworkers a cousin of Willie's — instead of Willie.
"He weighed 39 pounds, and he was the size of a 3-year-old underneath his clothes," Slawinski said of Willie at the time he died. The (Cleveland) Plain Dealer reported the boy weighed 51 pounds when he died and had the bone mass of a 4-year-old.
"The kids would tell us that they would go into the bedroom to spend time with their brother because he never came out to play. He was always in the bed, sick," Slawinski said.
She described the boy's appearance as having "no color. What color he had was dark circles around his eyes."
Nick Kerosky, executive director of Trumbull Children Services, said Monday he was not at the agency in 2007 and 2008 and doesn't know details of the case.
He said he is only aware that some of his employees had to go to Cleveland regarding the criminal case against Hussing and Robinson.
Hussing's oldest daughter, Lillian, 18, defended her mother in court Thursday and said Willie was able to do the same things other 8-year-olds do. "He was able to play, go outside," she said.
Judge Michael Astrab looked surprised and asked the teen if she would be willing to repeat her statements under oath and possible penalty of perjury. She did.
The Vindicator went to the York Street neighborhood on Friday to talk to neighbors about Willie. The neighbors living just in front of his house and behind it said they knew the family had a son, but that's about it.
"I rarely saw him," said the neighbor across the street, who asked that her name not be used. "If you put his face in front of me, I couldn't tell you."
The neighbor said her child had seen Willie, but Willie didn't go outside much and was "pale."
"The other kids played outside," the neighbor said. "They were everywhere."
At the sentencing, Judge Astrab compared the autopsy photo of Willie's emaciated body to concentration-camp victims. "If anybody, anybody, didn't know this kid was sick, they are seriously, seriously disturbed," Judge Astrab said.