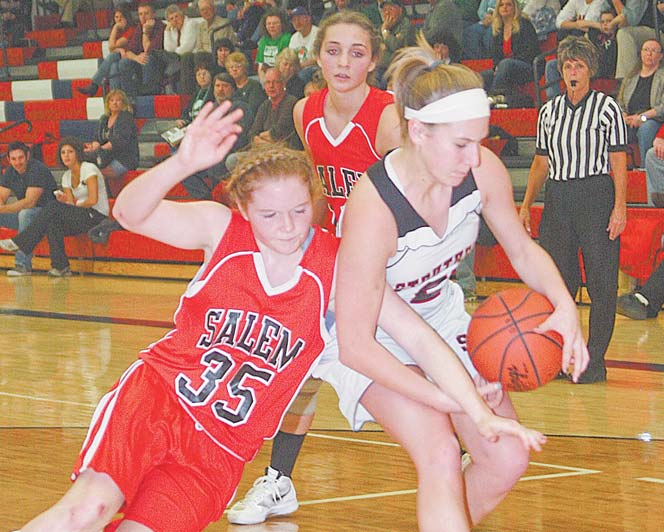 Photo
Ashley Hefferon, right, of Struthers tries to keep the ball as Raegan Meals (35) of Salem goes for a steal during Monday's Division II sectional tournament game. The Wildcats advanced with a 66-40 victory.
— sectional girls basketball —
By Joe Scalzo
YOUNGSTOWN
His best players from two years ago are gone. His best player from last year is gone. This season's roster has just one senior and he starts three sophomores.
Doesn't matter.
"We have a young team but we don't talk about that too much," said Struthers High girls basketball coach John Grandy. "I guess I just did, huh?"
Yes, but why not? After two straight district titles and a complete roster turnover, outsiders can no longer say the Wildcats are just riding a upward swing in talent.
Nope, Grandy has a bona fide program. One that's a win away from its third straight 20-win season.
"We're really happy about that," he said.
On Monday, Struthers began its title defense by rolling past Salem 66-40 in a Division II sectional opener at Fitch High School. It was a rematch of the 2010 district final, which Struthers won 59-54.
West Branch won the nightcap, dropping Hubbard 72-31.
Neither game was ever in doubt. Struthers forced eight first-quarter turnovers and ran out to an 18-4 lead. The Warriors rolled up 25-0 lead in the first 11 minutes.
Salem made things a little more interesting than Hubbard did, but the Quakers never got within single digits.
"I wasn't happy with our defense, especially in the second quarter," said Grandy, whose team led 32-22 at halftime. "I thought we let up a little bit.
"But it's hard to complain. We're 19-2. This guy shouldn't be crying about nothing, right?"
Sophomore guard Ashliegh Ryan scored 18 points with three assists and three steals to lead the third-seeded Wildcats (19-2), who will meet fifth-seeded Poland at 7:30 p.m. Thursday. Sophomore Halle Smrek added 15 points and sophomore Brittaney Zupko had 12 points off the bench.
"She'd start for most teams," Grandy said of Zupko. "I thought we did a good job dispersing the ball and being unselfish. They like each other and they like playing with each other.
"They're not old enough to be selfish. That'll come later."
Katherine Stiff had 14 points and six rebounds for Salem (4-17), while Meghan Lehwald had 10.
In the second game, freshman Pavin Heath and junior Kyla Sharp each scored 12 points and junior Brittany Bryte had 10 for second-seeded West Branch (19-2), which will meet Cardinal Mooney at 1 p.m. Saturday.
Melinda Gigax led Hubbard (3-18) with nine points.
The Warriors only used their full-court pressure for the first six minutes but that's all they needed, forcing 11 turnovers over that stretch and 32 for the game.
West Branch lost to Struthers in last year's district final 42-25 and, with the addition of fourth-seeded Canfield (which dropped down from Division I) and top-seeded Ravenna (which is undefeated and ranked second in the state) this year's tournament figures to be even tougher.
"Those are two quality teams," said Warriors coach Walt DeShields. "The last couple years it's been us and Struthers fighting back and forth.
"Now we have Mooney coming up and they're a good basketball team and they're going to fight hard. In tournaments, you never know, so we don't look ahead. We're just worried about the next game."