McGlynn awaits free agency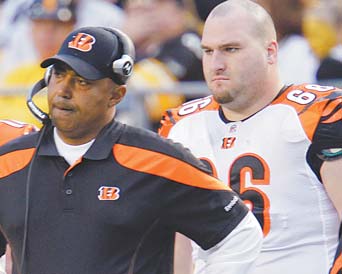 Photo
Cincinnati Bengals offensive lineman Mike McGlynn (66) stands on the sidelines with coach Marvin Lewis during the fourth quarter of a game against the Pittsburgh Steelers. McGlynn is a free agent this off season.
By Tom Williams
BOARDMAN
Few football players participate in just 13 high school varsity games and then go on to qualify for a NFL pension.
Austintown Fitch High graduate Mike McGlynn, who played this past season with the Cincinnati Bengals, has gone far since breaking a leg during his senior year of high school.
"It's been an amazing journey," said McGlynn, who spoke to the Curbstone Coaches on Monday at the Blue Wolf Catering facility.
McGlynn's contract with the Bengals has expired and he's anxiously awaiting the NFL free agency season that begins on March 15.
"I'm looking forward to see where my career is going to go," said McGlynn who said four teams he expected to show interest are the Bengals, Baltimore Ravens, Indianapolis Colts and St. Louis Rams. "I'm excited about it but it's very nerve-wracking.
"It's been a fun ride so far," said McGlynn who is 6-foot-5 and weighs 320 pounds.
"Hopefully I have a lot more years to go."
McGlynn, who will turn 27 on March 8, was a starting offensive lineman for Fitch during his sophomore year then sat out his junior season when he was ineligible because of a bad grade. A leg injury brought his senior year to an early halt.
Still, his skills earned the 2003 Fitch graduate a scholarship to the University of Pittsburgh where he went on to start in 48 consecutive games.
In April 2008, McGlynn was a fourth-round selection by the Philadelphia Eagles.
"That was one of the most stressful days of my life and joyful, too," McGlynn said of waiting to get the call from an NFL team. "Once you get the call it's 'Thank the Lord [because] my dream has come true.'"
McGlynn played three seasons for the Eagles, starting at center for 16 games in 2010 including a playoff game against the eventual Super Bowl champion Green Bay Packers.
After the NFL lockout ended last summer, McGlynn was released by the Eagles and signed with the Bengals, helping Cincinnati earn a wild-card playoff berth.
McGlynn said one of his most exciting games was his first against the Green Bay Packers.
"That was huge for me, that was the game where I caught my 'first' pass," said McGlynn referring to a deflected toss that made him an eligible receiver. "The playoff games are huge just because of the atmosphere is electric.
"And the speed of the game is so much faster than in the regular season," McGlynn said.
The Bengals' season ended with a playoff loss to the Houston Texans.
McGlynn said Albert Haynesworth, a free agent defensive lineman formerly with the Washington Redskins, New England Patriots and Tampa Bay Buccaneers, is one of the toughest players he's tried to contain.
"He [weighs] about 375 pounds, just a monster of an athlete," McGlynn said. "Guys like him, you don't want to wake a sleeping giant so talking in his ear a lot is not a good idea."
McGlynn said the challenge for NFL offensive lineman is winning the battle of "hand games. They try to get you off-balance — not a lot of guys are going to be able to run you over so the game is more of a hand-slapping game. A center needs to have a good low center of gravity and good balance to be able to react to [defenders] moves."
McGlynn and his wife, Megan, are expecting their second child. They have 2-year daughter, Sydney.
Asked if he has any trademark catchphrases he uses in games, "None that would be appropriate for me to say here."