Lowdown on downtown Youngstown
By Karl Henkel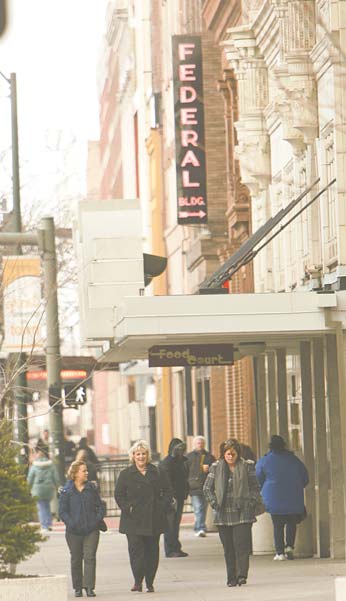 Photo
The number of workers and residents in downtown Youngstown has increased in recent years. A group of downtown business owners will meet next month with one goal being to help promote the area.
YOUNGSTOWN
A variety of new restaurants?
Check.
Continuing improvements, including bike racks and increased police presence?
Check.
A surefire marketing campaign to promote a flourishing downtown?
Not so much.
For the first time in years, downtown Youngstown is on the move.
New apartments have and will continue to open in the area. Business activity has picked up. Even a locally owned cab service has started.
City leaders say it's a great start, but it must continue by marketing and diversifying the downtown area, most notably Federal Street.
"I didn't even realize it had any marketing, to be honest with you," said Michael Pontikos, marketing and advertising professor at Youngstown State University.
The marketing aspect is "low-hanging fruit," said Phil Kidd, community organizer at Mahoning Valley Organizing Collaborative.
Kidd, who grew up in the bustling Pittsburgh metro area, said developing a cohesive branding of the city through signs and pamphlets — and having them available in every business — is the first step toward promoting downtown.
"Those are easy things we can do right now," he said.
At this point, though, even that's easier said than done.
Youngstown has been without a city planner since 2009. Mayor Charles Sammarone plans to hire one this year, but the city's marketing budget — about $50,000 last year — and that of the Mahoning County Convention and Visitors Bureau – about $200,000 — is strapped thin.
Phil Moore, county Convention and Visitors Bureau director, however, said money isn't the only factor.
"You have to have a coalition of participating businesses," Moore said. "We need a better level of businesses marketing themselves."
Moore said the department is prohibited from providing funds to for-profit entities, but if downtown businesses banded together, the department could provide developmental grants.
Lyndsey Hughes, city director of Youngstown events, said next month a group of local business will meet to form the Downtown Business Alliance of Youngstown for that reason.
Those grants could help the alliance pay for signs and pamphlets, one marketing technique that can boost the city from the outside-in.
Growing from the core is another option; Kidd says there's a desperate need for more market-rate housing.
But just how much?
"If you had 500 more market rate housing units in Youngstown, over a five-year period you'd fill those units," Kidd said.
The city will add 40 more apartments at Erie Terminal Place this summer.
Moore, however, said that support services, such as drugstores and dry cleaners, are important to making an area livable.
"Trying to market that before they solve a lot of other problems is like throwing money away," he said. "There isn't any of that down there now and I'm not aware of any plans or talk about any of that being developed."
Pontikos said deciding whether to grow the city internally is a critical part of the marketing process.
"Any type of branding or re-branding is really understanding who you are internally," he said. "With so many different messages, it's kind of hard to get through to people."
Moore instead suggested the city, county, Youngstown State University and other organizations focus on bringing people from the outside-in.
Aside from the Covelli Centre and Oh WOW!, which Moore said has been hugely successful at bringing families downtown, the area is chocked full of restaurants.
Kidd said diversifying the area is a good next step.
Some of those ideas include recreational activities such as a small downtown movie theatre. Today a Youngstown resident has to travel to Boardman, Niles or Austintown for the closest family movie theatre.
Kidd said it wouldn't have to be big — a small screen, independent theatre similar to Austintown Movies, which closed in 2006 — could be sufficient.
"I really think it's time to start rethinking that as an entertainment option downtown," he said.
Other options, such as a bowling alley or any other "hangout-type" atmosphere, would give those in the city more local options and suburbanites more reasons to visit Youngstown.
"What it does more than anything else is you would begin to create an experience for young people in an urban center downtown," Kidd said.