Gains, Macejko try to make their case
By PETER H. MILLIKEN
milliken@vindy.com
YOUNGSTOWN
Mahoning County Prosecutor's Race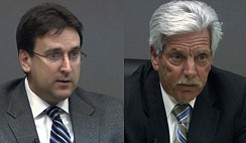 Video
Jay Macejko and Paul Gains, Mahoning County Prosecutor Candidates
Jay Macejko is challenging incumbent Mahoning County Prosecutor Paul J. Gains in the March 6 Democratic primary, saying Gains and his staff have made a series of "critical mistakes" that have put violent criminals back on the streets.
But Gains points the finger back at the Youngstown municipal criminal-justice system, where many major cases originate, and specifically at Macejko, who is now city prosecutor, and at Macejko's staff.
"He gave Jamar Houser the opportunity to kill Angeline Fimognari," in my opinion, Macejko said of Gains.
When Houser was charged with shooting up his ex-girlfriend's house, Youngstown Municipal Judge Robert Douglas set his bond at $500,000 on the charge of firing at or into a house, Macejko said.
However, Judge Lou A. D'Apolito of Mahoning County Common Pleas Court granted a defense request for a lower bond, reducing Houser's bond to $20,000 with 10 percent of that acceptable.
With no objection raised by an assistant county prosecutor, Houser left the county jail for $2,000 on Nov. 16, 2009, Macejko said.
Houser was then charged with capital murder in the Jan. 23, 2010, shooting death of Fimognari as she left Mass at St. Dominic Church. Houser's capital jury trial is tentatively set for March before Judge D'Apolito. Houser is now jailed under $3.1 million bond.
Gains countered Macejko by saying that Judge Douglas reduced Houser's bond to zero on two misdemeanor counts accompanying his felony charge of firing at or into a house, creating the impression that Houser wasn't considered dangerous.
"Whatever we did with the misdemeanors, the felony bond was still in place," Macejko said. Misdemeanors, even when they are related to a felony, are treated independently of the felony and are lesser offenses that would have lower bonds than the felony, he added.
Gains acknowledged that an assistant county prosecutor, who is no longer with his office, should have contacted him before deciding not to oppose the bond reduction in common pleas court.
"I would not have agreed to a $20,000 bond" for Houser, Gains said, adding that he would have argued for $100,000.
Gains said Houser's capital murder trial has been postponed due to defense requests for independent expert analysis of evidence and the heightened legal safeguards and scrutiny associated with a death-penalty case.
"Some of these things are beyond our control," Gains said of himself and his staff.
"The courts run their dockets. The court schedules it for trial," Gains said.
Macejko also points the finger at Gains in the case of armed home invader Lexter Williams, who fled before his sentencing by Judge Maureen A. Sweeney of Mahoning County Common Pleas Court and was later captured in Philadelphia.
Macejko said Gains and his staff failed to oppose reduction of Williams' bond from $750,000 to zero.
However, Gains faulted Williams, who was on electronically monitored house arrest when he fled, and he noted that Williams had showed up for all court dates before absconding.
"When he was caught and brought back, he was sentenced to much more time in prison than he would have been had he not absconded," Gains said. Judge Sweeney sentenced Williams to 83 1/2 years in prison Feb. 22, 2011.
Before he fled, the prosecution recommended a 13-year prison term for him if he complied with terms of his house arrest before sentencing.
"The individual defendant's the one that's responsible for his or her actions," Gains said.
"If a prosecutor objects [to a bond reduction] and certainly puts up a good fight, judges generally will realize there's something more going on here, and they will tend not to amend bond," Macejko said.
However, Macejko acknowledged: "The judge bears the ultimate responsibility" for setting a reasonable bond to ensure the defendant's future appearance in court and to protect the public.
Gains was critical of Macejko for initially charging Samuel Crayton, 21, with only misdemeanor assault for punching and seriously injuring Thomas Dailey, 67, in an unprovoked attack Oct. 9, 2010, at McDonald's, 3034 Mahoning Ave.
"The evidence justified a felony, and this man pled to the felony," Gains said. "I don't believe that a misdemeanor would have been a justified charge."
"It was a felonious assault. The man's nose was broken," he added.
However, Macejko said his office initially filed the misdemeanor assault charge because it had to charge Crayton within 48 hours of his arrest, and it did not initially have the medical information needed to prove the serious physical harm necessary to support a felonious assault charge.
When it got the medical information, Macejko said his office raised the charge against Crayton to felonious assault, the charge on which Crayton eventually was indicted and to which he pleaded guilty. Crayton is now serving four years in prison for that crime.
When Macejko worked for Gains, he rarely saw Gains at work, Macejko said. "There were weeks, if not months on end, where he was not present," Macejko said. "With him complaining of staff shortages, it's a huge issue," Macejko said of Gains' absence.
Gains characterized Macejko's assertion about his absence from the job as an "absolute falsehood."
If he's elected county prosecutor, Macejko said he'd work full time for the county and be in the courtroom himself, prosecuting high-profile cases.
"I would love to be in that courthouse trying cases," Gains said. However, Gains added that he is burdened with administrative and budgetary work and is heavily involved in the work of his office's civil division, which represents the county and its townships.
Gains, who is seeking a fifth four-year term in the $105,703-a-year job as county prosecutor, cited Community Corrections Association statistics showing substantial productivity increases during his 15 years in office.
Since Gains became prosecutor, his office has seen an increase in criminal prosecutions from 393 in 1997 to 1,405 in 2011, together with an increase in prison commitments from 153 in 1997 to 445 in 2011, Gains said.
The number of Youngs-town homicides has declined from more than 60 a year in the mid-1990s to 20 to 25 annually in recent years, he added.
Macejko said the city does not compile statistics concerning the performance of his office, such as what Gains reported.
Gains points the finger at Macejko for contributing to the circumstances leading to the city's $110,000 settlement of a federal religious discrimination lawsuit by Bassil Ally, a Muslim of Middle Eastern descent, who is an assistant city prosecutor.
"Accommodation is reasonable accommodation. It's not all accommodation," Macejko said, referring to Ally's regular Friday afternoon departures to attend a mosque service.
Ally said in his lawsuit that he was placed on administrative leave for not showing up for a 2 p.m. Friday meeting, then reinstated and harassed by being assigned to a court that regularly met on Friday afternoons. Ally said he also was harassed by a work environment that tolerated religious and ethnic slurs against him.
Macejko said Ally was never fired, and Macejko denied discriminating against him.
"This case had nothing to do with religion or religious accommodation. It had to do with insubordination and work performance," Macejko said, acknowledging that Ally "does a good job in the courtroom."
Gains countered: "There must be some pretty strong evidence because I would never have offered a judgment unless there was strong evidence against my client if I were representing the city."
Gains concluded: "We have never tendered an offer of judgment in all the years I've been county prosecutor, and I've never tendered an offer of judgment in all of the years that the city of Youngstown paid me to defend its employees."