At Goodwill event you'll be hunting for antiques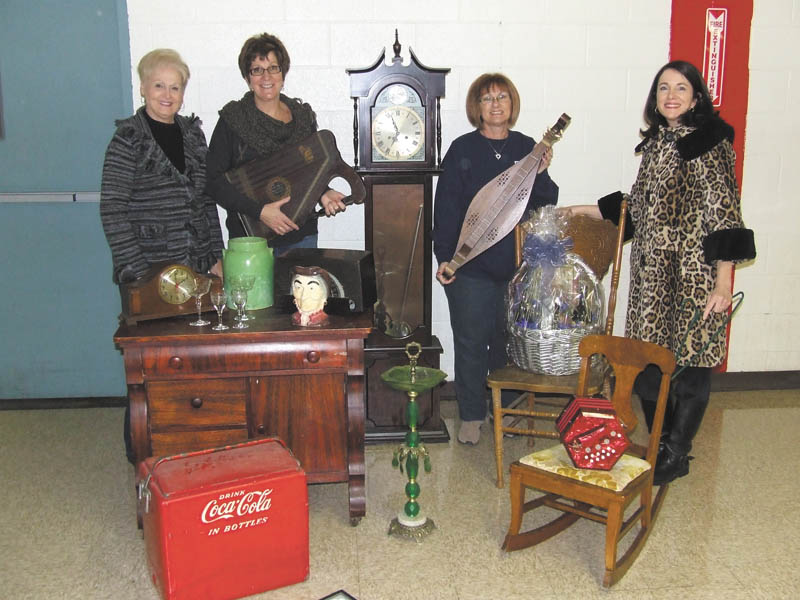 ---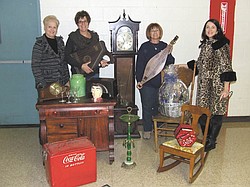 Photo
Volunteers for the Junior Group of Goodwill are, from left, Jeri Kurian, Kathy Gerberry, Sue Miller and Laurel Chevlen. They are displaying items to be auctioned off during the 20th annual Junior Group of Goodwill Antique and Collectible Auction on March 3 at Stambaugh Auditorium. The two-day event begins with a gala March 2 that includes a jewelry sale, a live auction, a silent auction and a basket raffle.
YOUNGSTOWN
The Junior Group of Goodwill has scheduled its annual Gala and Antique and Collectible Auction for March 2 and 3 at Stambaugh Auditorium, and George Roman Auctioneers will preside.
Proceeds from this 20th annual fundraiser will fund job training and employment services for people with disabilities and other employment barriers in Mahoning, Trumbull, Columbiana, Mercer and Lawrence counties. Sponsors of this year's auction follow: Home Savings Charitable Foundation, Aim NationaLease, Hill, Barth & King, Gasser Chair Co., Yurchyk & Davis CPAs, V& M Star, USI Insurance and Allied Waste.
A party from 7 to 9:30 p.m. March 2 will kick off the event. Among the features will be a collectible jewelry sale with several thousand pre-priced pieces, an auction of new items, such as a Detroit Lions football autographed by Calvin Johnson, Disney park passes, sports tickets, fine jewelry and more. Included will be a basket raffle, silent auction, 50-50 raffle, hors d'oeuvres, pastries and a cash bar.
Ticket prices for the March 2 patron party cost $25 per person and can be bought at the Goodwill offices on Belmont Avenue or at any of the eight area Goodwill stores.
Tickets must be purchased in advance, and the deadline is Feb. 27. Those who buy a ticket for March 2 will get in free March 3 with their ticket stub.
March 3 will feature the auction of antique and collectible items from Goodwill donations. Preview for the auction will begin at 10 a.m., and the auction will begin at 11.
The sale of collectible jewelry will begin at 10 a.m. Admission is $2 at the door. The auction will include many collectibles and antiques such as furniture, dolls, paper collectibles, pictures and frames, ladies antique items, vintage toys and Christmas items, trains and more. For information about the auction call Goodwill's marketing department at 330-759-7921 ext. 1207.
For information about Goodwill Industries call the above number, minus the extension, or visit online at www.goodwillyoungstown.org .
More like this from vindy.com