Cub Scouts compete in egg drop

Photo
Neighbors | Submitted.Wesley Rich, Sam Bixel, Adrien Malek and Tigers prepare for the egg dropping competition on Jan. 25.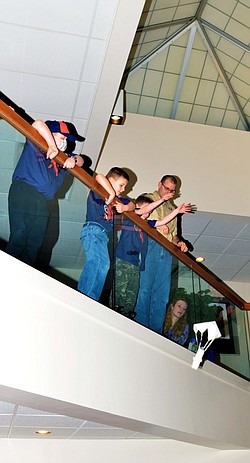 Photo
Neighbors | Submitted.Michael Howard, Tim Styranec, Owen Bowser and leader Tim Styranec drop their egg off of a balcony during their egg drop competition on Jan. 25. .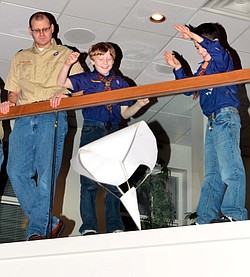 Photo
Neighbors | Submitted.Leader Tim Styranec , Jared Russell and Tanner Tsvetkoff test out their design during the egg dropping competition on Jan. 25. .
Physics, engineering and extremely good luck were the theme of Canfield Cub Scout Pack 25's pack meeting Jan. 23 as they participated in their first Egg Drop competition.
Teams of three to four scouts brainstormed the best way to drop an egg off the balcony of the fellowship hall at the Canfield United Methodist Church and not have it break.
Tim Styranec, a previous high school science and math teacher suggested the project as a way to teach the scouts to work together and develop an original design to protect an egg.
The tools supplied were 10 sheets of paper, one meter of tape and scissors. Ziploc bagged eggs were provided at drop time.
"The goal was to distribute the force of impact evenly around the shell and create a protective shell that will slow the fall. The egg drop illustrates several physics ideas, including force, momentum, engineering and many others. It's fun to drop and see if the egg breaks," said Styranec.
With a very large tarp at the ready, the first egg didn't make it. The second drop brought silence upon the crowd as it glided gently to the tiles.
"It's whole," Cub Scout Master Troy Homrighausen announced to an eruption of cheers.
Some made it, some didn't, but the boys all came up with clever designs and worked as a team. At the end of the night, Humpty Dumpty would have been proud.
Winning designs were Peyton Kostelic, Zack Perrico, Chris Homrighausen (Webelos I) 0.3 oz - egg intact (first place); Dante Lucente, Jacob Eaton, Stephen Malkovits, Alex Micco (Tigers) 0.6 oz - egg intact (second place); Jared Russell, Tanner Tsvetkoff (Webelos II) 0.8 oz - egg intact (third place); and Troy Jacobs, Drew Rosteck, Matthew Miller (Tigers) 0.8 oz - egg intact (fourth place).
More like this from vindy.com