Pebble Beach success increases Kokrak's media time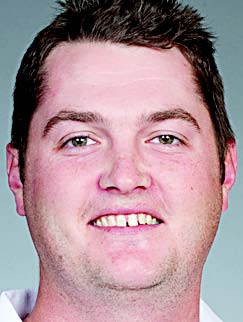 Photo
By JOHN BASSETTI
bassetti@vindy.com
He's no longer an unknown.
Jason Kokrak's biggest paycheck ever — $153,600, in pro golf or otherwise — also brought the Warren native more attention.
On Wednesday, the 26-year-old "new guy on the block" was interviewed by Golf World as he prepared for the Northern Trust Open at Riviera Country Club in Los Angeles.
"It's kind of different, something they don't normally do," Kokrak said of a story on a new breed of long-ball hitters.
"It's not something that people hear," Kokrak said. "I'll be kind of my story compared to some of the other players out there."
He said Golf World also did a photo shoot for the issue coming out March 1.
Needless to say, Kokrak's confidence got a boost heading into this week's event.
"The course sets up well for me, so I'll try to have fun with it and relax and do what I know how to do," Kokrak said. "Every golf course sets up differently for different players. I'll just hit the shots I'm comfortable with."
Last weekend at Pebble Beach, Kokrak was ranked first in greens-in-regulation score.
"Basically, it's putting for birdie or eagle or it's hitting onto the green in a given number of shots you're supposed to," he said of the definition of a green in regulation.
"It's hitting the green in one shot on a par 3, in two shots on a par 4 and in three shots on a par 5," Kokrak said. "It's giving yourself an opportunity to get on the green for birdie."
Asked if there was a turning point at Pebble Beach, he replied: "I made couple more putts than previous weeks. I made a couple birdie putts to get under par, then a couple par saves to keep it going. It's not always easy to hit it that close."
Was he surprised he did so well?
"I was pleased with how I finished my round on Sunday, except for a bogie on 17."
The Warren JFK graduate was slightly nervous playing with Vijay Singh in the final round.
"I went out with one of the best players in the world, so it was a little bit nerve-wracking teeing up with him," Kokrak said. "But you play the course, not the player. But playing alongside Vijay adds a little more pressure. I went out and stuck to my game plan I made with my caddie and I was pleased with how I did under the pressure. It was a solid round."
What's his objective this week at Riviera?
"We'll attack some [holes] and play conservative on others," Kokrak said. "In dissecting Riviera, it's not an easy course by any means, but I've got to strike and putt well."
He said the greens have a poa annua grass which translate into "a little tougher and bumpier in the afternoon."
It was the same surface during the recent Farmers Insurance Open at Torrey Pines in LaJolla, Calif.
"Torrey Pines had very soft greens, so it's tougher to get things rolling," Kokrak said. "It's not easy, but it'll be better than in weeks past."