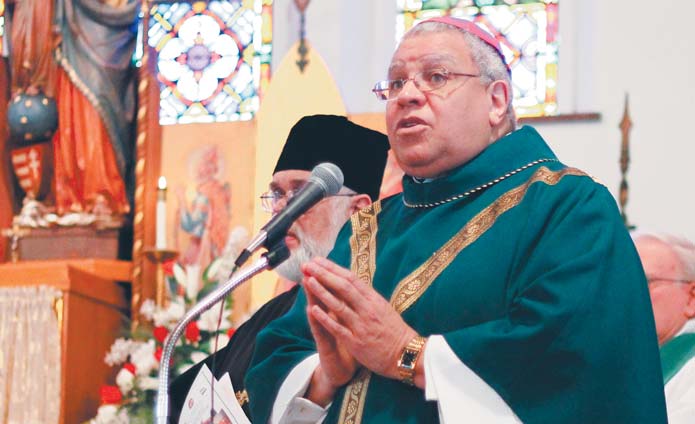 Photo
Youngstown Diocese Bishop George V. Murry speaks to parishioners of Our Lady of Hungary Church during its final Mass on Sunday. Construction began on the church in 1929 and was not fully completed until 1949. The church served as a communal gathering place for the city's Hungarian immigrants, who flocked to Youngstown to work in the city's steel mills. Declining population hastened its closing and merger with two other Roman Catholic churches in Youngstown.
By Sean Barron
YOUNGSTOWN
About eight years ago, Cindy Cominsky was assisting with her church's bingo games when a familiar face caught her eye.
It was Joan Deming, Cominsky's first-grade teacher.
The two were reunited at Our Lady of Hungary Church after having not seen each other in more than 40 years. They have, however, been in closer contact in recent years, thanks to being part of the church.
Cominsky and Deming were together again Sunday, though for a much more bittersweet occasion: their beloved church's final Mass.
"This is like my family, and I hope it's not the last time I see everyone," Cominsky, of Austintown, said after the 12:30 p.m. final liturgy Sunday at Our Lady of Hungary, 545 N. Belle Vista Ave., on the West Side.
A standing-room-only crowd filled the sanctuary for the one-hour Mass at the church, which was founded in 1929 by a group of Hungarians and is to close.
Our Lady of Hungary has merged with Sts. Peter and Paul Croatian Roman Catholic Church, 421 Covington St., and St. Stephen of Hungary, 854 Wilson Ave., both in Youngstown. The new name is Holy Apostles Parish.
Cominsky, a 10-year member who joined a Monday evening prayer group several months ago, said her fondest memories will likely include having visited church members in nursing homes and shut-ins.
"The congregation was welcoming from the very first day I came here," she added.
Positive memories also abound for Deming, of Canfield, who taught religious education and whose son was married in 1999 at the church.
One such memory is of an outdoor midnight Mass in which children were dressed as shepherds and angels, recalled Deming, who taught first grade for 38 years at Lynnkirk Elementary School in Austintown.
Deming's grandmother, Mary Haluska, was a charter member, she noted.
A somber mood seemed to fill the church during the Mass, which featured a ceremony in which attendees placed lighted candles in boxes of memorial sand to symbolize unity and a great light to honor God.
Delivering the homily was Bishop George V. Murry of the Catholic Diocese of Youngstown, who said that the closing is a day of sadness and joy.
"The joy comes from trust in Jesus Christ that the parish will get past the sadness and something exciting will come of the new parish," he said, adding that the church's strength lies with its members.
Hungarians first arrived in the country during the 1850s, though most came after 1880 and started settlements in Ohio and parts of the Northeastern United States, Bishop Murry explained. By 1910, roughly 250,000 Hungarians, about half of whom were Catholic, were in the U.S., he noted.
During the late 19th and early 20th centuries, the Mahoning Valley saw a slow migration of Hungarians, many of whom found work in the steel mills, railroads and coal mines, he continued.
Our Lady of Hungary's reconfiguration was to keep Hungarian culture, traditions and history intact while reducing the number of parishes because of cost and fewer members, Bishop Murry explained.
Following the homily, the bishop presented keys to Sts. Peter and Paul and St. Stephen churches to symbolize the hope that Our Lady of Hungary members will feel at home in their new churches.
Remarks also were made by the Rev. Joseph Rudjak, pastor since 2005.
Some parishioners such as 67-year-old Michael Sabol of Youngstown, a lifelong member, seemed resigned to the change.
"There's nothing I can do about it," said Sabol, a 1963 Ursuline High School graduate who played on the school's basketball team.
For Master Sgt. Bob Barko and his wife, Deana, Oct. 15, 2011, will always be memorable because that was the day they got married at Our Lady of Hungary. It also marked the church's last wedding.
Barko, superintendent of public affairs for the Youngstown Air Reserve Station in Vienna, noted that a nonprofit group's plans are under way to make use of the building and property and preserve the church's ethnic heritage. A top goal is to convert Our Lady of Hungary to West Side historical and ethnic heritage centers, he pointed out.
"We want to see what's the right fit," added city Councilman Mike Ray, D-4th, another committee member who's working with the Father Rudjak.
An 18-member transition team looked at locations and finances before the decision to close Our Lady of Hungary, said Dennis McBride, formerly head of parish council.
McBride said he intends to minister to members who are homebound and in nursing homes, and hopes to stay in close contact with those who may not wish to attend Sts. Peter and Paul and St. Stephen.
For some people, however, the closing marks the end of an era.
"I just want to say that I'm going to miss it," said George Kalosky, a member since birth who also served about 20 years as caretaker.