Seniors win Spirit Week competition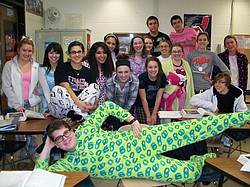 Photo
Mrs. Polkovitch's Honors English class dressed up for pajama day during Spirit Week at Canfield High School.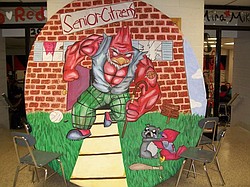 Photo
Neighbors | Emily Gianetti.The senior hoop was on display in front of the cafeteria.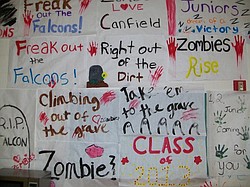 Photo
The juniors painted signs that were displayed in the cafeteria.
By EMILY GIANETTI
Canfield High School is still the only high school in the area to dedicate an entire week to school spirit.
The students celebrated this decades-old tradition each day at school beginning on Jan. 30 and finishing Feb 3.
Monday kicked off the week with spirit signs posted in the cafeteria, 40 from each grade as well as with a can collection that ran through Friday. All food went to Operation Blessing.
Tuesday was class color day, so each grade decorated its hallway in their respective color and wore their yellow (freshmen), green (sophomores), brown (juniors) or blue (seniors).
"I like how much fun it is because everything is so laid back that week. The most fun about it was the different themes we got to dress up as on Wednesday and Thursday," said senior Will Yobi on how he enjoyed his last Spirit Week.
Wednesday was class theme day, when each grade competes to have the most dressed up people in their chosen theme. The hallways were a mix of freshmen pirates, sophomore Greeks, junior zombies and senior senior citizens.
Thursday was school theme day and the students showed up in their pajamas for "Dreaming of a Victory." Hoops for sporting events were also due on that day, one for each grade in the corresponding theme.
Friday was Red and Black Day and was the day of the basketball game against the Fitch Falcons, something the Cardinals had been preparing for all week. It was also when the school got together for an assembly to perform skits and dances based on the class themes.
"It's camaraderie and giving back," said senior adviser Candace Reed. "The big thing is the cans along with the school spirit. It's a tradition."
In the end, points were totaled up for each day and event. Freshmen took third with 18 points, sophomores were fourth with 16 points, juniors took second with 21 points and seniors won the Spirit Week competition with 31 points.
More like this from vindy.com