Poland SOV promotes healthy choices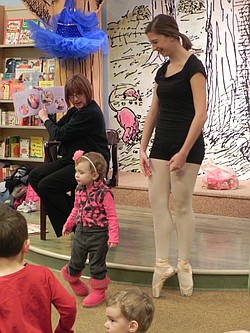 Photo
Neighbors | Sarah Foor .Story time guest Alexandra Laftus (left) wandered onto center-stage when she saw ballerina Sarah Ahlswede's (right) graceful moves. Laftus mimicked the dancer's footwork, much to the amusement of Ahlswede.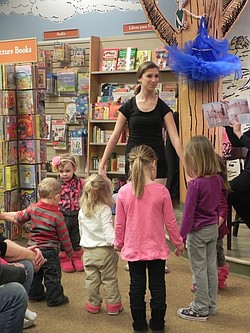 Photo
Neighbors | Sarah Foor .Dancer Sarah Ahlswede tried out some basic ballet maneuvers and jumps with a group of kids at Boardman Barnes and Noble on Jan. 26.

Photo
Neighbors | Sarah Foor .Shepherd of the Valley Poland hosted a Barnes and Noble story time on Jan. 26 and stress the importance of healthy choices and exercise. Facility RN Patricia Ahlswede (left) read a book about ballet as her ballerina daughter Sarah Ahlswede (right) followed along. To begin, the book stressed the importance of stretching, and Sarah demonstrated proper technique.
By SARAH FOOR
Poland Shepherd of the Valley's Jan. 26 story time at Boardman Barnes and Noble got right to the point.
Facility nurse Patricia Ahlswede taught a group at Barnes and Noble about the importance of exercising, eating well and staying healthy. Ahlswede focused on dance as a great form of exercise and her ballerina daughter, Sarah Ahlswede, laced up her toe shoes to show off the fun of ballet.
Sarah Ahlswede has danced at Kathi Halbert's Dance and Gym Center in Poland for 13 years. The dancer followed her mom's reading and helped to bring a dance book to life by demonstrating simple ballet moves like pli , relev and jet .
The ballerina danced with a group of guests in a circle and even played a game of Simon Says and told the kids to pli and jet .
Although still finding her feet as a dancer, young guest Alexandra Laftus wandered on stage to get a closer look at Ahlswede's jumping, pointing and spinning feet. Laftus even tried some of the moves and pointed a toe to her knee, which Ahlswede said was called a pass in her ballet classes.
Patricia Ahlswede gave her daughter's toes a rest and handled the next story on her own, teaching the kids about the importance of eating well with the book "The Berenstain Bears and Too Much Junk Food." The Shepherd of the Valley nurse urged the guests to eat more fruits and vegetables and less fried food or sweets.
Shepherd of the Valley officials had guests make a promise to eat more good foods. Ahlswede handed out small portioned cracker packs to get guests started with a healthy choice.
Ahlswede said she hoped her daughter's presence at the story time taught guests that there are many different ways to stay active.
"Overall, Shepherd of the Valley wants to promote healthy choices and it's good to show kids that there are a myriad of ways to get out and get moving. Dancing, swimming, riding bikes – the opportunities are endless," the nurse said.
More like this from vindy.com