Artist Joseph Thomas flourishes at 91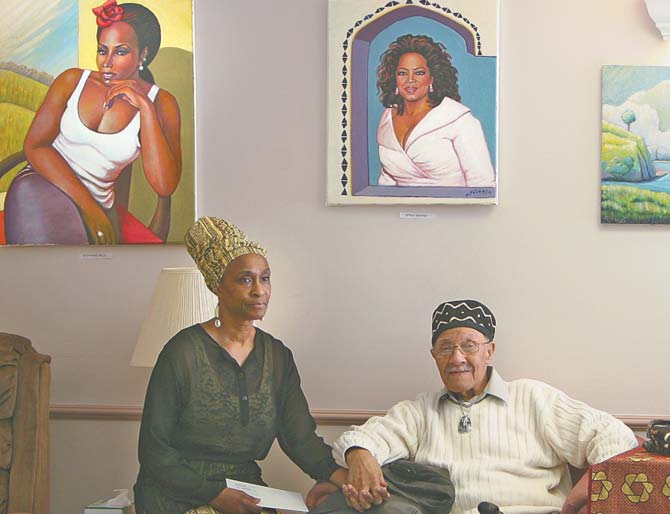 Photo
Joseph L. Thomas, 91, of Youngstown, and his wife, Gwendolyn, pose below two of his art pieces — singer Stephanie Mills and Oprah Winfrey — on display for Black History Month at the Dandridge Burgundi Manor care center on Maranatha Court on the city's East
By Sean Barron
YOUNGSTOWN
When you add a love of art and a talent with oil paint to a deep interest in African-American history, you get the colorful essence of Joseph L. Thomas' paintings.
"An artist paints what he knows and what he believes," the 91-year-old Thomas said at Dandridge Burgundi Manor, 31 Maranatha Court, on the city's East Side.
Thomas received short-term rehabilitation services at the care center, which also was the site of Thursday's art extravaganza gathering that featured many of his oil paintings, prints, cards and calendars.
For at least the remainder of the month, the facility will be filled with his artistic likenesses of jazz legends Duke Ellington, Ella Fitzgerald and Dizzy Gillespie, along with paintings of activists and celebrities such as Malcolm X, Dick Gregory, Oprah Winfrey and Placido Domingo. Also included are more bucolic renderings of landscapes with titles such as "Gone Fishing" and "Geese."
"Oprah is part of our history; Malcolm X was part of our history," he said, referring to his interest in those famous black icons.
Thomas and his wife, Gwendolyn, run a business called Cultural Expressions from their Youngstown residence. The 8-year-old business offers many of Thomas' paintings for sale, as well as other items.
Thomas' father was a minister and kept an extensive archive of history books, which whetted the younger Thomas' interest in history, he explained.
For a while, Thomas said, he sidelined painting and delved into playing the piano and singing with a choral group. Eventually, though, he again applied brush to paint and wanted to capture part of Africa's history, something many people know little about, he contends.
Thomas, who, among other things, was a steelworker and managed area liquor stores, recalled when Joseph G. Butler III told him that he had seen some of Thomas' artwork. Butler was the grandson of Joseph G. Butler Jr., who founded the Butler Institute of American Art in Youngstown in 1919.
Butler encouraged Thomas to show some of his works at the museum, which resulted in three or four being on display, Thomas continued.
Quite a few more, however, are in Thomas' home — 60 to 80, by his estimates.
"We need a new house because his paintings have more room than we do," said Gwendolyn, with laughter.
Gwendolyn, a nurse's aide at Dandridge and a yoga instructor, said she loves and appreciates her husband's works.
"He's excellent at what he does and this is a lifestyle for him," added Annette J. Dendy, the facility's activities director. "He makes the age of 91 worth getting to."
Does Thomas have any notion of packing in the brush?
"I have no plans to stop, as long as I can pick it up," he said with pride.