Animal abuse often escalates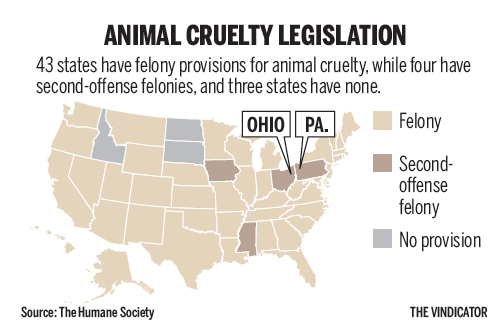 ---
By Denise Dick
AUSTINTOWN
Not everyone in prison is an animal abuser, but prison is where animal abusers end up after their crimes escalate, the clinic director at PsyCare says.
"When we're looking for antisocial behavior disorder, one of the things we look at is to see if they have any [behavior of] animal cruelty," said Dr. Deirdre Petrich.
In the past two weeks, Youngstown authorities have documented at least three cases of cruelty toward dogs.
Last week, a bag containing two hog-tied German shepherd puppies was found across from the Western Reserve Transit Authority terminal downtown. The pups were tied in such a way that as they struggled, the rope tightened. Later that week, authorities found a dog disposed of in a trash can thrown over a ravine.
On Monday, witnesses saw two dogs that had been taken from a Lemoyne Avenue, Youngstown, home dropped from an Interstate 680 overpass onto the road below. Those dogs survived, but one had a bruised lung.
Dr. Petrich, who has two therapy dogs in her Westchester Drive office that sit in during patient sessions, said she is disgusted by the recent cases.
"I believe we're talking about a total lack of conscience," she said.
Those responsible show no regard, no empathy, and the behavior isn't isolated.
"The person is probably bullying in other areas," Dr. Petrich said.
It's also likely to escalate.
"This is going to bubble over into people," she said. "If they're not already involved in domestic violence of some kind, this is something that usually always leads to something bigger."
Talia Musolino, manager at Animal Charity, Mahoning County's humane agency, said the agency frequently sees cases of animal cruelty, but the three recent cases have been more high-profile and some of the most severe.
Originally, authorities believed the dog found in the trash can had been shot, but Musolino said a necropsy determined it hadn't. Wounds on the dog were more consistent with dog fighting, she said.
Musolino and Matt Ditchey, Mahoning County dog warden, said the investigations are continuing.
If the offenders are apprehended, though, a first- offense for animal cruelty is a misdemeanor, Musolino said. Subsequent offenses are felonies.
Nitro's Law, named for one of the dogs that died in 2008 from neglect in a Youngstown kennel, would make animal cruelty a fifth-degree (the lowest) felony if it occurs inside of a kennel. It's passed a state House committee but hasn't come to the full House for a vote.
Reps. Ron Gerberry of Austintown, D-59th, and Robert F. Hagan of Youngstown, D-60th, sponsored the bill. Ditchey said their constituents in favor of the legislation may want to call the two representatives to ask what the public can do to see the bill passed. The perpetrator or perpetrators in the latest abuse cases are deriving pleasure from the acts, Dr. Petrich said.
"They like having the animals captive, like the power they have over the animals," she said.
Unless the individuals come forward seeking help, there's not much that can be done.
"They're getting enjoyment out of it," the clinic director said. "It's sadistic. They're very methodical in what they're doing."
In the case of the hog-tied puppies, for example, the act was something that took time so those responsible had time to rethink and stop what they were doing.
They didn't.
The person or people who committed the crimes aren't going to stop with dogs. Similar to the way a bully picks his or her victims, these people would target someone vulnerable such as a child or elderly person, she said.
It would be "someone who has less power than they do," Dr. Petrich said. "They like that power differential."
In the case of the stolen dogs, the perpetrators got pleasure both from the pain inflicted on the dogs' owners and on the dogs themselves, she said.
Serial killers and others determined to have antisocial personality disorder, formerly called sociopaths, often begin with animal cruelty, Dr. Petrich said.
Ditchey pointed out that Jeffrey Dahmer, a serial killer who grew up near Akron, killed small animals as a child.
"When something like this is happening and people see it, they need to call police, Animal Charity or us," he said. "It needs to be taken very seriously."
Animal Charity may be reached at 330-788-1064.
The offenders may be motivated by control or the ability to harm something smaller than themselves, the dog warden said.
"Bad people do bad things to animals," he said. "There is no other explanation. Some people are just bad."
More like this from vindy.com