YSU makes Horizon history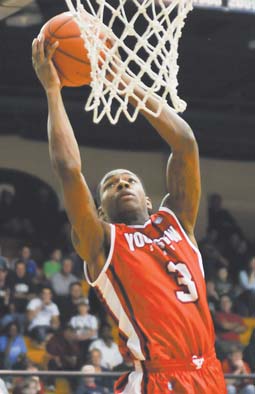 Photo
Youngstown State guard Kendrick Perry was named Horizon League player of the week, becoming the fifth Penguin to earn the honor this season. YSU is the first team in league history to have five different players earn the honor in one season.
By Joe Scalzo
YOUNGSTOWN
Call it a high five.
After averaging nearly 26 points per game during a three-game road stretch last week, Youngstown State sophomore guard Kendrick Perry was named the Horizon League player of the week — the fifth Penguin to earn the honor this season.
It is the first time in Horizon League history that five different players from one school have earned the accolade in one season.
Senior DuShawn Brooks won the award on Dec. 5, followed by junior Damian Eargle (Jan. 2), senior Ashen Ward (Jan. 9) and junior Blake Allen (Jan. 23).
"I think it just shows how dangerous we can be," said Perry, who is tied for the league lead in scoring at 15.7 points per game. "When five guys win player of the week on the same team it really opens eyes around the country. To say, 'Well one night, maybe Blake can go off and another night, maybe Ash can go off. Or, a given night, DB and Damian can both go off.
"It's just a great team feeling when you have that."
When asked if he had gotten any grief from his teammates about not winning the award yet, Perry smiled and said, "A little bit, you know, from Ash [Ward]."
Perry scored a career-high 30 points in last week's win over Milwaukee, then had 19 in a loss to UIC and 28 in Sunday's win over Loyola. He averaged 25.7 points, 4.0 assists and 3.7 steals per game over the three-game stretch, helping the Penguins (13-10, 8-5) set a school record for Horizon League wins in a season.
"KP had a tremendous trip," said YSU coach Jerry Slocum. "I'm proud of Kendrick. I think he's had a solid year.
"I think the thing that's most encouraging about it is ... we didn't have anybody on any kind of preseason picks for our league. All five of those guys have made such great strides ... and they are to be commended."
YSU is tied for Milwaukee for third in the league standings — the Penguins swept the Panthers in their season series — and plays four of its last five Horizon League games at home.
"We're just focused on the next game," said Perry. "The standings and everything can work themselves out how they will. We just know it's a one-game season and we've got to take one game at a time and not look too far into the future."
The Penguins play host to defending national runner-up Butler (13-12, 7-6) on Thursday, then face Valparaiso (17-8, 10-3) on Saturday at Beeghly Center. The Crusaders are a half-game behind Cleveland State (20-4, 10-2) in the league standings.
YSU has never finished above .500 in the Horizon League standings. The top two teams in the league each earn byes to the semifinals of the four-round postseason tournament.
"I think the coaches are aware of it," Slocum said of earning a bye. "I don't think the players care at all.
"If you start thinking about that stuff and talking about that stuff as a priority, things jump up and bite you. We're really just worried about Butler and Valpo."