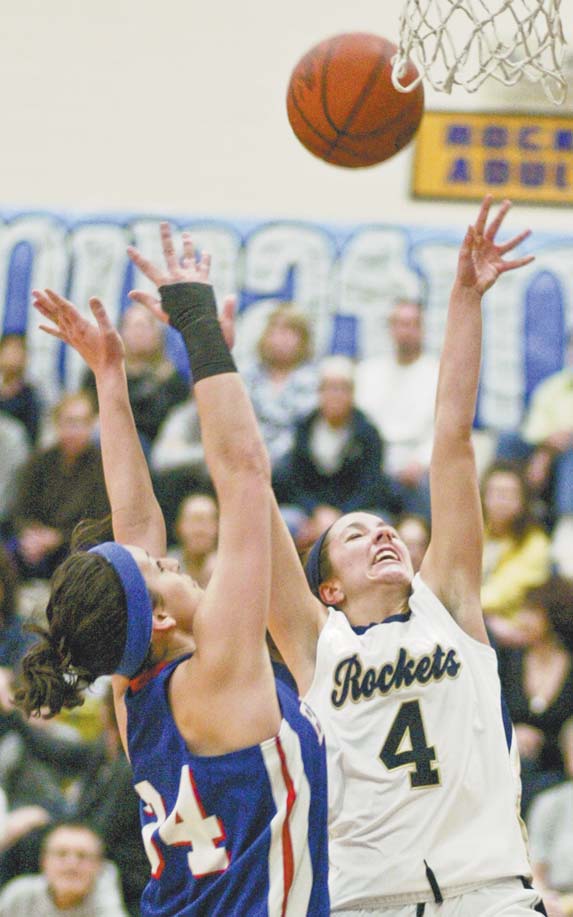 ---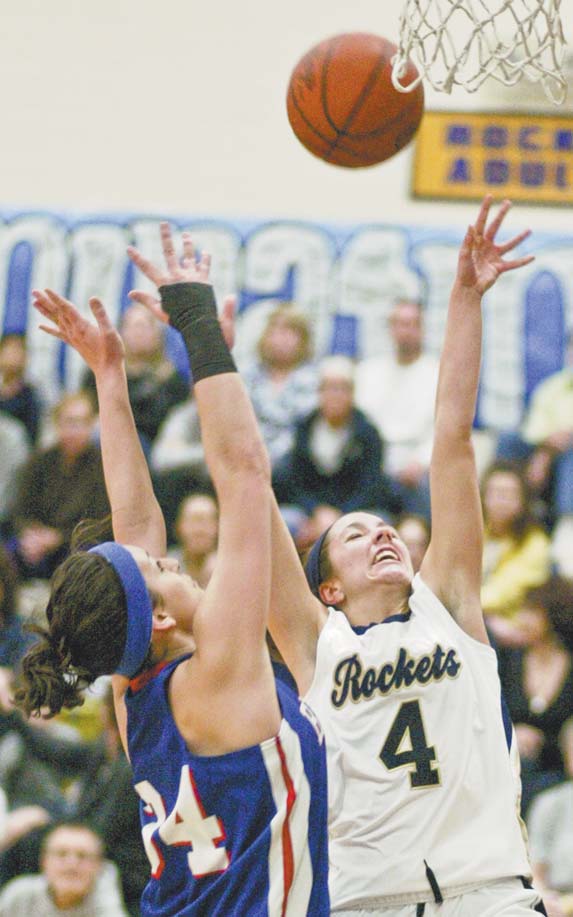 Photo
Lowellville's Kaye Solak (4) shoots against Western Reserve's Linley Mamonis during the first half of Monday's Inter Tri-County League game. The Rockets clinched the league championship with a 74-50 victory.
By Tom Williams
LOWELLVILLE
Loaded with varsity experience, Lowellville High's girls basketball players have become masters of the run-and-gun.
"It's definitely been an amazing journey," senior Ashley Moore said after the Rockets (15-2, 13-0 Inter Tri-County League) clinched their fourth straight league championship with a 74-50 win over Western Reserve over Monday night.
Moore, Emily Carlson and Taylor Hvisdak have been starters for all four title teams. Kaye Solak and Rachel Durbin have been contributing nearly as long.
"We started off [in] fifth grade playing together so we can read each other, we know what each other is doing next," said Moore after scoring 19 points and adding seven rebounds against the Blue Devils (14-3, 11-2). "Our main goal is to push in the first four minutes and get up.
"We love to run — that's basically our offense," Moore said.
In Tier Two, their quickness and rapid transition game have been all but unstoppable. With one game to play, the Rockets have compiled a 54-1 league record since the starters were freshmen.
"It was Western Reserve, my sophomore year," said Carlson of the lone loss.
"Usually, a couple of plays gets [opponents] rattled when we take it to them," said Carlson, who scored 10 points. "It feels good when we see them get frustrated, we can sense it in their faces."
Midway through the first quarter, the Blue Devils, by far Lowellville's best competition in this year's race, led 13-11 on a Sissy Stubbs basket.
Durbin, who scored 14 points, tied the game with a basket that ignited a 14-2 run.
In the second quarter, the Rockets limited Western Reserve to two baskets in jumping ahead, 46-19.
Carlson said this title feels "more significant because we are seniors."
Not to mention lacking in major injuries. Two years ago, Hvisdak broke her wrist was unable to play in the regional tournament. Last season, Hvisdak and Solak suffered knee injuries.
"I'm completely healthy, for once," Hvisdak said with a laugh after scoring 17 points. "When I play, I'm not thinking about injuries, I'm thinking about being confident on the court. It's a good feeling."
Colleen Kennehan led the Blue Devils with 11 points while Linley Mamonis added 10.
Coach Tony Matisi said he's happy for his players "because of their hard work. They deserve this [title streak]. They are focused right now."
Hvisdak said the way the team has blossomed with Matisi's guidance the past four years has been a pleasant surprise.
"I never imagined the way we've all connected together — the five [starters] and all eight of us [playing varsity]," Hvisdak said. "It's been great."
Moore said she couldn't ask for a better coach.
"We love him to death and he's always going to be our favorite," Moore said.