BOARDMAN
Dog Saves Owners Lives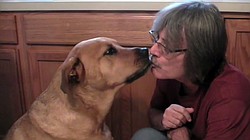 Video
A Boardman couple have a special pet that just may have saved their lives.
Meet Stuart. He's a 4-year-old golden retriever mutt-mix and weighs about 110 pounds. He's a rescue dog, adopted from the Mahoning County Pound.
And to his owners, Tom and Cindy Simerlink, he's a hero.
Two weeks ago, Tom and Cindy were leaving their Afton Avenue home. As they buckled their seat belts, they heard Stuart barking inside the house — which is very unusual, they said.
Tom went back to the house, opened the door and was overwhelmed by the smell of natural gas.
"I smelled the gas, and I looked at the stove and saw [a burner knob] turned halfway. I opened the windows, turned the ceiling fan on and got the gas smell out of there," Tom said.
When the gas stopped, so did Stuart's barking.
If Tom hadn't gone back inside, "Stuart would have died, and the house probably would have exploded. We didn't realize there was an odor," Cindy said.
Boardman Fire Lt. Bill Glaser said sometimes people don't smell the gas right away because, as it leaks gradually, they become accustomed to it.
"If there's a strong odor of gas, they should immediately leave the house and call 911 from a cellphone or neighbor's house," Glaser said.
Glaser said prevention such as maintaining gas appliances is important, as is having smoke and carbon-monoxide detectors. Carbon monoxide is produced whenever any fuel, including gas, is burned.
Cindy said she and Tom have taken steps to prevent another gas leak, such as placing guards on the stove knobs so they can't be accidentally bumped on.
Tom said they are sharing Stuart's story to raise awareness about the dangers of natural-gas leaks and to promote adopting rescued dogs.
"We want people to know the great spirit of these rescue dogs," Cindy added.
Tom praised Stuart's ability to know when something's wrong. If Tom's having a bad dream, for example, Stuart will nuzzle his head on Tom's arm until Tom wakes up, he said.
"Dogs pick up on these things. With the gas leak, it could have been 'Ka-boom' and the house would have been leveled," Cindy said.
Bernadette Mangan, canine manger at Angels for Animals, said she has heard similar stories of dogs alerting their owners to trouble.
"Dogs use their other senses before their sight, predominately smell or hearing," Mangan said. "It's almost human that they notice something's wrong."
The Simerlinks said they are grateful for Stuart's senses.
"I hate to think what would have happened if he hadn't alerted Tom. It would have broken our heart," Cindy said.