Tracy Morgan's mom: 'I'm trying to find the answer'
By GUY D'ASTOLFO
Tracy Morgan's Mother Speaks Out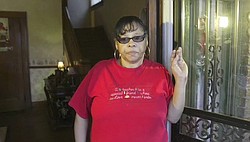 Video
Alicia Warden, mother of 30 Rock actor Tracy Morgan, speaks out about a possible foreclosure on her Youngstown, Oh. home.
YOUNGSTOWN
Alicia Warden's house is warm, tidy and inviting.
Photos line the mantel, and knickknacks crowd one another on shelves. The living room is embellished with the ornate woodwork typical of the older houses on the city's South Side.
Outside, it's another story.
Metal bars block her windows and doors because the street, dotted with abandoned houses, is a dangerous place. Shootings are a regular occurrence in the gang-ridden area.
It's hardly the kind of neighborhood in which one would expect to find the mother of a multimillionaire television star.
But it is.
The 61-year-old Warden is the mother of comedian- actor Tracy Morgan of NBC's "30 Rock" and a former regular on "Saturday Night Live."
And she is on the verge of losing her house because she no longer can afford to pay her mortgage.
She said she had asked Morgan for some financial help, but his meager response left her cold.
In the last two days, Warden has talked to the national media about the situation, in what has become a story that has the tabloid-TV shows salivating.
On Thursday, Warden sat down with The Vindicator and talked freely about her life, her relationship with her wealthy son, and how it has gone so wrong.
A cancer survivor — she had surgery on her colon in 1995 — Warden was laid off about a year ago from her job in the kitchen of Mahoning-Youngstown Community Action Program. Her only source of income since then has been unemployment and survivor benefits.
"I called Tracy last March or April to ask him if he would help pay my mortgage," she said. "I never gave him an amount — I just sent him the [billing statement], and he said he would do it. But he never did."
The monthly bill is $463, and Warden owes about $25,000 on the house.
In November, the unemployment benefits expired, and the mortgage has since gone unpaid.
"I pay my bills to keep the lights on and the heat on," said Warden. "I've gone without my medicine. My doctor told me Monday my blood pressure is up so high I look like I'm on the verge of a stroke."
Warden said she again asked Morgan for help in recent weeks. In response, she got a call from her son's accountant offering a one-time gift of $2,000, she said. She turned down the offer out of pride and insult.
Warden has reapplied for jobless benefits and is awaiting a response. She also has filed for a modification of her mortgage loan. If the modification is denied by her lender, CCO Mortgage, she expects foreclosure will begin. Warden fears she could be put out of her home possibly by the end of the month.
In the meantime, she sits in her crime-filled neighborhood and awaits her fate.
"My windows got shot out last year," she said. "My car has been shot up. Two of my former foster children [she has had 20] have been killed. I fear for my life, and I don't tell anyone who I am."
Tracy Morgan, 43, has responded by releasing the following statement to various media outlets:
"I am saddened that these untrue stories about me have people questioning my commitment to my family," he said. "For reasons that are between us, I have not seen my mother in 11 years and outside of a random call here and there have had little to no contact with my sister. We all have personal family issues that we have to deal with in life, but I choose to deal with mine in private and not through the media."
For her part, Warden said she simply cannot understand why her son is cold and angry toward her.
"I'm trying to find the answer," she said. "What did I do to him? In my heart, I don't know what I ever did to him to make him hate me. We were always a close-knit family. Give me an answer, Tracy."
Warden related the family's history that began in the housing projects of Brooklyn, N.Y.
She and her husband had four kids: a daughter and three sons.
"All of my boys were funny," she recalled. "They would gather in the park and in the projects, and everybody would be ranking on each other for laughs, and a crowd would gather to watch." Morgan would later take his knack for making people laugh to a New York comedy club, which was the beginning of his show-business career.
After her surgery in 1995, Warden — who divorced her husband in 1984 — moved to Youngstown, where her sister already lived. She didn't know how many years she had left, or if the cancer would return, and wanted to be near family. Her children, except Tracy, would soon follow.
In 2001, "Saturday Night Live" did a Mother's Day special, and Warden went to New York and appeared on the show. But what could have been a warm reunion went bad, and harsh words were passed between mother and son. Warden said the distance between them actually had started a little before then.
"He had some attitude and treated [her and her daughter, Asia] like dirt when we did the show," said Warden. "I still don't know why." Still, a photo of Warden and Tracy from the "SNL" shoot sits on her mantel.
Warden visited her son again in 2002 for the funeral of her ex-husband. Warden said her ex was a drug addict who died of AIDS.
"Tracy felt like if I hadn't put [her ex-husband] out of the house, he might still be alive today," said Warden. "I said, 'You're being selfish ... Would you have wanted us both to be dead?'"
Morgan, she said, also has severed his relationships with his extended family still living in Brooklyn.
Until last year, she said, she had never asked her famous son for a dime.
"I bought my own house," she said.
According to the real-estate valuation website Zillow.com, her house was purchased in 1998 for $31,400. It's estimated value today is about $28,000.
Forbes has estimated Morgan's wealth at $18 million.
The comedian never lived in Youngstown and has only rarely visited. The last time was in 2003, when he performed at The Funny Farm comedy club in Liberty. "He gave me a diamond-platinum watch" during that visit, said Warden.
Warden talked about the painful time that surrounded her divorce.
"The judge took my kids into his chambers and asked them where they wanted to live. My oldest son said with me, and Tracy and his sister and other brother said with dad."
Tracy was 13 at the time.
"That's the only time my kids ever made me cry," she said.
But within a few months, her children began to ask to move in with her, and eventually all of them did, although Tracy later would go back to his father.
"Their father did have problems with Tracy," said Warden. "But he told the kids, 'Don't you blame your mom [for the divorce].' All of the other kids understood, except Tracy. He didn't want to."
Warden said she gave her all to her children, and loved them all dearly.
When pressed about Tracy's animosity toward her, she paused for a moment and speculated. "Is it the fame, the spotlight?," she said.
As to what comes next, her stance is stoic.
"If push comes to shove, I'll be gone [from this house]," she said.
"I have to put it in God's hands."
More like this from vindy.com