Sluggish YSU finds a way to get a win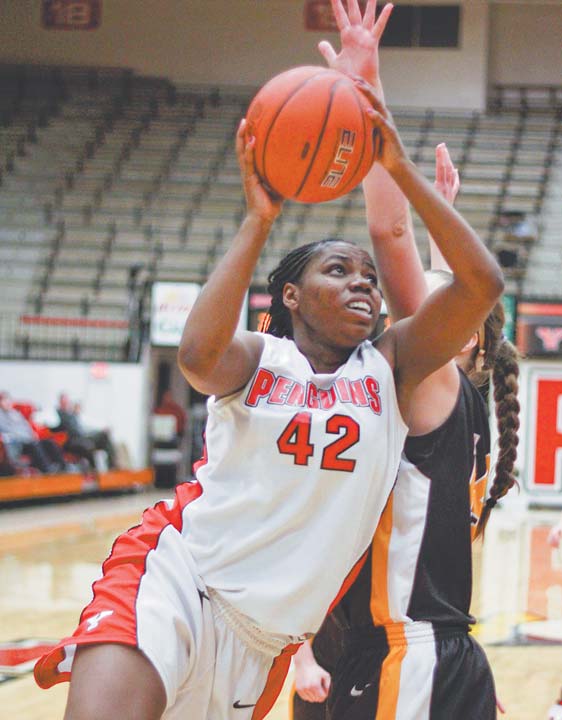 ---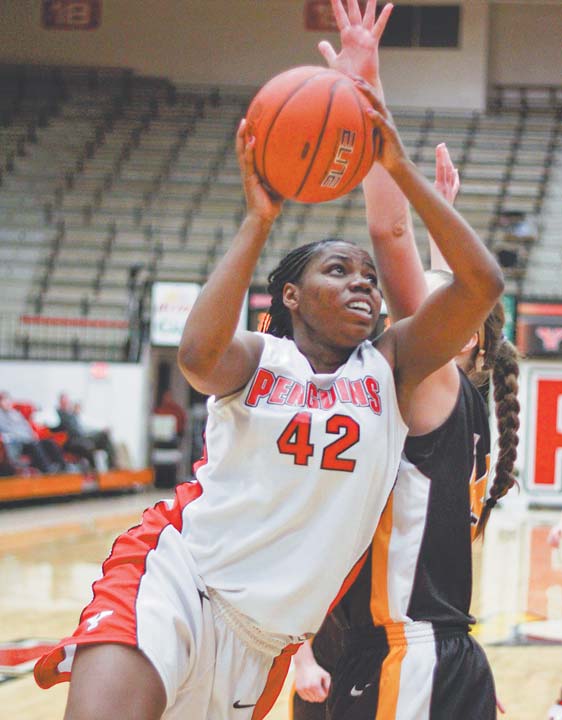 Photo
Youngstown State's Brandi Brown (42) drives past Valparaiso's Gina Lange (31) during the second half of Thursday's game at YSU's Beeghly Center. Brown scored 20 points and grabbed 10 rebounds in the Penguins' 64-58 victory.
By Joe Scalzo
YOUNGSTOWN
Quick anecdote. Ten minutes after Thursday's 64-58 win over visiting Valparaiso, Youngstown State women's basketball coach Bob Boldon got this question:
REPORTER: Bob, you scored 21 in the first half and more than doubled that in the second half. Can you share the magic words at halftime?
BOLDON: (Five second pause, then laughter.)
REPORTER: Or at least paraphrase?
BOLDON: I'm giving up swearing for Lent, if that helps, so now I actually can share what I said.
There were a lot of four-letter words Boldon could have used to describe Thursday's game — ugly, flat, dull ... and maybe a few others that look like this: @$%! — but the only one that mattered was three letters: win.
"It's a game that you win and you grind your way through it," said Boldon. "When we needed stops down the stretch, we got stops. When we needed big shots, we got big shots. When our energy was low, Brandi [Brown] scored for us.
"And I think those are the things good teams do to preserve wins on a weekday night in February when nobody's all that excited about the game."
Brown scored 20 points and grabbed 10 rebounds and Kenya Middlebrooks went 4-for-4 from the foul line in the final 11 seconds to seal the win after the Penguins (10-11, 4-6 Horizon League) squandered a 10-point lead.
Thursday's game was notable in that the Penguins were expected to win, something hadn't happened much over the last three years, when they went 9-81.
"Yeah, it's not a position we're regularly in; we're usually in a position where people think we're going to get killed," Boldon said. "Success is something we're still learning to deal with."
Tabitha Gerardot scored 15 points and grabbed nine rebounds to lead Valparaiso (5-16, 1-10), which used just six players.
Monica Touvelle and Middlebrooks each scored 11 points for YSU and Brown scored 14 of her points in the second half. When asked if she looked to be more assertive offensively, Brown (who hates talking about herself) said this: "Yeah, I think sometimes I do think I should take it upon myself to work harder. I think that if I work hard, then the rest of the team has to work hard, and just like if anybody else was going to work hard, they would expect me to work as hard as them as well."
Got that? If not, well, blame February, where sometimes the quotes aren't much prettier than the games. When asked to rank Thursday's game on a scale of 1-10, with 10 being the most beautiful, Brown joked, "I would say it's a negative one.
"No, I would give it a pretty low five because we won, but we have so much to work on."