Event champions healthy bodies, minds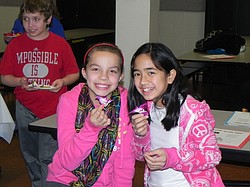 Photo
Neighbors | Sarah Foor .The fourth-graders at Union Elementary played "Fruit and Vegetable Fear Factor" during their Jan. 26 Family Health Night. Alexis Petro (right) and Charisma Ojeda looked excited to take a bite out of some edible orchids.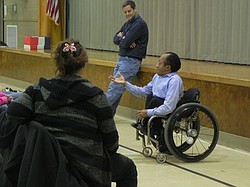 Photo
Neighbors | Sarah Foor .Chaz Kellem (right), manager of diversity initiatives for the Pittsburgh Pirates, talked to parents at Union Elementary's Jan. 26 Family Health Night. Kellem talked with the group about teaching kids to have passion for their goals and respect for others.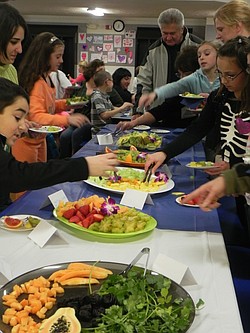 Photo
Neighbors | Sarah Foor .The brightly colored spread at the "Fruit and Vegetable Fear Factor" event on Jan. 26 included papaya, figs, starfruit, rutabaga, kumquat, blood oranges, and other unique greenery.
By SARAH FOOR
Union Elementary fourth-graders and their parents gathered on Jan. 26 to focus on physical and mental well-being.
"Our family health night is about being healthy, active and eating right, but also about everyone in the Union family feeling good about themselves and respecting the differences in others," principal Mike Masucci explained to a crowd that evening.
Union's health night had three stations for families to explore together. In the fruit and veggie fear factor station, a spread of both familiar and very exotic fruits and vegetables offered families the chance to try something new.
Starfruit, kumquat, blood orange, rutabaga, papaya and even edible orchids were on display. Masucci stressed that there was no harm if a student or parent didn't like the goods, as long as they tried something new.
Mary Jakovina and her fourth-grade daughter, Payton, loved blood oranges and starfruit.
"We'll definitely be adding them to our fridge. They'll be a lot different than the usual apples or bananas at our house," Mary Jakovina said.
In another station, Turning Technologies tried out a system that allows students to give instant answers and feedback. The officials at the technology firm offered a health quiz and students and their parents answered with personalized keypads.
Down in the school's all-purpose room, Pittsburgh-area motivational speakers Chris Mielo and Chaz Kellem split the room and each had a heart-to-heart with Union students and their parents.
Kellem, born with a bone disorder, and Mielo, who was paralyzed early in life, are both disabled individuals who preach that no problem is too tough to conquer.
"I want to teach the kids self-responsibility. I hope I can teach perseverance and never shying away when something is hard," Mielo said of his mission at the event.
Masucci said the occasion was important for the fourth-graders as they head to middle school and beyond.
"They'll be making tough choices as they grow up, but I hope that we can help the students see the power in making good ones," the principal said.
More like this from vindy.com