Soup kitchen, pantry in Youngstown seek community's help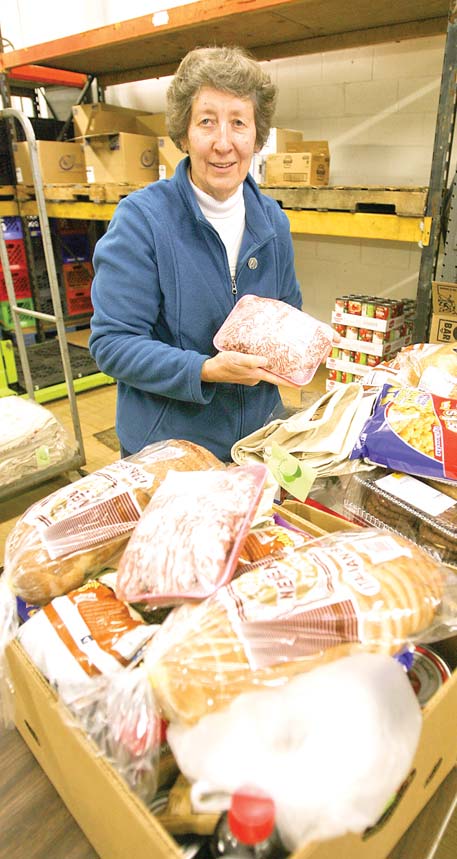 Photo
Sister Millie Ely, manager of St. Vincent de Paul Society food pantry, 317 Via Mount Carmel, Youngstown, adds frozen ground meat and bread to three boxes of food to be distributed. Tickets for a Valentine's Day fundraiser Feb. 11 are $50, and that amount of money provides three boxes of food. Each box can feed a family from three to five days.
By LINDA M. LINONIS
linonis@vindy.com
YOUNGSTOWN
Brian J. Antal is praying for robust attendance at a Valentine's Day fundraiser Feb. 11 to benefit St. Vincent de Paul Society's dining hall and food pantry.
Here's why.
At the society's food pantry, $50 translates into three well-filled boxes of food to feed three families up to five days. At the dining hall, it provides some 50 hot meals. For many, both projects stave off food insecurity.
Antal was elected president of Mahoning County St. Vincent de Paul Society in October 2011 and he belongs to a St. Vincent de Paul Society at St. Dominic Church, where he is a member. The county group is the umbrella organization of 21 societies based at Catholic churches.
He devotes 24 to 30 volunteer hours weekly to supervising operation of the dining hall and food pantry. "It's a lot of late nights," he said. The volunteer work is in addition to his full-time job as a purchasing agent for Carter Lumber in Kent. The 37-year-old father of Alexis, 5, and Tyler, 18 months, said his wife, Kari, has "a lot of patience."
What motivates him? It's filling those boxes to feed the bellies of the clients at the food pantry and filling plates for people who
frequent the dining hall, often called the soup kitchen. He's moved by the directive of his Catholic faith to help those in need.
He sees a wide spectrum of people at the food pantry and dining hall.
"It's not just homeless or street people," he said. "It's people from many walks of life."
Antal said some clients are Youngstown State University students, people who have lost their jobs or can't find a job and families with limited resources.
"The heart-wrenching part is seeing children in line," he said. "That pulls at my heart strings."
Antal said the food pantry and dining hall provide sustenance for the hungry. Though the dining hall may be more noticeable because of its location, the food pantry also fills a niche.
Sister Millie Ely, food pantry manager for four years, brings 12 years of managerial experience as the former chief executive officer of St. Joseph Hospital in Warren.
The Humility of Mary nun said she understands charity care First-hand, and her role now is "more direct service." The best part of that is "working with people," Sister Millie said. The hardest part, she added, is "trying to distribute what we have."
Sister Millie said she realizes some people who could use food help sometimes are reluctant to seek it. "The first time coming to the pantry has to be difficult," she said.
The food pantry, open weekdays, also offers day-old bread for the taking. "People help themselves to it," Sister Millie said, praising the generosity of local businesses that donate regularly.
Sister Millie said the food boxes are "based on the number in the family" and "tailored to that."
Antal said the food boxes contain staples including peanut butter, pancake mix and syrup, cereal, canned fruit and vegetables and two pounds of frozen ground meat. A bonus sometimes are donated packaged snacks.
For a decade, Skip Barone has managed the dining hall. There's no questions asked concerning income of those who come for a meal. "We're seeing more younger families ... the working poor who can't make ends meet," he said.
Barone said the economy also has been difficult for elderly people on fixed incomes. "I know it's sometimes the one meal they have that day," he said of older patrons.
The dining hall also is hosting more Youngstown State University students, who mingle with other patrons. Barone said with the cost of tuition, buying books and transportation, the free meal helps out.