Mahone, Stanko lead 2012 class
---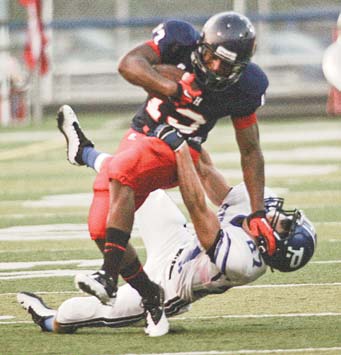 Photo
Fitch senior running back Will Mahone will sign his national letter-of-intent with Notre Dame today. He is one of eight Mahoning Valley players who will sign with Football Bowl Subdivision programs.
By Joe Scalzo
YOUNGSTOWN
Two years ago, 17 football players from the Mahoning Valley signed with Football Bowl Subdivision programs on National Signing Day, including 13 from Bowl Championship Series conferences.
"That was an anomaly, a fluke," ScoutingOhio.com director Mark Porter said. "That might not happen again for another 10 years."
Last year, five signed with FBS teams. Two were with BCS schools.
"That was pretty fluky, too," Porter said.
Today, eight from the Valley are expected to sign letters-of-intent with FBS programs, led by Penn State recruit Anthony Stanko (Howland) and Notre Dame recruit Will Mahone (Fitch).
While it doesn't have the star power of the 2013 class — Ohio State has already offered Fitch's Billy Price, Mooney's Courtney Love and Howland's De'Veon Smith — Porter said it's more realistic of what the Valley should produce.
"I think it's a pretty good year," Porter said.
Fitch leads the way with three players (Pitt recruits Chris and Demetrious Davis plus Mahone), while Canfield (Kent State recruit Jordan Italiano and Miami, Ohio, recruit Jimmy Rousher) has two.
State champion Cardinal Mooney has just one recruit, defensive lineman Austin Trgovcich, who also happens to be the only area player signing with Youngstown State.
The Penguins offered scholarships to players such as Boardman RB Devin Campbell (who will sign with Buffalo) and Poland QB Colin Reardon (Kent State) only to lose out to Mid-American Conference schools.
YSU did, however, land a high-profile recruit on Tuesday in wide receiver/athlete Byron Pringle out of Tampa's Robinson High. Pringle (6-2, 190) missed his junior year following his arrest on seven felony charges for his role in a South Florida crime spree, according to the Tampa Bay Times.
"Had he not missed his junior year, he would be one of the top five recruits in the whole state of Florida," his high school coach, Mike DePue, told the newspaper. "He is the steal in Florida right now."
While YSU signed 12 local players last year — an unprecedented haul — the coaches have widened their recruiting area past Ohio. The Penguins' recruiting class is expected to include players from at least eight states, including seven from Pennsylvania (where the MAC is less of a draw) and four from Florida (where YSU has always recruited).
While a MAC school might limit its recruiting to three or four surrounding states, YSU's wide reach means the Penguins can miss out on their top 25 quarterbacks and still pick up a good player with No. 26, Porter said.
"[YSU coach Eric] Wolford looks at junior colleges in California and Texas and high school kids in Georgia and South Carolina and Florida, so it gives him a really deep recruiting board," Porter said. "It may hurt a local kid but it means YSU is getting an extremely good player."
Of course, signing a player is just the first step. Of the 17 FBS players from two years ago, just eight are with their original programs. Some failed to qualify academically, some opted to transfer and some just decided to leave.
That's not unusual, Porter said.
"If a coach signs 25 players in a class and nine of them turn out to be starters, that's good," he said. "It sounds funny but that's the truth.
"Recruiting will always be an inexact science."
More like this from vindy.com