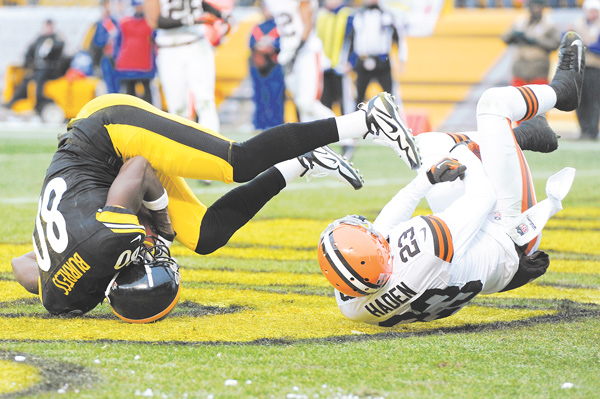 ---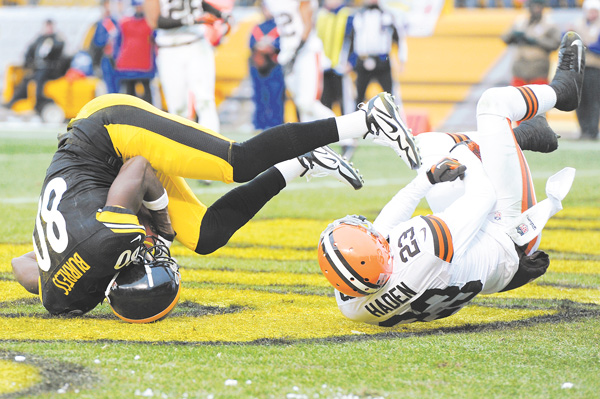 Photo
Pittsburgh Steelers wide receiver Plaxico Burress tumbles in the end zone with Cleveland Browns cornerback Joe Haden for a fourth-quarter touchdown in Sunday's game in Pittsburgh. The Steelers topped the Browns, 24-10, with nothing at stake but bragging rights.
Steelers top Browns with nothing at stake
Associated Press
PITTSBURGH
The Pittsburgh Steelers remain convinced they're a tweak or two away from another Super Bowl run. The Cleveland Browns, meanwhile, are ready to start all over. Again.
There's nothing stopping them now.
Ben Roethlisberger threw three short touchdown passes, and the Steelers avoided their first losing season in nearly a decade with a 24-10 victory over the Browns on Sunday in a meaningless finale that merely served as a speed bump to impending change for both franchises.
The Steelers (8-8), out of the playoffs for the first time since 2009, head into the offseason wondering how to address an aging — if still highly effective — defense while the Browns (5-11) get ready for another front office overhaul.
New owner Jimmy Haslam already pushed out team president Mike Holmgren, and there's a good chance general manager Tom Heckert and head coach Pat Shurmur will follow Holmgren out the door.
Shurmur — who is 9-23 in two seasons — gave an emotional postgame address to his players after another competitive game slipped away in the second half. While he hasn't spoken to Haslam about his status, Shurmur could sense his tenure is now measured in hours, not years.
"We really did not win enough games and we're not competing next week," he said. "I was never really worried about (next year) and I have no regrets."
Pittsburgh, however, certainly does.
The Steelers were 6-3 and rolling in early November. Their victory on Sunday was only their second in their last seven games, a collapse that will send them home before New Year's Day, well short of the standard set by the team with seven Super Bowl titles.
"It's a disappointing season just as far as the talent we have," linebacker Larry Foote said. "We're 8-8, that's who we are. We've got to own it. A lot of letdowns, a lot of pluses too. We just didn't get it done."
Yet even with nothing on the line than the chance to avoid the first losing season in nearly a decade, the Steelers found a way to beat the Browns. Pittsburgh's top-ranked defense forced four turnovers and Roethlisberger hit Antonio Brown, Plaxico Burress and Leonard Pope for scores.
"I said earlier in the week that we wanted to come out and finish the year with a win and have a good feeling going into the offseason," Roethlisberger said. "That is what we did. I'm proud of the way the guys finish."
Cleveland's mistakes marred an otherwise steady NFL debut third-string quarterback, Thaddeus Lewis, who completed 22 of 32 passes for 204 yards with a touchdown and an interception. The Browns outgained Pittsburgh 320-212 but were undone by Lewis' ill-timed pass right into the hands of Steelers safety Troy Polamalu and three fumbles — two in Cleveland territory.
"We just need to find a way to win, stats mean nothing," Browns linebacker Craig Robertson said. "You have two columns, wins and losses. That's all that matters."
That's all that matters to Haslam, who made a splash when he purchased the Browns earlier this season. The former Steelers minority owner wants to build Cleveland into a contender, which hasn't been consistently competitive in two decades.
Shurmur insists the building blocks are in place and for a brief stretch this season the Browns looked as if they had turned a corner. Cleveland put together a three-game winning streak spanning late November and early December that had some doing the complicated math necessary to put the Browns in the playoffs.
The optimism died just as quickly as it arose. Cleveland came back to earth in a 38-21 whipping at the hands of the Washington Redskins two weeks ago, followed by a blowout loss in Denver. Given a chance to sweep their biggest rivals for the first time in 24 years, the Browns instead lost to the Steelers in the regular-season finale for the fourth time in the last five seasons.