Former Ursuline star playing for Canton Charge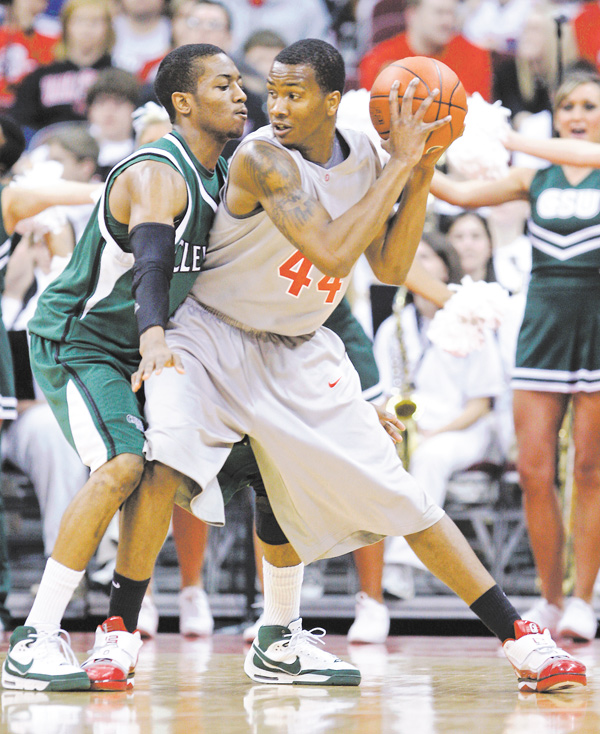 ---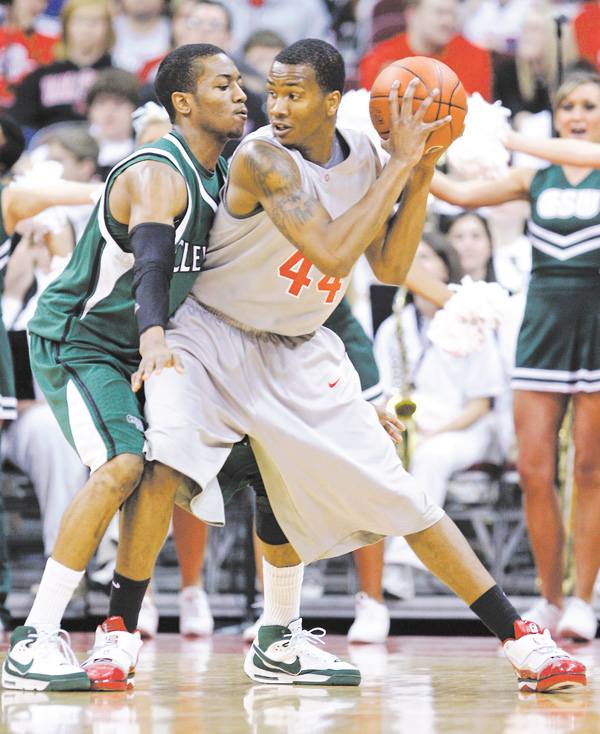 Photo
Cleveland State's D'Aundray Brown guards Ohio State's William Buford during a game in Columbus. His defense is what got Brown, an Ursuline grad, into the NBA's D-League with the Canton Charge.
By Joe Scalzo
D'Aundray Brown's first name starts with D, and so does his game.
His defense is what got him into the NBA's D-League and it's what, he hopes, will get him out of it.
"Obviously I got noticed by doing what I'm good at," said Brown, an Ursuline High graduate who is in his first season with the Canton Charge, the Cleveland Cavaliers' developmental league team. "They [the Cavaliers] just want me to continue to do what I'm doing — hitting open shots, being an energy guy off the bench and playing defense."
Brown has appeared in seven games for the Charge (6-8), averaging 3.4 points and 1.7 rebounds per game in just under 17 minutes per night. He missed nearly a month with a badly sprained ankle, returning on Dec. 21.
Brown, a Horizon League all-defensive team selection last season at Cleveland State, is one of 10 players on the Charge, who compete in 16-team D-League, the NBA's version of the minor leagues. Brown is one of five rookies in Canton, which has eight first- or second-year players.
"It's like starting all over, going in as a freshman," Brown said. "You have to get used to a different style of play and prove yourself at a different level.
"It's a lot different than college, especially with the amount of games you play. You might have three or four games in a week and you're going against guys who are pros, period. The competition is always good. You can't take a night off."
Most players in the D-League are trying to get into the NBA — eight players have been called up so far this season and 112 NBA players have D-League experience — and they typically try to shoot their way out. When asked how many D-Leaguers are trying to do it with defense, Brown chuckled and said, "I have no idea. I would say it possibly might be slim."
But Brown, who impressed Cavs coach Byron Scott this summer with his effort and his defense, has never been about numbers. He played in 115 games (91 starts) with CSU, averaging 7.8 points, 4.8 rebounds and 1.8 steals, while affecting games with his defense and his leadership.
"I've learned a lot just over the past summer and the fall," said Brown, whose parents both played basketball at Youngstown State. "It's been a journey trying to get to the next level. This year has had its ups and downs but I've learned so many different things, things I didn't know in college, and I've just been soaking it up."
D-Leaguers don't make much money — the salaries range from $12,000 to $24,000, a far cry from the NBA's rookie minimum of $500,000 — so many players opt to play overseas instead, where good players can make $50,000 to $100,000 a year or more.
Brown, however, isn't focused on his next step. Just his next game.
"I'm just trying to improve my game and get to the next best thing, whatever that may be," he said. "Whether it's overseas or the NBA, I'm just focused on improving."