OH WOW! board of directors recently elected new officers

Photo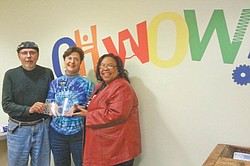 Photo
Suzanne Barbati, center, OH WOW! executive director, is shown with Ronald Faniro and Madonna Chism Pinkard, who received OH WOW! service awards as outgoing members of the board.
Staff report
YOUNGSTOWN
OH WOW! board of directors recently elected new officers and board members.
Officers are Bruce Sherman, Sherman Creative Promotions, chairman; Merry Gubany Wagner, Macchione Richardson Insurance Agency, vice chairwoman; Frank Rulli, Faniro Architects Inc., treasurer; and Dr. Martin Abraham, Youngstown State University College of STEM, secretary.
New board members are Carmela Ballone of Cohen and Co.; Yvonne M. Lipinsky, an educator and administrator with Columbiana County Educational Services Center; Klaus-Markus Peters of Fireline Inc.; David H. Turner of FirstEnergy Corp.; Simon P. Werle of PNC Financial Services Group; and Margaret J. Woodyard of Time Warner Cable Co.
Outgoing board members, Ronald Cornell Faniro of Faniro Architects Inc. and Madonna Chism Pinkard, WFMJ-TV 21, received chrystal-etched OH WOW service awards. WFMJ hosts OH WOW moments on Sunday's Community Connections hosted by Pinkard.
Bill Florig received the Barbara Abraham Volunteer of the Year Award presented by Dr. Martin Abraham.
OH WOW The Rogers and Gloria Jones Children's Center for Science & Technology, 11 W. Federal St., has had more than 53,000 visitors since opening 19 months ago. The facility is a non-profit, hands-on, interactive children's museum focused on science, technology, engineering and mathematics.