How will you be impacted after the US falls off cliff?
Tweet
Published: Mon, December 31, 2012 @ 12:05 a.m.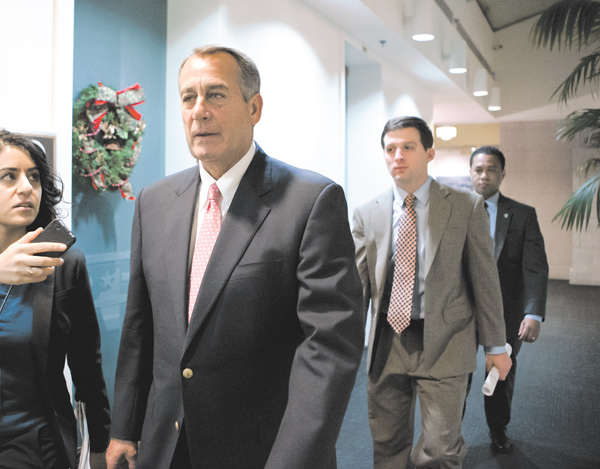 Photo
Speaker of the House John Boehner, R-Ohio, walks to a closed-door GOP caucus Sunday night as Congress meets to negotiate a legislative path to avoid the so-called "fi scal cliff " of automatic tax increases and deep spending cuts.
Combined dispatches
YOUNGSTOWN
If the nation goes over the "fiscal cliff," some Americans will wake up Tuesday with financial headaches to rival a New Year's Eve hangover.
Even if the crisis is resolved quickly after the new year as pressure mounts on President Barack Obama and lawmakers, it poses a short-term administrative nightmare for businesses. And it would be a financial blow to millions struggling to make ends meet in the aftermath of the Great Recession.
As the White House and Congress try to avoid large tax increases and federal spending cuts, taxpayers, businesses and even the Internal Revenue Service are scrambling to figure out the effects if an agreement is not reached.
The fiscal pain could be averted by a last-minute deal. And even if there is none by Tuesday, Washington policymakers could retroactively reduce tax rates if they make a deal. But the uncertainty and short-term loss of income could damage the economy with the Congressional Budget Office estimating as many as 3.4 million jobs lost if the nation goes over the fiscal cliff.
Businesses already are struggling to adjust. They've got to figure out how much in federal taxes to withhold from employee paychecks starting next week. But the IRS still has not told employers what the 2013 withholding levels would be.
taxes
Starting with the new year everyone would see their income taxes rise as the George W. Bush-era tax cuts expire. Middle-income households would pay about $1,500 more a year in taxes.
"As a working-class person, I would miss any money taken out of my paycheck," said Stephanie Smith, an office administrator in Sacramento. "I just feel that we're already paying high taxes, and it feels like we're still in a recession. Everybody wants to take money out of our paychecks, but nobody wants to put more in."
Payroll taxes would increase by 2 percent with the lapse of a temporary, two-year tax cut designed to boost the economy. Workers making $50,000 annually would take home about $40 less every two weeks.
The number of people facing the alternative minimum tax provision would skyrocket to about 33 million next year from 4 million this year. The tax, enacted in 1969, was designed to make sure the very wealthy paid some income tax. It was not indexed to inflation and needs to be fixed each year to avoid ensnaring middle-income households.
stock markets
Stocks headed lower for a fifth day on Friday on concern that Washington lawmakers will fail to reach a budget deal before a year-end deadline.
The Dow Jones industrial average slid 104 points to 12,992 in the first 40 minutes of trading Friday. The Standard & Poor 500 index fell 10 points to 1,408 and the Nasdaq dropped 19 points to 2,966.
Stocks closed lower Thursday but erased most of an early loss after Republicans said they would reconvene the House of Representatives Sunday in hopes of piecing together a last-minute budget deal.
Despite the fiscal gridlock in Washington, major stock indexes are holding on to gains for the year. The Dow is up 6.5 percent, the S&P 500 index is 12 percent higher and the Nasdaq is up 14 percent.
Unemployemnt
More than 2 million long-term jobless would receive their final unemployment benefit check within days.
Checks would abruptly end for people receiving extra federal aid — which represent as much as 47 additional weeks of benefits in states such as California. State benefits of up to 26 weeks would still be available, but workers would be out of luck once those run out.
oil prices
Oil prices eased in choppy trading last night as unresolved US budget talks left open the possibility that looming mandated tax hikes and spending cuts could push the top oil-consuming economy into recession.
Brokers said few investors wished to make large bets on the direction of oil prices until the US budget talks were resolved, or during a holiday period characterized by low trading volumes.
SPENDING
At the same time, Americans would feel cuts in government services; some federal workers would be furloughed or laid off, and companies would lose government business.
If the nation goes over the fiscal cliff, budget cuts of 8 percent or 9 percent would hit most of the federal government, touching all sorts of things from agriculture to law enforcement and the military to weather forecasting. A few areas, such as Social Security benefits, Veterans Affairs and some programs for the poor, are exempt.