Dinner honors Catalines for 60th anniversary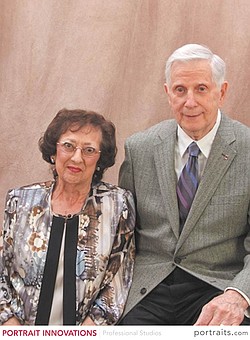 Photo
MR. AND MRS. JOHN F. CATALINE
HUBBARD
Mr. and Mrs. John F. Cataline of Hubbard celebrated their 60th wedding anniversary during a dinner Nov. 24 at Cafe Capri's La Veranda Room in Boardman. Hosting the gathering were the honorees' children, Elizabeth and Paul Baran of Austintown and Kathy and Mark King of Salem.
The former Audrey George and Mr. Cataline were married Nov. 27, 1952, in St. Patrick Church in Youngstown.
Mrs. Cataline was a secretary at Mutual of New York Insurance Co., Youngstown and San Diego. She is a homemaker.
Her husband retired in 1980 from Youngstown Sheet and Tube Co. He is a U.S. Navy World War II and Korean War veteran. He served on the USS Eldorado.
They are members of St. Patrick Church.
The family circle includes five grandchildren.