Newton Falls stifles Liberty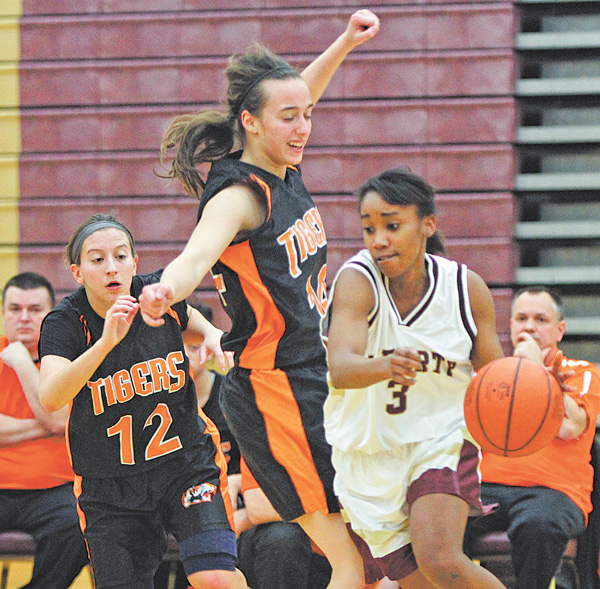 ---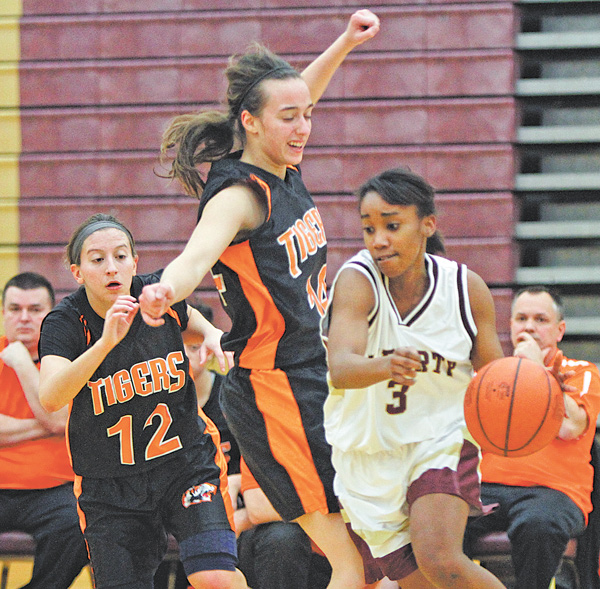 Photo
Liberty's Shamara Golden (3) tries to drive around Newton Falls defenders Brooke Barreca (14) and Alissa Abraham (12) during the first half of their All American Conference basketball game Thursday at Liberty High School. The Tigers downed the Leopards, 59-30.
Newton Falls ruffles Liberty on road
By Dan Pompili
LIBERTY
Newton Falls' junior forward Brooke Barrecca probably didn't have to put up a double-double to win on Thursday night, but it didn't hurt.
It was clear who was the toughest girl on the floor as Barrecca led all scorers with 18, after a 16-point, nine-rebound first half, on the way to a 59-30 Tiger victory over Liberty.
"She played a very nice game," Newton Falls coach Mark Baker said. "She certainly came to play and she really asserted herself tonight."
The Tigers (7-1) carried a 27-12 lead into the half and Barrecca only scored two more points on the night, but continued to attack the glass, grabbing seven more rebounds, and contributing to a strong defensive performance. Newton Falls capitalized on Liberty's turnovers and solid offensive rebounding led to second-chance points for the Tigers.
"That's one thing we work on in practice is to get good at [offensive rebounding] so we can get those second chance points," Barrecca said.
Newton Falls out-rebounded Liberty 45-27.
"Defense is the biggest improvement to her game," Baker said, who was pleased with his team's pressure.
Newton Falls held Liberty to seven, five and six points in the first three quarters. The Leopards only scored three field goals during the first half.
"Alissa Abraham really got us started with the defensive action," Baker said. "Fatigue is the name of the game, we like to fatigue the other team and get them tired and that's when they start making their mistakes."
In the second half, junior forward Hannah Zelle put up 10 points, finishing with 13 and contributing seven rebounds. Freshman forward Gabrielle Kline added another 10 points and six boards. The Tigers' aggressive attack also put them at the free-throw line where they shot 14-20. Newton Falls put up a 22-48 performance, mostly under the hoop
"They really hurt us on the boards tonight," said Liberty coach Ron DeJulio. "And we turned the ball over too many times — we gotta do a better job at protecting the ball."
DeJulio praised Newton Falls' defense and their ability to convert on his team's mistakes and lamented the lackluster performance of his ace shooter Leah Leshnack.
"Right now we're not a very good shooting team, and when Leah isn't making them, that hurts us," he said. "I think it's more just her having a bad game."
Leshnack had eight points, including one 3-pointer in the fourth quarter. Freshman guard Kim Staples contributed 8 points off the bench including two first-half three-pointers.
Liberty (2-8) shot 10-55, and made three 3-pointers. The Leopards shot 7-16 from the foul line.