SJIHM students present Christmas concert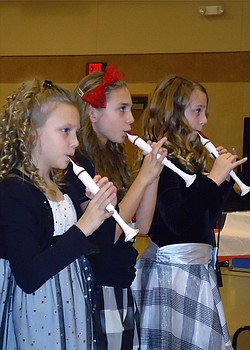 Photo
Fourth-graders Chloe Durda, Olivia Pavlak and Cassie Sorber were featured on the flutophone.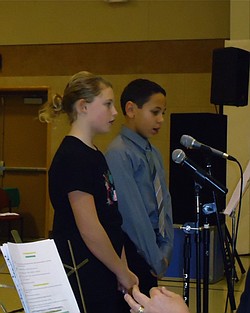 Photo
Sixth-graders Alyssa Casity and Nico Andino performed solos during the concert.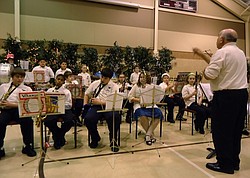 Photo
Tom Mastromico directed the SJIHM band, which featured students in grades four through eight.
St. Joseph Immaculate Heart of Mary School presented a Christmas program in the Immaculate Heart of Mary Parish Center Dec. 10 to a capacity audience.
St. Joseph Immaculate Heart of Mary's fourth through eighth-grade band, directed by Tom Mastramico, opened the program with "Ode to Joy." The concert continued with Christmas songs, featuring each individual instrument section, including a drum cadence to "Jingle Bells" and "We Wish You a Merry Christmas."
The fourth-grade Flutophones, directed by Helen Dinda, played "Happy Birthday to Jesus," holiday classics and sang "Felice Navidad" with flair.
Closing the instrumental portion of the program, the eighth-grade Bell Choir, directed by Michele Vargo, performed six musical selections, including "Silent Night."
Vargo directed the classes in song and the Drama Club narrated the program. Second and third-grade students' selections included "O Christmas Tree" sung in English and German. The Drama Club, directed Mrs. Nicole Fryfogle, continued with "Not That Far From Bethlehem" with solos by Nico Andino as Joseph and Alyssa Casity as Mary.
The program concluded with the Drama Club singing "O Holy Night" and then the entire school joined in for "We Wish You a Merry Christmas."