Kravitz back in business at Poland library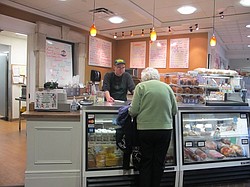 Photo
Neighbors | Natalie Scott.Kravitz Deli, located inside of the Poland library, maintained a steady flow of customers throughout their first day being open after three weeks Dec. 7.
By NATALIE SCOTT
During the three weeks that the Poland library was closed due to a suspicious odor outside of the building, Kravitz Deli also had to close its doors.
"It was terrible," said Kravitz Deli manager Marc Rockwell. "Not only did we lose our day-to-day business in that time, but the food we lost was tremendous. We were told on a moment's notice that we had to leave and we didn't know how long we would be closed. Everything had to be thrown away."
However, all was not lost for the deli. With a lot of help from the Holy Family Parish, Kravitz deli was still able to host catering events.
"We had to call all the families and let them know we were still able to do their events and Holy Family was great, giving us their space like that," said Rockwell.
The deli was able to reopen Dec. 7 and they had a steady flow of happy customers throughout it.
"Opening today, it was a rush. Our whole team was in here the day before and we washed and sanitized everything. We had some help from our other location as well. They prepared some of our food for us, but it's been a rush of baking and selling all day. But we are so glad to be open again. We really missed our customers," Rockwell said.
The Poland library and Kravitz deli have remained open during the process of venting the elevator shaft, where the odor has been trapped.