Valley's biggest 2012 newsmakers include politicians, mother, singer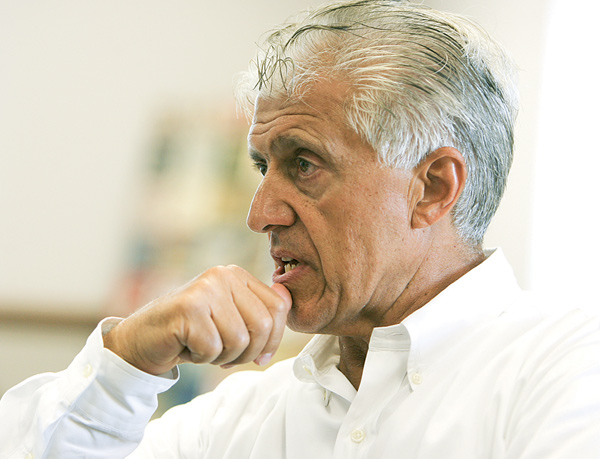 ---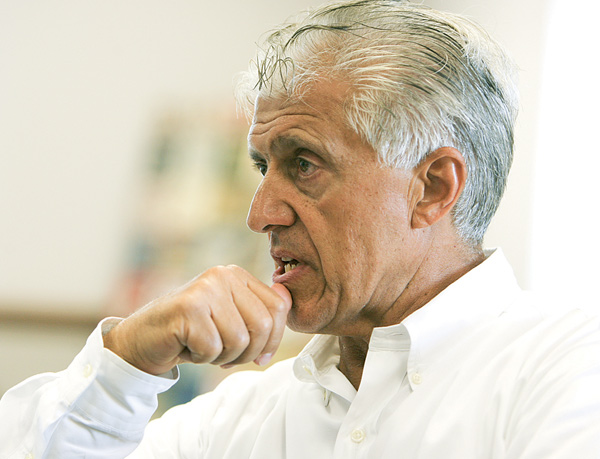 Photo
Mayor Charles Sammarone leads The Vindicator's list of 2012's top 10 Newsmakers.
By Danny Restivo
drestivo@vindy.com
YOUNGSTOWN
Though the Mahoning Valley didn't experience the anticipated Maya apocalypse, there still were noteworthy stories and plenty of people making news in 2012. Here are the top 10 Newsmakers of the year as compiled by Vindicator editors and reporters.
1 Youngstown Mayor Charles Sammarone.
He completed his first full year as mayor in 2012. Sammarone takes pride in many completed 2012 tasks, pointing to the razing of blighted homes throughout the community as one of his major projects.
He also points to his administration's goal of trying to make Youngstown a better place to live.
"I always believe awards are great, and anytime you win an award, its because you are a part of a team," Sammarone said. "Our team has helped improve our Youngstown neighborhoods."
2 Sam Covelli, owner of Covelli Enterprises.
Covelli, one of the largest Panera Bread franchisees in North America, with more than 250 stores, made statewide headlines in November when Ohio State University announced a $10 million donation ­— the largest individual bequest in the history of the university's athletic department — from Covelli.
Covelli Enterprises has been on the rise in recent years, extending into markets across the country and beyond with its recent push into Toronto, Canada. In December alone, Covelli opened five new stores. He'll expand in the Valley, too, with a new location on Market Street in Boardman set to open in about three months.
His Panera Bread operations now boast a footprint in six states and employ 25,000 people.
"We're extremely blessed to have the ability to do this — to make this donation," Covelli said. "I have to thank all the people in this Valley that got us a start. Our organization started with that loyalty over the years, and that's why we were able to do it."
3 Shirlene Hill, mother of Jamail Johnson, a Youngstown State University student.
Hill became the face and spokeswoman against violence in the city after a reckless shooting left her son dead in 2011. In the past year, Hill has spoken at the trials and hearings of the men charged with killing her son.
She was a constant sight at the legal proceedings for Jamelle Jackson, 20; Mark Jones, 26; Columbus Jones Jr., 23; and Demetrius Wright, 22, all of Youngstown.
During the December sentencing of Jackson, Mark Jones and Wright, she spoke to all three.
"The reality is I will never wake up and have my son," she said. "I miss his smile. He had a beautiful smile. ... He was a very special rock in my life. I can no longer see his smile or see his face."
4 State Rep. Robert F. Hagan of Youngstown, D-60th.
He has been an active critic of fracking throughout the Valley. Fracking is the process in which water, chemicals and sand are blasted into rocks thousands of feet below the ground to unlock natural gas and oil.
Fracking has come under fire by many including environmentalists often called "fractivists."
In November, Hagan offered House Bill 357 into the Ohio House. The bill would restore control of oil and gas wells to local governments instead of regulations set by the Ohio Department of Natural Resources.
Hagan has stated he wants a moratorium on all drilling, including injection wells.
"I want a cautious and thoughtful approach for the extraction of these natural resources," he said in a November letter to The Vindicator.
5 Dominic and Jackie Marchionda, downtown developers.
In 2012, the couple opened the Erie Terminal. By the end of the year, the Marchiondas controlled several historic buildings in downtown: The Wick, The Stambaugh and Reality Tower.
The Erie Terminal Building, which opened in May, is a $9 million, 65-person residential complex that has helped bridge the gap from the Youngstown State University campus to the downtown.
"It used to be you took whatever kind of renter you could get," he said in an interview earlier this month. "Now we get calls daily from people wanting to live downtown and suburban businesses interested in getting involved downtown."
6 Lawrence Brownlee, opera singer.
Brownlee's vocal talent may have garnered more attention overseas than stateside, but it didn't stop him from returning to the Valley this year.
The 40-year-old Youngstown native has sung in the world's greatest opera halls and continuously draws acclaim for his voice, which is in constant global demand.
But it wasn't until November that he returned to sing in an opera as a professional in his hometown. Brownlee starred in Opera Western Reserve's Nov. 30 production of "The Barber of Seville" at historic Stambaugh Auditorium.
"I don't like to put so much on who I am," Brownlee said in a November phone interview, "but I have done some important things. And these are the people who started it, and challenged me and supported me and pushed me to be the best I can be, the people who were important in my training early on, to my musical development."
7 Barbara Ewing, chief operating officer at the Youngstown Business Incubator, Dr. Martin Abraham, dean of YSU's College of Science, Technology, Engineering and Mathematics, and Mike Garvey, president of M-7 technologies.
Ewing, Abraham and Garvey were pivotal in securing Youngstown as the home for the newest hub for manufacturing, research and development.
In August, Youngstown, along with the rest of Ohio, West Virginia and Pennsylvania, were anointed pioneers of the technology for use in mainstream manufacturing. It came via the government's announcement of a $70 million National Additive Manufacturing Innovation Institute in August.
NAMII will bring together 65 colleges, universities, private companies and nonprofit organizations to vastly improve additive manufacturing, which essentially uses plastics, resins and metals to "print" a product by adding layers, unlike traditional manufacturing which subtracts or cuts out raw material to create parts.
8 Dr. Cynthia Anderson, president of Youngstown State University.
Anderson became the university's first female president, first Youngstown native and first YSU graduate to assume the title in the university's 104-year history, before announcing her 2013 retirement earlier this month.
Anderson has served in numerous positions at the university, including professor and 15 years as vice president for student affairs.
"It has been a distinct honor and privilege – and a dream come true – to serve my beloved alma mater as president over the past 21⁄2 years," Anderson said in announcing the move. "For nearly 40 years, Youngstown State University has been my home, and you have all been my family,"
9 Dennis Miller, qualifier for golf's U.S. Open and Mill Creek MetroParks chief.
After sinking a 20-foot put on the fourth playoff hole of the U.S. Open Sectional Qualifier in June, the Mill Creek MetroParks board of commissioners appointed him executive director Sept. 28.
Before being named, Miller played in the U.S. Open after a miracle push at the qualifier in Columbus. His birdie putt from 20 feet hugged the lip of the cup before disappearing into Scioto Country Club's 18th hole, becoming an instant highlight on ESPN.
Before being named executive director, Miller had been with the park about 14 years, serving as its golf director.
10 Connie Hathorn, Youngstown schools superintendent.
After improving the district from academic emergency, the lowest rating on the state report card, to academic watch in 2011, Hathorn faced new challenges in 2012.
Earlier this month, the academic-distress commission took over control of the district budget from the school board. The commission determined that the district had been
underfunding its employee health insurance fund since 2008. In November, voters approved a levy renewal that generates $5.2 million annually.
Although the district isn't expected to rise out of academic watch when the official 2011-12 state report cards are released next year, the superintendent says there have been improvements.