Youngstown spots stay open for those braving the snowstorm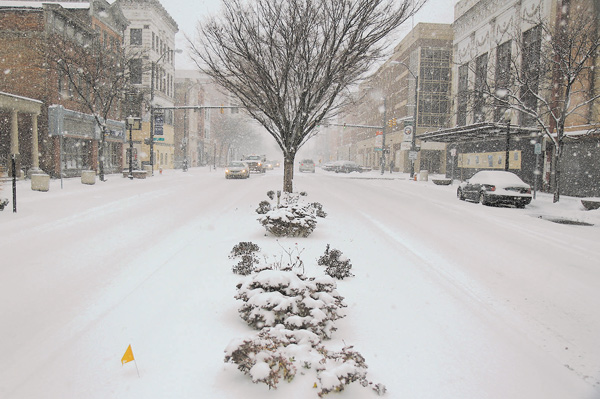 ---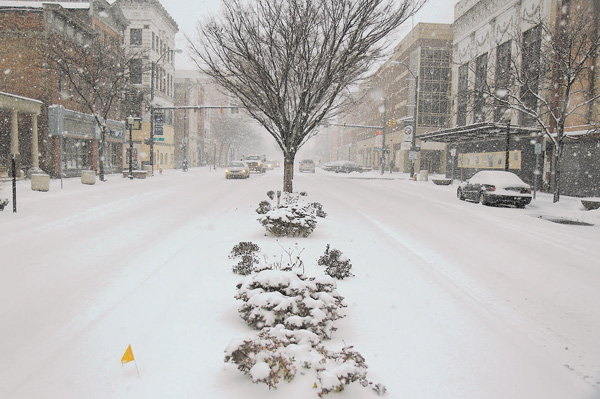 Photo
Cars inch their way through the accumulating snow on West Federal Street on Wednesday. The storm that was estimated to bring 8 to 12 inches by today closed libraries and government offices, but some businesses on West Federal stayed open to give walkers a warm place to go.
By Susan Tebben
YOUNGSTOWN
Many people chose or were told to go home early when the snowstorm hit Wednesday, but others chose to stay for their customers.
People were few and far between on West Federal Street in downtown Youngstown on Wednesday afternoon, but restaurants such as the Lemon Grove and the Draught House stayed open to serve those who needed to get warm and wanted to stay out and watch the snow.
"Winter is winter. You'll always have inclement weather," said Rahkeem Brown, manager at the Lemon Grove. "But we always want the Lemon Grove to be a place you can go."
The Lemon Grove had business even with the snow falling quickly, piling up on cars on the street. An employee even went outside to brush snow off the cars in front of the restaurant.
"I hate the first one because you forget how to deal with it," said Norman Toot, who stopped in to the Lemon Grove for a bite to eat, a change in plans for him. He had planned to run errands and hit a Chinese take-out place farther outside the city, but the weather changed things. The movie he wanted to see would have to wait.
"I am just going to do the things I have to do," Toot said. "You start out thinking 'Oh, I've seen this before,' but then it turns out to be this."
For Vanessa Mackey, who works at the Draught House, shoveling the snow wasn't totally a chore.
"I love the snow," she said. "It reminds me of how it was when we were kids."
Mackey had been feeding birds and shoveling snow as she watched cars carefully slip-and-slide by. Sometimes you have no choice but to come in to town — for work or to take the kids to school, Mackey said. But the Draught House would stay open even if other places began to close early, as the library and other organizations started to Wednesday afternoon.
"The Draught House never closes," Mackey said. "We're open if you need us."